Vehicle fitness: A mockery at the cost of life and limb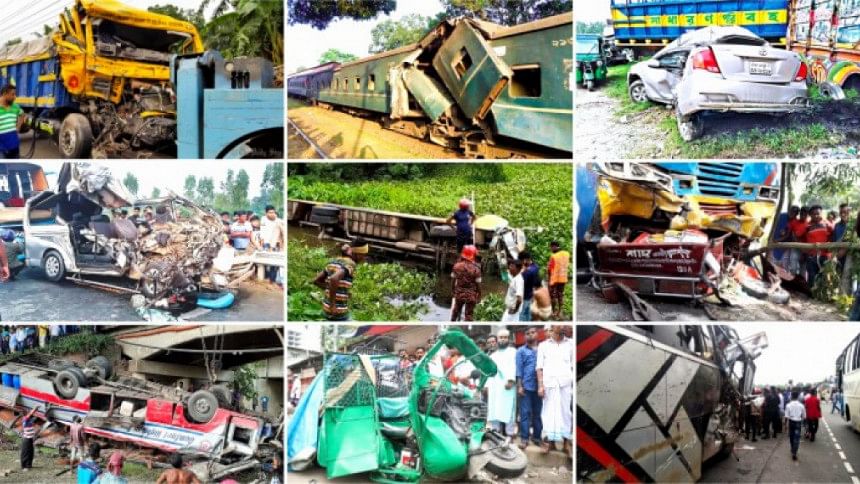 Most vehicles involved in recent major and sensational road crashes did not have the required documents, including valid fitness certificates, or their drivers were without a valid licence.
Experts and road safety campaigners say that for years such vehicles and drivers have been on the roads because the system of monitoring, enforcement, and issuance of papers is not working.
Vehicles without documents and drivers without licences stay on the road bribing a section of crooked law enforcers, BRTA officials, and politically connected people, they said, adding that this creates anarchy on the roads and results in increasing numbers of crashes.
They said many transport owners and workers find valid documents from the Bangladesh Road Transport Authority (BRTA) to be unnecessary as they can easily run their vehicles paying bribes.
New vehicle registration is rising every year but vehicles getting fitness clearance has dropped to a seven-year low in the last fiscal year.
About 5.64 lakh vehicles got their fitness clearance in the last fiscal year, the lowest number since 2014-15 fiscal year, according to the BRTA.
A record 5.42 lakh registered vehicles, which should have renewed their fitness certificates, did not do so as of October 15 last year.
Almost every year this number increases and the number of road crashes also goes up.
Bangladesh Jatri Kalyan Samity, Nirapad Sarak Chai, and Road Safety Foundation, like previous years, published their annual accident reports early this year and said the numbers of road crashes and deaths have increased last year compared to 2021.
According to Jatri Kalyan Samity, 9,951 people were killed in 6,749 road crashes last year. The numbers of crashes and deaths are the highest since 2015 and 19.89 and 27.43 percent higher than those of 2021.
The issue of road safety came to the fore again after a bus, which had no fitness clearance, veered off from the Dhaka-Bhanga expressway and crashed, killing 19 people on Sunday.
The bus should have been taken off the roads four months ago when the authorities suspended its permits following a fatal crash in Gopalganj in November last year.
The Daily Star revisited eight major crashes between Sunday's crash and a crash in July 2018.
In every incident, either the vehicles involved did not have valid documents or their drivers did not have licences.
For example, the two buses that collided head-on in Rangpur on September 5 last year had no route permits. The crash left at least eight people dead and over 50 hurt.
One of the buses, owned by Abu Raihan, general secretary of the Bangladesh Bus Truck Owners Association, last renewed its annual fitness clearance over a decade ago.
On March 19, 2019, Abrar Ahmed Chowdhury, a student of Bangladesh University of Professionals, was run over and killed by a bus of Suprobhat Paribahan.
Police later found that the bus was actually being driven by its conductor, who had no licence.
Moreover, a BRTA probe later that month found only 18 out of 163 buses of the company had all required documents.
Saidur Rahman, chief executive of Road Safety Foundation, claimed that thousands of unfit vehicles can run paying "monthly money" to a section of highway police members, BRTA officials, and politically connected people.
"They [owners and drivers] do not feel the necessity to update their documents as they can operate without those," he told The Daily Star yesterday.
And corruption runs deep in the sector.
For example, police on March 15 last year seized a truck which was used in an attempted robbery.
The vehicle with the plate Chattogram Metro-NA-11-2608 has been in the Cumilla Sadar South Police Station since the seizure, but it received a fitness certificate in November last year from Barishal circle of BRTA office without an inspection. The BRTA in February suspended the official responsible.
Transport expert Prof Shamsul Hoque said there is no monitoring and if there is any monitoring, it is also "manageable". He said monitoring is only done after major incidents.
He told The Daily Star yesterday that there is no visible chain of command to make the responsible officials or staffers accountable and that is making the total system almost dysfunctional.
Osman Ali, general secretary of Bangladesh Road Transport Workers Federation, said the highway police and BRTA officials are not doing their jobs, resulting in unfit vehicles staying on the roads.
Asked why drivers without valid licences were on the roads, he said "This is not an important issue to discuss. The important issue is the BRTA is failing to do its job."
Khandaker Enayet Ullah, secretary general of Bangladesh Road Transport Owners' Association, said vehicles without valid papers cannot run if the authorities concerned, especially the highway police, do their jobs properly.
On owners running buses without papers, he said the association does not support this. It is not possible for the association to monitor over 5.5 lakh buses and trucks, he told The Daily Star yesterday.
A top BRTA official, wishing anonymity, said if an owner or a driver can run the vehicles paying (law enforcers) money, then why will they go to the BRTA for the papers?
Contacted, BRTA Chairman Nur Mohammad Mazumder said only seven magistrates run BRTA mobile courts in Dhaka and Chattogram cities. "Is it possible for them to check all vehicles?
"If all stakeholders do not respect the law, then it becomes very difficult to enforce and bring discipline," he told The Daily Star yesterday.
He said they take action when specific allegations are brought against the BRTA officials.
Highway police Additional Inspector General Md Shahabuddin Khan told this newspaper that they prosecute errant vehicles and drivers, and have fined 1.41 lakh vehicles and drivers Tk 40 crore last year.
He said they also take other measures and hold meetings with stakeholders to increase awareness. "What we observed is that the owners and workers are not serious enough about road safety."
On law enforcers taking money from errant vehicle owners and drivers, he said they probe each and every specific allegation brought against their members.
MARCH 19, 2023
A bus goes off the Dhaka-Bhanga expressway and crashes killing 19 people In Shibchar upazila of Madaripur. The BRTA in November suspended its route permit following another fatal crash. Its fitness certificate expired in January.
SEPTEMBER 5, 2022
The two buses collided head-on in Rangpur leaving at least eight dead and over 50 injured. None of the buses had route permits. One had a fitness certificate that expired 11 years ago.
JULY 16, 2022
A truck in Mymensingh's Trishal upazila mowed down three people, including a pregnant woman who gave birth on the spot. The truck had no fitness clearance, and tax token. Driver had no valid licence. The truck got its fitness clearance while in police impound.
JUNE 5, 2022
A bus went across the central reservation of Dhaka-Aricha highway in Savar and hit an oncoming staff bus that left six people, including four scientific officers of BAEC, dead. The annual fitness certificate of the bus was last renewed in 2014 and the annual taxes were last paid in 2015.
FEBRUARY 8, 2022
A pick-up ran over and killed six brothers on Chattogram-Cox's Bazar highway. Its fitness clearance, route permit and tax token expired three years ago.
NOVEMBER 29, 2021
A bus runs over and kills SSC examinee Mainuddin Islam in Rampura. It had no valid route permit or tax token.
NOVEMBER 24, 2021
A DSCC garbage truck runs over and kills Notre Dame College student Nayeem. A former cleaner of DSCC with no licence was behind the steering wheel.
MARCH 19, 2019
A bus runs over and kills BUP student Abrar triggering a student movement. The conductor with no licence was at the steering wheel.
JULY 29, 2018
Two buses racing ploughs into people waiting for buses. Two students of Shaheed Ramiz Uddin Cantonment College were run over and killed while nine others were injured. Drivers of both buses did not have the licence to drive heavy vehicles.