Will death haunt us again this Eid?
Government must fully implement road safety act, and prevent crashes during upcoming Eid rush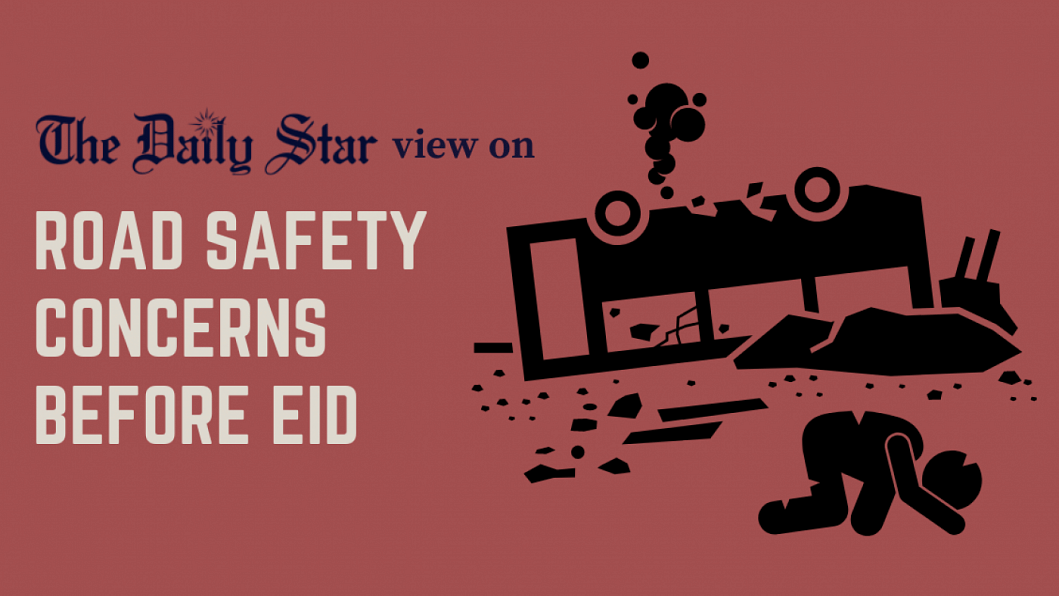 When it comes to the frequency of road crashes in Bangladesh, things only seem to be going downhill. Last month, according to a just-released estimate by the Road Safety Foundation (RSF), 564 people died in 486 road crashes. This is quite similar to what the situation was a year ago, when the RSF reported the deaths of 589 people in 458 crashes, meaning that there has been no progress during this time. And if we take into account the 2022 casualties – 7,713 deaths in total – we can see that an average of 21 people die on our roads every day. Many of these victims are children and young people, whose lives have been rudely cut short because of the prevalence of unfit vehicles and reckless drivers.
In this column, we have repeatedly highlighted the sad plight of our roads and the endless suffering of travellers. Yet, there has been little action, beyond the occasional lip service and cosmetic changes, to reverse this scenario. This is most clearly illustrated by the total lack of effect of the Road Transport Act 2018, which even after over four years remains trapped in a legal quagmire. The question is, why is the government doing nothing to fully implement it? Why are frequent interruptions being allowed to get in the way of its being effective? Why are the demands of transport leaders (for less strict regulations and reduced penalties) being entertained? While this is happening, unfit vehicles and unlicensed drivers continue to create a havoc on our roads.
This is certainly not the kind of situation we want to see going into another Eid holiday in about two weeks. Historically, this has been the time of the year when, with many thousands of people travelling across the country, most road crashes occur, and consequently most deaths. According to RSF data, last year, highway travels during the extended Eid-ul-Fitr holiday between April 25 and May 8 resulted in the deaths of 376, with about 1,500 people injured, which is really shocking. Given that motorcycle accidents made up 41.48 percent of the total fatalities in 2022, this should be an area for the government to work on with priority ahead of the upcoming Eid journey. We don't want to see a repeat of what happened during past Eid holidays. Any tragedy is certainly avoidable if the authorities are sincere and proactive in preventing it.
To that end, we urge the government to fully implement the Road Transport Act. They must ensure that the rules are properly enforced, and that those found in breach of them are held accountable as per the law. The failure of the relevant authorities, including Bangladesh Road Transport Authority (BRTA) or the ministry governing it, has already set us back as a country, dealing a huge blow to thousands of families. This must stop.