No licence, no bike
BRTA prepares guideline to control operation of motorcycles responsible for 40pc of road accidents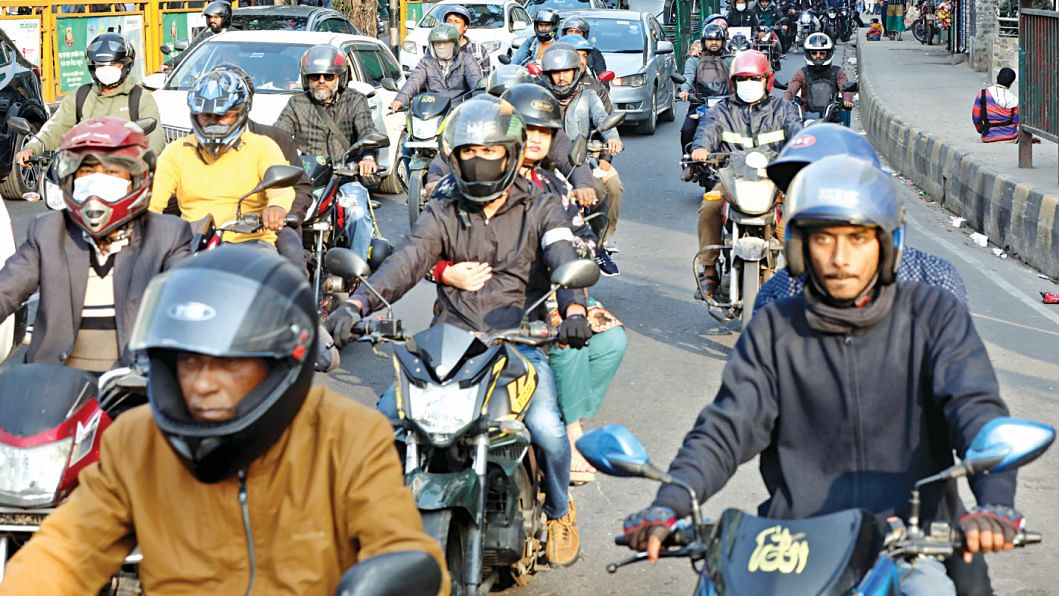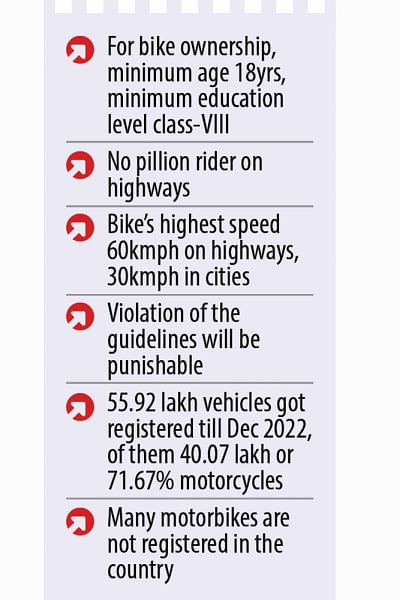 Nobody will be allowed to buy a motorcycle without a driving licence. Also, one would need a licence to get a motorcycle registered with the Bangladesh Road Transport Authority.
This has been stated in the draft guideline prepared by the BRTA to control the operation of bikes, the vehicle involved in the highest number of crashes in recent years.
According to the guideline, no biker will be allowed to carry a pillion passenger on highways. Operations of bikes on highways and inter-district roads will be suspended for 10 days before and after the day of any major festivals like Eid.
The speed limit for bikes on highways and inside cities will be 60 kilometre per hour and 30kmph respectively.
Violation of this guideline by a rider, a dealer, an agent of a motorbike producer or an importer will be considered as crimes and legal actions can be taken against them, said the draft of the Motorcycle Operation Control Guideline-2022.
"We have prepared the draft guideline following the directives of the National Road Safety Council [NRSC] and sent it to the road transport and bridges ministry last month," BRTA Spokesperson Mahbub-E-Rabbani said.
The ministry would now finalise the guideline, Rabbani, also the BRTA director responsible for road safety, told The Daily Star.
A sharp and unregulated growth of vehicles, especially motorcycles and three-wheelers, over the last few years has resulted in a spike in the numbers of crashes and casualties.
A total of 55.92 lakh vehicles were registered with the BRTA till December last year. Of them, 40.07 lakh (71.67 percent of the total) are bikes, according to the BRTA.
Besides, many motorcycles are not registered.
At least 7,713 people were killed in 6,829 crashes last year. Bikes were involved in 2,973 of the accidents that left 3,091 people dead, according to data from the Road Safety Foundation.
The figures were 43.53 percent and 40.07 percent of the total crashes and deaths occurred that year, the foundation said this month.
An investigation by a government committee into road accidents during last year's Eid-ul-Fitr holidays found a sharp rise in bike crashes and recommended banning motorcycles on national highways that don't have service lanes.
A proposal on banning motorcycles on highways was placed before the road safety council on November 15 last year. But the council, led by Road Transport and Bridges Minister Obaidul Quader, directed the authorities concerned to prepare a guideline instead.
As per section 32 of the Road Transport Act-2018, the government can control any type of vehicle and the guideline is going to be enacted following this section, reads the draft.
The purpose of the guideline is to curb road accidents through controlling bikes, introducing relatively less accident-prone motorcycles, creating awareness among bikers and helping bring discipline and ensure road safety, it added.
The draft guideline recommended implementing the control in four stages -- at the production or import level, at sale, at registration or changing ownership, and during operations of motorcycles.
Scooty-type bikes are less accident-prone than the sporty-type ones, that aremore common in Bangladesh. So, production of scooty-type bikes should be increased and the vehicle should be popularised, the draft said, adding if necessary, special duty benefits should be offered to scooty-type bikes, and duties on sporty-type motorcycles should be increased.
Bike dealers, agents of motorcycle producers or importers will not allow anyoneto buy a bike without having a driving licence and theyhave to complete registration before handing over the vehicle to the buyer, says the draft.
It also stipulates that bikes cannot be sold or registered with the BRTA if the buyer does not have a national identity card. Applicants for motorcycle registration must be aged above 18 and must have education up to class-VIII and equivalent classes.
Bike producers, assemblers and importers must have a road safety wing and they will provide at least two day's mandatory training on road safety to buyers before handing over bikes, the draft says.
Bikers providing ride-sharing service have to wear a specific dress, it adds.
Contacted, Hafizur Rahman Khan, president of Motorcycle Manufacturers and Exporters Association, said he is not aware of any such guideline.
He said the number of road crashes must be curbed and to ensure it, the relevant laws, especially those regarding controlling speeding, have to be enforced properly.
"Controlling only a particular type of transport [motorcycle] will not yield any positive results in this regard. You have to control speeding of all vehicles," he told this correspondent last week.
Yousub Ali Mollah, additional secretary of Road Transport and Highways Division, said upon receiving the draft, his divisionhas formed a committee, led by Anisur Rahman, a joint secretary of the division, to scrutinise the draft.
Once they get the opinion from the committee, they would hold inter-ministerial and stakeholders' meetings and upload the draft guideline on their website seeking public opinion before finalising the guideline, he told this newspaper.