Death toll rises to 19 in Madaripur bus crash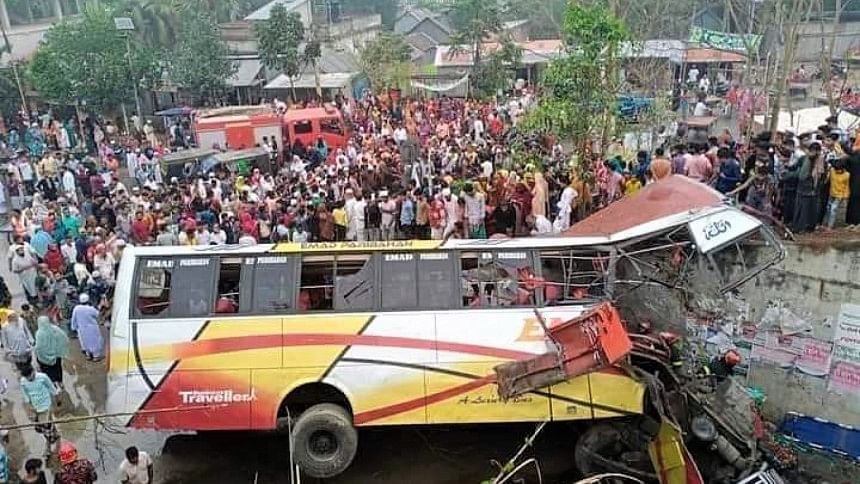 The death toll in the bus accident at Madaripur's Shibchar upazila has risen to 19 as two injured sent to Dhaka Medical College Hospital were declared dead.
The deceased could not be identified immediately.
Two people were declared dead after being brought to the hospital while seven are undergoing treatment there, said ASI Mohammad Masud, assistant-in-charge of DMCH police outpost.
Earlier, Abdullahel Baki, sub-inspector of Shibchar Highway Police, said the accident took place at Kutubpur area after the bus fell into a ditch  around 7:30am. The SI also confirmed the news of 17 dead earlier. 
"Fourteen persons died on the spot. Two died while being taken to Life Care Hospital and another person died while undergoing treatment at Panchar Islamia Hospital," the SI said around 9:30am.
At least 24 people were injured in the incident, the SI said, adding that the injured are undergoing treatment at various hospitals.
Three units of the fire service were carrying out rescue work, said Lima Khanam, duty officer of Fire Service and Civil Defence Headquarters.
The bus left Khulna's Fultala bus counter at 4:00am and then went to Shibbari Royal Hotel intersection followed by Shonadanga bus stand before starting off for Dhaka.
It was 5:00am by the time the bus left Shonadanga bus stand.
Md Sabuj Khan, counter man of Shonadanga bus counter told The Daily Star that Emad Paribahan bus left for Dhaka with 43 passengers.
A lot of relatives are coming to the counter after hearing news of the accident to enquire about their relatives.
Among the deceased, 17 bodies have been kept at Shibchar Upazila Health Complex, Nazmul Islam, emergency medical officer of the health complex told The Daily Star.
"The condition of all the injured is very critical. It was not possible to admit all of them here. Some have been sent to Dhaka Medical College Hospital," he said.
"The process of handing over the bodies is underway," he added.