Nature Quest: Dredger danger for dolphins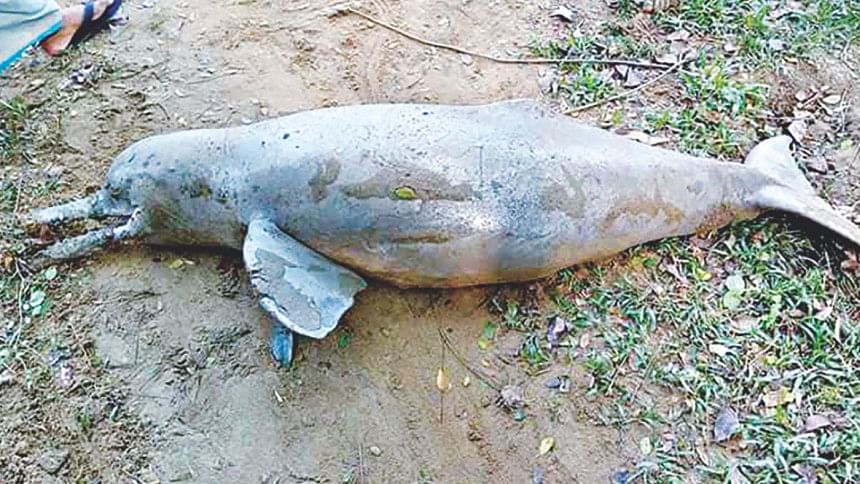 At least 16 dolphins (Platanista Gangetica) have been found dead in the last three months in the Halda, according to data found primarily by Halda River Research Institute.
Their death came as a result of injuries after they had collided with large dredgers currently engaged in extracting sand from the river, it said.
The dredgers engaged by influential locals are placed along various points of the river, obstructing the movement of the dolphins. When the mammals try to navigate through their corridors, they are caught in the large propellers of the dredgers resulting in their deaths.
On January 3 and 5, locals found two dolphins weighing between 70 and 80 kg dead in the Halda river. Another was found dead a couple of days ago.
Prof Manzoorul Kibria of the zoology department of Chittagong University, also a researcher of Halda River Research Institute, told The Daily Star that along 98 kilometres of the river, there are many dams, rubber dams and dykes which impede the water flow into the Halda.
"That is why the water flow in the river has reduced to such an extent and regrettably the situation worsens when there is tide in Halda."
"It is during this time when the dolphins find it more difficult to move. When they move, they get injured by the propellers of the dredgers," he added.
While visiting the Halda, he claimed to have found seven points, including in Modunghat, Sattarghat and Kalurghat areas where the dredgers are being operated.
He held rampant sand extraction responsible for the loss of lives of the marine mammals and leveled allegations against an unscrupulous syndicate engaged in the illegal trade.
Only 200 to 250 dolphins were found recently during a census by Prof Kibria. From the number of previous sightings alone, it is thought that there were many more dolphins in the river before.
Prof Kibria said once upon a time dolphin-sightings were a common scenario in the Karnaphuli river, another waterbody nearby. Over the years, due to pollution and man-made hazards, dolphins disappeared from the Karnaphuli.
"A few of them are still found around the Sangu river", he added.
Istiak Ahmed, former country director of IUCN Bangladesh, told The Daily Star that the dolphin species is internationally enlisted by IUCN as endangered and in Bangladesh it is categorised as nearly threatened.
He blamed indiscriminate fishing, pollution, damage of food chains and plying of mechanised boats, particularly dredgers, for the death of the marine mammals.