Nature Quest: Into those 'white eyes'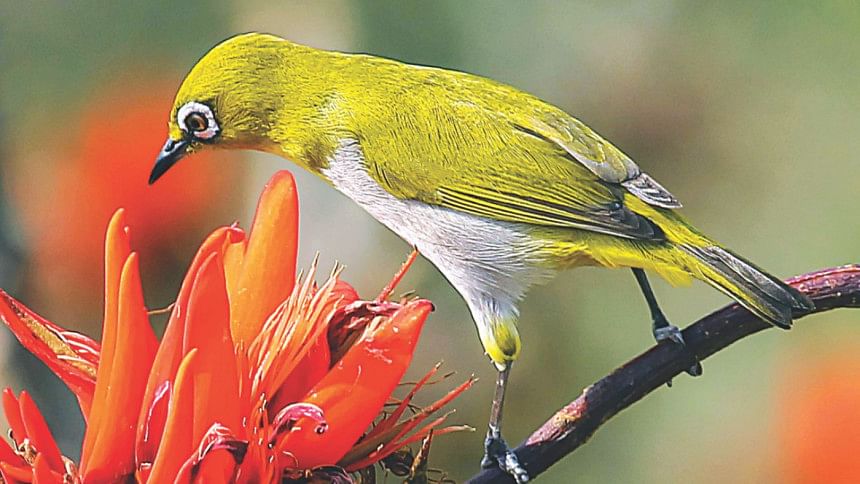 The magnificence of the Oriental White-eye lies exactly where the name suggests. The round, white orbs nestling the iris, looking almost as if an artist has crafted them with absolute compassion, is what first catches an observer's attention.
The bird has numerous names in Bangla like Shetakkhi or Babunai.
Being a resident breeder in open woodland in tropical Asia, it occurs in the Indian subcontinent to Southeast Asia, extending to Indonesia and Malaysia.
These birds are often seen flying around in or nestled in the trees of the Satchari National Forest in Habiganj.
Wildlife photographer Masuk Ahmad said that this bird, scientifically known as Zosterops Palpebrosus, belongs to the White-eye family. They are mainly insectivores, which help in pest control, but may also feed on nectar and various tender fruits and seeds which helps pollination.
He said the presence of the bird is more visible during the summertime in the Satchari National Park as their breeding seasons are between April to October.
Wildlife expert Dr M Monirul H Khan, professor of the zoology department at Jahangirnagar University, said that the bird's height is about 8-10 cm and the average weight is 9 grams.
An adult Oriental White-eye's back and head are yellow in colour, with black wings and a tail, white breast and stomach, dark yellow throat and lower tail, and a brown beak.
They attract potential mates during this season with their melodious tunes.
Hanging their nests made of cobwebs, lichens and plant fiber, on high tree branches, the females lay two to four pale blue, spotless eggs. The chicks hatch in nine to eleven days and can fly within 10 days of hatching.
Tofazzal Sohel, general secretary of Bangladesh Poribesh Andolon, Habiganj, said the Oriental White-eye is classified in the "least concern" category on the International Union for Conservation of Nature (IUCN) Red List.
However, once found in almost every forest, grove, garden, orchard, and village of Bangladesh, the species is now decreasing in number due to habitat loss, deforestation, and, especially, poachers.