Nature Quest: Flames of the cannon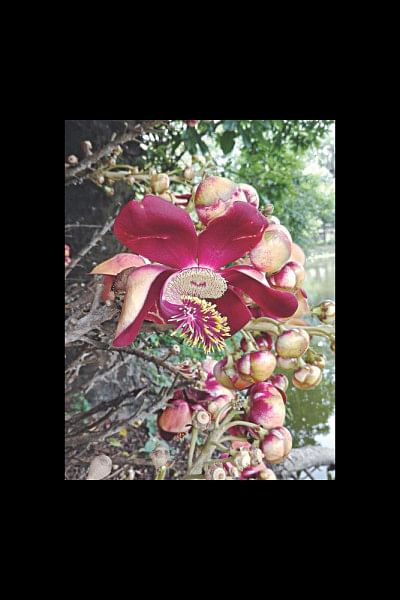 Even though the zamindar of Mymensingh's Shashi Lodge area, which is now under the care of the Archeological Department, left about seven decades ago, some of the treasures they left behind still attract passers-by enough to go inside and take a peek.
One of these beautiful treasures is the century old Couroupita Guianensis or more commonly known as "cannonball trees" on which the sweet-smelling Nagalingam flowers bloom.
The tree was rare but it was found in Bangladesh, and Maharaja Suryakanta Acharya Chowdhury of the Muktagacha Dynasty had planted them in his palace compound, the Shashi Lodge, said Prof Zakir Hossain, former head of Department of Botany of Bangladesh Agricultural University (BAU) in Mymensingh.
There are currently three cannonball trees on the premises of Shashi Lodge, covered in these brightly coloured flowers. The Nagalingams have a pungent and sweet scent, and are especially fragrant at night.
According to Zakir, there are a few trees on the campus of Barisal BM College, some in the Botanical Garden and some in Balda Garden in Dhaka.
The tree is native to South America and was found in this sub-continent since colonial rule, he said.
The trees have become a part of Mymensingh's history, and could be planted for beautification, but also because of its natural benefits to maintain ecological balance, he said.
The Nagalingam blooms mainly in April and May and lives for over two months, said Prof Dr AKM Golam Sarwar, curator of Botanical Garden at BAU. The branches with flower clusters grow directly out of the tree.
The leaves, flowers and fruits of the trees also had medicinal values, said Sarwar, also a professor of Plant Taxonomy at BAU.
They could help in curing colds and stomach aches, while juice extracted from its leaves were used to cure skin diseases, and shamans of South America have even used its parts for treating malaria. The insides of the fruit could disinfect wounds and its odour could be used as insect repellent.
BAU had taken the initiative to produce Nagalingam plants in their garden so they could grow the tree all over the country.
Due to its shape, which looks like a snake over a Shiva Lingam, the flower has been named Nagalingam. The trees are grown extensively in Shiva temples in India, they said.