Nature Quest: Liliums blooming in Bangladesh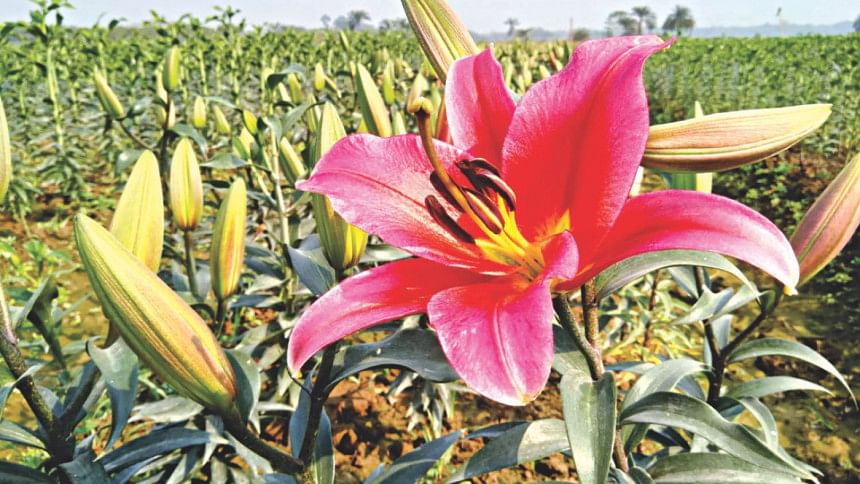 The first batch of Lilium flowers has been commercially farmed in two locations in Bangladesh -- Jhenidah and Dhaka.
The scented flower of bright, vibrant hues was cultivated on four bighas of land at Trilochonpur village under Kaliganj upazila in Jhenidah and two bighas at Mauna in Gazipur, Dhaka.
Four farmers -- Tipu Sultan from Kaliganj, Jhenidah; Nur-Mohammad of Gadkhali, Jessore; and Nasir Uddin and Delwar Hossain from Gazipur, Dhaka -- jointly undertook this initiative, due to high cost of production.
The four gardeners invested a total of Tk 44 lakh on these two plots.
They bought 63,000 seeds worth Tk 42 lakh from Royal Van Zanten, a company based in the Netherlands, and bought customised netting from Belgium that gives the flowers the shade and protection.
Jen B R, assistant field and shed manager at Royal Van Zanten, visited Bangladesh to train the farmers on the correct methods of storage, planting, rearing and harvesting the flowers.
They planted the seeds in the first half of December last year, said Sultan, who owns the field in Jhenidah.
They harvested 500 sticks of flowers in February 25 from Kaliganj, and 900 sticks from Gazipur last week. Each flower sells for about Tk 120 in the markets, while imported varieties sell for about Tk 150. 
Each plant bears three to five sticks; the buds are harvested first, the flowers bloom later.
The flowers have a long shelf life as they remain fresh and can be sold for 20-25 days, said Hossain, who owns the field in Gazipur.
Lilium production is tricky in Bangladesh as the seeds need to be stored under 25 degrees Celsius. The flowers grow better in cooler temperatures, he added.
Bangladesh Flower Society President Abdur Rahim said, "I tried to cultivate Liliums on 10 decimals of land in Jessore in 2008, after buying seeds from India. I could not continue because storing the seeds was near impossible."
With the help of the government, it is possible to store the seeds for cultivation till the next season, said Sultan.
Additional Director of Horticulture Wing of Department of Agriculture Extension Shah Mohammad Akramul Haque said these flowers were cultivated on a test basis before. "But this is the first time it has been done on such a scale."