Nature Quest: Bond with the birds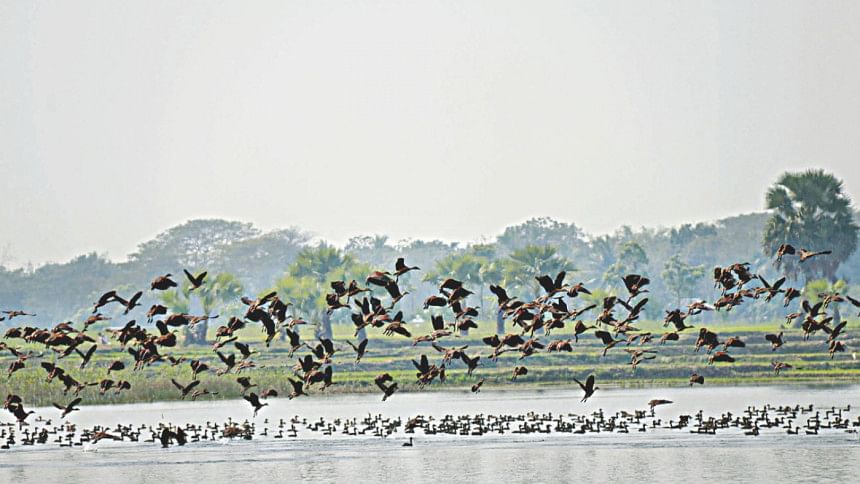 Raba Begum, headmaster of Jogiborth Govt Primary School in Nodiachad Baor of Alfadanga upazila in Faridpur, transitions into a different role when the last class of the day ends. All around the locality, she is well known for being a protector of the many birds that descend upon the area.
Nodiarchad Baor, a 500 acres wetland, is located 17 kilometres away from the upazila headquarters. Every August, birds of different species arrive and their numbers have been steadily growing because of the efforts of locals like Raba.
Cranes, cormorants and the lesser whistling duck are few of the more exotic visitors, among others.
Villagers feel proud when they see the fluttering wings and hear the chirps. They ensure that the birds are not harmed in any way.
"The guest birds have been coming here for around 15 years now. I ask the villagers to take care of them," said Raba Begum. "During assembly, before the classes begin, I also always ask my students to do the same."
Her noble message is paying dividends.
Jabin Sultana, a student of class III said, "I love watching the birds when they fly over our school." Sakib Sheikh, a class V student echoed the sentiment. "I go to the bank of the baor during our break to watch the birds. It makes me happy."
Raba said she also asks her students to inform her if anyone tries to harm the birds.
Md. Harun-ur-Rashid, a local said, "We do not kill any bird. If any one comes to hunt the birds, we protect them. For this reason the number of birds has been increasing."
As an example of this, he said that only a few days ago a police officer came with some friends to hunt birds. Villagers immediately informed Raba and she informed the upazila nirbahi officer and the deputy commissioner. Later, a team of Alfadang police arrested them.
Md. Anower Hossain, a member of Panchuria Union Parishad said, "People of different villages come here to see the birds, so we are very proud to have them."