Flocks of monochrome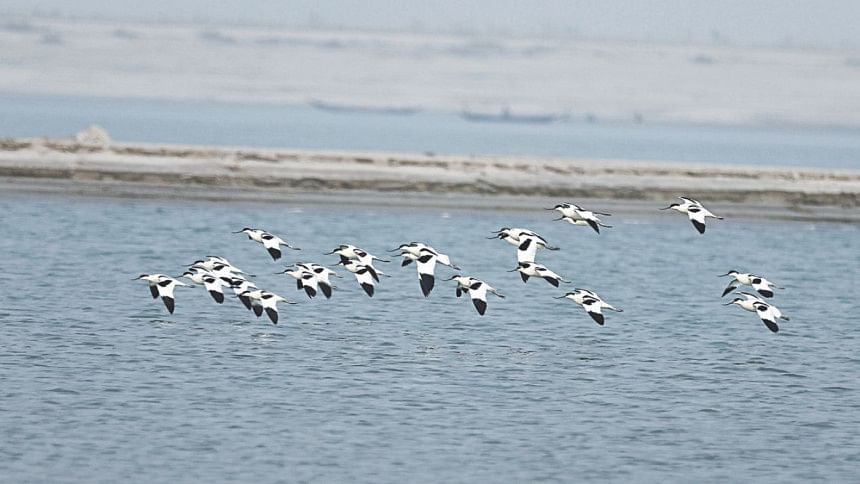 With the arrival of winter, the shallow waters and narrowing width of the mighty Padma becomes host to a number of animals in search of the nutrition it provides.
Most recently, the distinctly black and white Pied Avocet, who visits Bangladesh just before winter begins in full-throttle, was seen flying over the Padma and in search of food on the wetlands in Khanpur Char in Rajshahi.
The Pied Avocet is an Old World species of shorebirds. Scientifically, the bird is known as Recurvirostra avosetta. In Bangla, however, the bird has an array of names -- Khoyaj, Pakra Ultothuti or Hatuhanga.
SM Iqbal, local bird expert and associate professor of Zoology of Tangail's Govt MM Ali College, said, "The Pied Avocet is a migratory bird in Bangladesh, but their populations are abundant throughout the year in Africa and some parts of Western Europe."
An elegant and striking bird, the Avocet gets its name from the black colour on its head, which resembles the cap once worn by advocates.
The rest of its plumage is primarily white, with a black band on each wing, black wing tips and a black striped pattern on its back. One of the most distinctive features of the avocet is its long, slender, upturned bill. The bill is black and is longer in the male than the female. Their long legs are conspicuously blue-grey in both sexes and dangle well beyond the tail when in flight. When taking rest, the Pied Avocet needs to fold their legs in.
Wildlife expert Monirul H Khan of Jahangirnagar University said, "These birds visit Bangladesh just one or two months before winter and live here for around three months. They leave after the season passes. They are actually found less in river areas, and more in around coastal areas.
"The Pied Avocet feeds mainly on aquatic invertebrates such as insects, larvae, and worms. At least 20-40 birds form a flock and move together."
The Pied Avocet is threatened in some parts of Europe due to pollution in the wetlands caused by insecticides, lead and mercury, and human disturbances. However, since the species is not threatened globally, the International Union for Conservation of Nature (IUCN) has listed the bird in the "least concern" category.
In Bangladesh's char areas, some people hunt these birds due to which their numbers have begun decreasing around the Padma during winter.
"Awareness must be spread among the people and we will also have to implement the wildlife act properly to be able to protect our special winter visitor," SM Iqbal said.