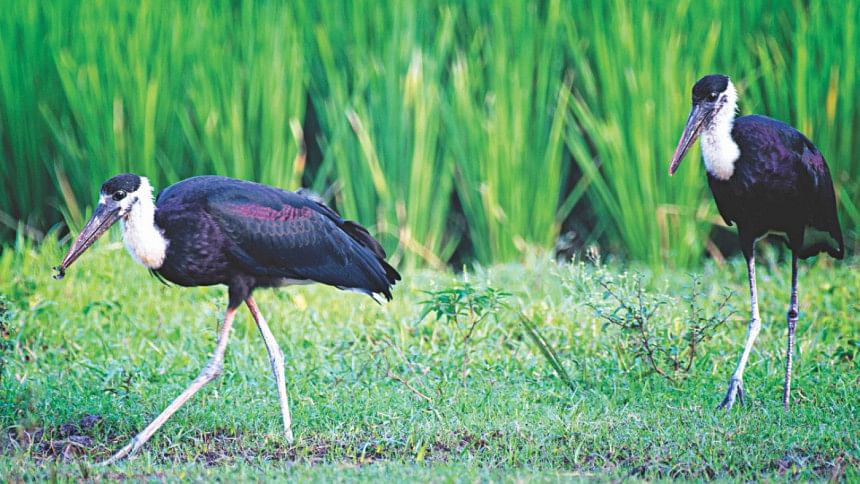 At the beginning of the 20th century, the globally vulnerable Asian-Woolynecked stork had begun disappearing from East Bengal, now Bangladesh, after which the Encyclopedia of Flora and Fauna of Bangladesh termed this species of stork "a former visitor of Bangladesh".
However, in 2015-16, our "former visitor" had made a sudden comeback in Rajshahi which was able to instill some hope in bird lovers of their return. This extraordinary event was recorded and reported in the Nature Quest published on March 11, 2016. 
Since then, to the delight of bird-lovers across the country, the Asian-Woolyneck, along with other less rare storks, has been visiting the banks of the Padma every winter.
To add to this, at the onset of this year's monsoon, a pair of storks was observed nesting on a telephone tower in Premtali, a small town about 20 kilometers from Rajshahi, on the way to Chapainawabganj.
The two about-to-be-parents storks with their black-vermilion bodies, fluffy white necks and black-red bills were unmistakably Asian-Woolynecks.
Due to the high odds against any bird building its nursery on an exposed platform in Bangladesh, bird-lovers kept their fingers crossed for the Asian-Woolynecks and their plan to expand their family and species in the country. With ample food in the wet paddy-fields of Premtali, including frogs, grasshoppers, crickets, earthworms and moles, bird-lovers and nature enthusiasts knew the birds had whatever they needed. However, what the people were most afraid of were nest robbery by telephone technicians, killing or trapping of the parent-birds by local hunters or recurrent visits by photographers.
The tower, however, proved to be a satisfactory nesting site when Asian-Woolynecked fledglings flew out of their nest in August. Birdwatchers are now relieved as they watch the stork family foraging in the nearby paddy-fields every day.
After more than a century, these storks chose not to stop at a revisit but brought and are also raising their children right here on our land. Thus, our "former visitor" became a breeding stork in Bangladesh. The question that now remains is that, as they are resident breeders in wetlands with trees, will we see more of these storks setting up their nests here?
The Asian-Woolyneck is a species that lives only in east and far east Asia and, unlike the White Stork, it does not migrate far to breed. As bird-lovers in Rajshahi rejoice in the presence of these iconic birds and help make their neighbourhoods more bird-friendly, we can hope that the number of breeding storks will increase.
In four years, the baby Woolynecks of Premtali will become adults looking for their own nesting sites somewhere on the riverbanks of the Padma, and it is up to us to help them feel right at home.