Nature Quest: Delicate Dulichampa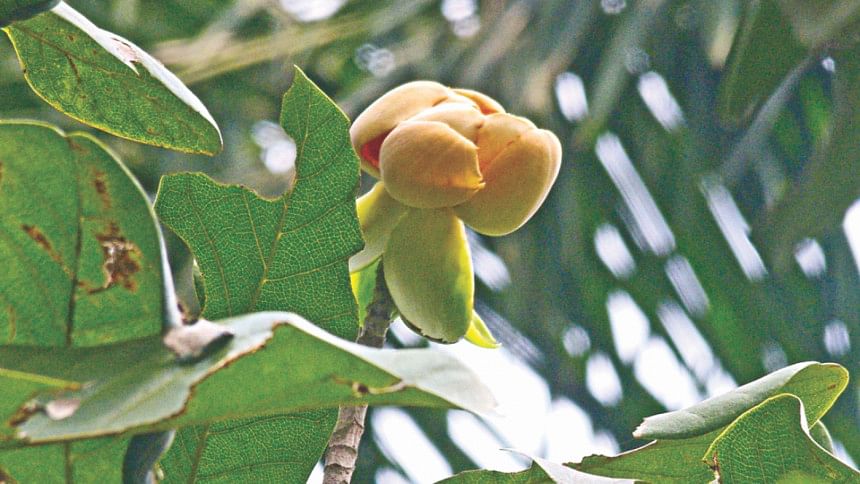 I have heard about Dulichampa many times from Prof Dwijen Sharma. But the chance to see its picture came in April 2008. The photo was taken at Patharia hills in Moulvibazar's Barlekha upazila. The eminent botanist also wrote an article titled Bone Emon Phul Phuteche in the daily Prothom Alo. This piece of writing has a great significance in the study of botany. The flower, known as magnolia, used to be considered as an exotic flower. It was Prof Sharma's personal research that changed the idea and opened a new chapter. We came to know that we also have the beautiful and fragrant magnolia, which is popularly known as Dulichampa.
A seedling of the tree was planted on July 14, 2007, on Dhaka University campus. Prof Sharma collected two pieces of the plant from Patharia hills.
One was planted in DU and another in Ramna Park. Prof Sharma, Prof Kazi Abdul Fattah, Prof Sudhir Kumar Datta, Prof Jodulal Karmokar and Prof Abul Hasan were present while it was being planted on the DU campus. All of them are academics of botany department. I had the chance to take a rare photo of the planting on that day.
In the summer of 2010, the plant at DU bloomed. It was undoubtedly good news. Not only that, the one in the Ramna Park bloomed in April this year. And now we can proudly say that we too have magnolia.
Dulichampa (Magnolia pterocarpa) is quite a big and evergreen plant. Its head is circular and its leaves are large, 20 to 35cm long. Single flower blooms on the matured top stalk, which is 10cm wide and large in size. The white fragrant flower has six petals, oval shaped and well-developed. Its fruits are a bit long and shiny. Seeds are orange in colour.
Other than the forests in the Sylhet region, this flower can be found in the forests of Chittagong Hill Tracts (CHT). These are members of Magnoliaceae family.
Through seedlings or stalk culture, a good number of this tree should be planted in the urban areas so that our next generation could know that we too have magnolia in our own country and learn more about the flower.
Magnolia is acclaimed all over the world for its beauty and fragrance. Generally, it grows and lives well in the cold country. Magnolia grandiflora is known as Udoypadma or Himchampa in our country.