DU beset with gang crimes
'Proloy Gang' is not the only one, there are others; inter-hall probe body formed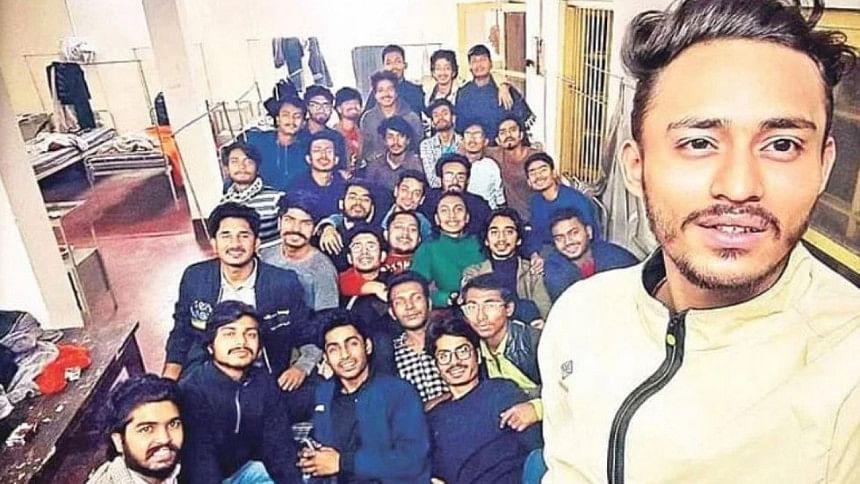 Two more student gangs -- "Nishachor" and "Bhai Brothers" -- had been carrying out criminal activities on Dhaka University campus for several years, say students.
A section of third-year honours students, who lived in "gono rooms" during their first year at residential halls, had formed the gangs.
The gang members ran their activities through Facebook messenger and WhatsApp groups. They roamed around the campus at night and got involved in various crimes including taking drugs, harassing women, and mugging in the Central Shaheed Minar, Suhrawardy Udyan, Fuller Road, and Curzon Hall areas, said students.
Meanwhile, the DU yesterday suspended two members of "Proloy gang", which came under the spotlight after its members beat up Zubaer Ibne Humayun, a criminology student, on campus on Saturday evening.
The DU provost standing committee formed an inter-hall probe body, headed by Salimullah Muslim Hall Provost Prof Iqbal Rouf Mamun, to identify the members of "Proloy gang". The committee was asked to submit its report in seven working days.
Many members of "Proloy gang" are druggies, involved in mugging and beating up of DU students, said general students.
The DU in a statement yesterday said Naimur Rahman Durjoy of anthropology department and Sakib Ferdous of accounting and information system department were suspended.
The decision came after Shahbagh police arrested Naimur and Sakib Ferdous on Sunday in a case over assaulting Zubaer.
Speaking to The Daily Star, a member of "Proloy gang" said they opened a Facebook messenger group titled "Proloy" in March 2021. All the 30-35 members of the group are second year honours students.
He said that Saad Ibrahim and Tabarak Mia are the leaders of the gang. They used the DU medical centre as their main gathering spot. They used to take drugs regularly at the Suhrawardy Udyan. Some of them were involved in mugging in and around the campus.
"We opened the group when we were first year students. We used to live in 'gono rooms' in terrible conditions. That's when we started going to the medical centre as it was quite common for any of us to become sick every day. Then we realised that even the environment at the medical centre was much more comfortable than at the university dormitories," the gang member added.
A tea stall owner at the Suhrawardy Udyan identified the gang members in some photos. He claimed that they used to mug people at the park after sunset, and were also involved in extorting people.
TWO GANG MEMBERS HELD
DU students Fazle Nabid and Sadique Ahmad, both residents of Bijay Ekattor Hall and members of "Nishachor", were arrested by police last month for snatching money from a truck driver inside Buet campus.
The university authorities later suspended the two, said students.
"As the university suspended the duo, many of their fellow gang members have become cautious," said a student.
He said that many of the "Nishachor" members ride bikes and deliberately hit cars. "Other gang members waiting around would rush to the spot and start shouting about reckless driving. At one stage, they would realise money from the car occupants. If any car driver tried to protest, they would assault the driver," he added.
Speaking to The Daily Star, DU Vice Chancellor Prof Md Akhtaruzzaman said, "We have learnt about a gang from the media. We can't tolerate any anti-discipline activities by students on campus."
He said they earlier had taken actions against students who were involved in criminal activities and violated the rules of the university.
"We have formed an inquiry committee to investigate the "Proloy gang" incident. We will take stern action if we find any student guilty of committing crimes."
This newspaper could not reach Saad Ibrahim and Tabarak for comments as their phones were found switched off.