The challenges they take on
Four differently abled students in Ducsu race to fix the ills general students face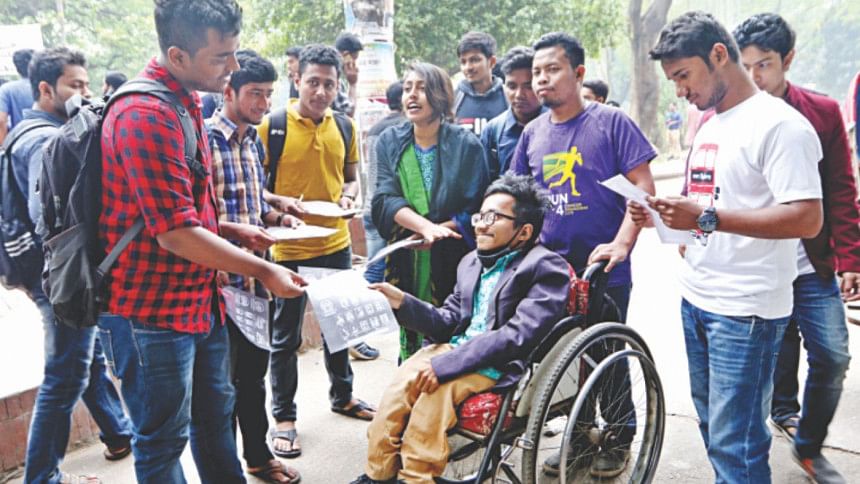 As campaigns and preparations for the upcoming Ducsu polls are in full swing on Dhaka University campus, differently abled students are not lagging far behind.
Some four physically challenged students are set to contest the polls slated for March 11.
Being blind since his childhood, Amjad Hossen, a final-year student of Bangla department, can clearly understand the problems that have been gripping the country's supreme university and its students for years. 
He is contesting for the post of a member from the joint panel of leftist students' organisations.
Born in a poor family, Amjad lost his eyesight at the age of two, but that could not hold him back from receiving higher education.
Talking to The Daily Star, he said he did not make the decision whimsically, but rather after learning how measurable were the lives of students living in different dormitories.
"In 2016, when I got enrolled in DU, I thought I was blessed with an opportunity to work for the betterment of our country.
"But on the first day of my university life, I heard about a procession brought out protesting the death of a fresher student Hafizur Rahman," he added.
"Subsequently, I came to learn that nearly 40 students of university's first year were living in a room for four. Even, the specially challenged people were not spared. In a room at Hazi Muhammad Muhsin hall, with an accommodation for four students, I along with at least 15 physically challenged students used to live in," he said.
"After seeing all these, I joined the Samajtantrik Chhatra Front and took part in every logical protest of the Campus, including those demanding holding of the Ducsu polls," Amjad said.
He pledged to wipe out the seat crisis in different dormitories and ensure residential facilities for all the students, if elected.
"I want to work for all, not only for the physically challenged students," he added.
Like him, Joshiah Sangma, another physically challenged student of the university is also contesting polls for a member post. He is running from the Bangladesh Chhatra League (BCL) panel.
He was born with an inherited disorder that compelled him to confine to a wheelchair from the age of eight.
"Whenever I go the Ducsu building, I need to take help of others to get there. Only a physically challenged person will understand the problems and hurdles we face every day," said Joshaih.  
He said he would work for all the students but pledged to fulfil the needs of students with physical disabilities.
Besides studying Master's at the Sanskrit department, Joshiah is also connected with different extra-curricular activities. He is the vocalist of a campus-based band named "Khyapa" and the vice-president of Physically-Challenged Development Foundation, DU unit.
The story of Abul Hosain, nominated by BCL for the post of social service affairs secretary at Hazi Muhammad Muhsin hall, is quite similar.
He said the representation of physically challenged people was absent in recent years, and as such, they had not been able to reach the "appropriate authorities" with their demands.
"If I get elected, I will press the authorities to establish a special reading room for the blind students and ensure all the basic needs of the students," said Abul, a Master's student of political science department who lost his vision after having a Typhoid attack at the age of 10.
Another physically challenged contender Naim Mollah also pledged to work to resolve all the crisis a fresher has to face.
"Since first year, I witnessed how a student is repressed in the 'Gono Room' and his dreams get shattered because of that," said Naim, a member contender for Kabi Jashim Uddin hall union from BCL's panel.
"I think I will be able to represent the students and voice their demands on behalf of them. I do not want to make any promises which will only be limited with words," he said.
Naim, a second year student of Pali and Buddhist Studies department of the university, face difficulties while walking because of his curved right foot.