Dried Fish Delicacy in Hilly Cuisine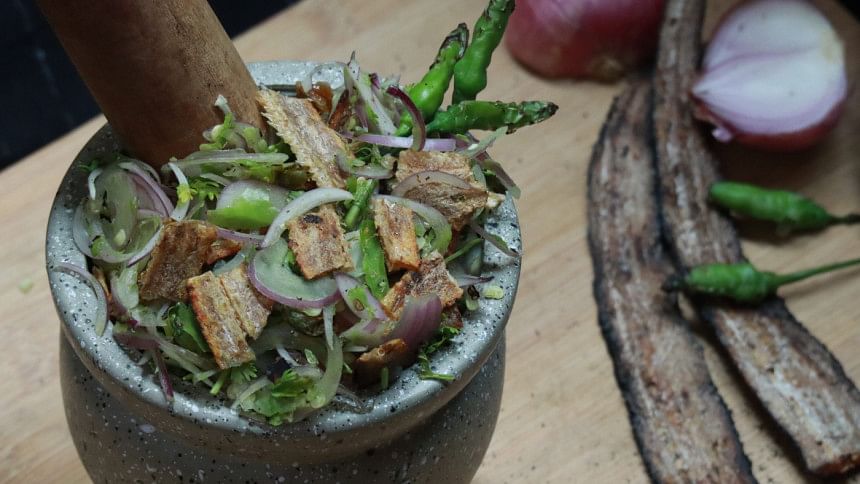 Dried fish is one of the key ingredients of most recipes in hilly cuisine, and their popularity is on par with any other meat dish. 'Suri Suguni'/ 'Chhuri Shutki' and 'Eje-guri'/'dried-prawn' are pantry staples for the Chakma community, and are incorporated into preparations of local veggies, primarily as a flavouring additive.
The recipe of the traditional delicacy called 'Pajon,' most commonly associated with the Biju festival, requires a good number of different types of dried fish to intensify the authentic flavour of pajon. Cooking dried fish in a bamboo tube and inside banana leaf wraps are two other famous and traditional ways of cooking in the hills. Roasting dried fish in an open fire or on charcoal embers is another popular method of making dried fish salad/salsa.
Here are some dried fish recipes from hilly cuisine to try for every dried fish lover.
ROASTED DRY FISH SALAD
Ingredients
4-6pc chhuri/loitya Shutki
10-20pcs Bird eye/green chilli
½ cup onion, chopped
¼ cup coriander leaves, chopped
Salt to taste
Method
If you have a charcoal BBQ griller, you are very lucky and if not, then nothing to worry, use your gas stove! Fire your stove and place a net over the stove and place your dry fish over it on low-medium heat. Make sure to burn your dry fish on each side, evenly. Make sure to make all parts crispy and well-cooked at the same time. Increase and decrease your fire if required.
The sands that are in the body of the fish and the smell will just go away while you char them on open flame. Clean all burnt black parts by rubbing a knife onto it. If your dry fish are well cooked and crispy enough, you can break them into bite size pieces easily. If not then roast again.
Roast all green chillies as well and smash, make a coarse grind paste by using mortar and pestle. Put chopped onion, coriander leaves, salt and roasted dry fish pieces and smash for a few times.
Serve with hot rice and with boiled/garden fresh vegetables.
STEAMED DRIED FISH CURRY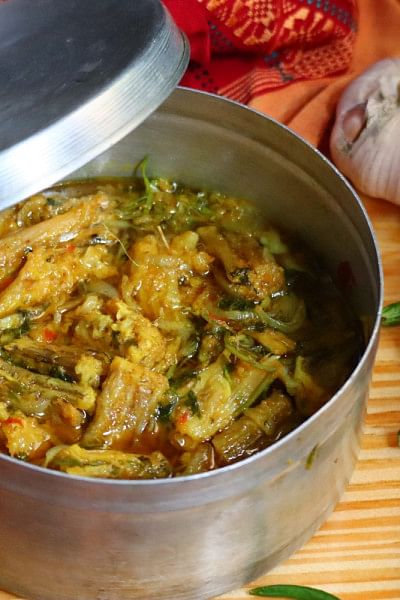 Ingredients
10-12 pcs loitya shutki/dried bombil
1 cup onion, chopped
1 tsp garlic paste
½ tsp ginger paste
1 tbsp green chilli paste
1 tsp red chilli powder
1 tsp turmeric powder
½ cup oil
½ cup coriander leaves, chopped
Salt to taste
½ cup water (for gravy)
1 medium size banana leaf (optional)
Method
Chop fish into inch long pieces and soak in warm water for 20 minutes, to make it soft and clean. Drain the water and wash the pieces. Mix all the ingredients in a large mixing bowl and give a good mix with clean hands and marinate for half an hour. Get one steel box with a lid. Transfer the marinade into the box. Cover the box with banana leaf and then close the box with the lid. The banana leaf will help to add subtle sweet leaf flavour. Put the box into a steamer and steam for about 30 minutes over medium flame. Serve with hot steamed rice.
STIR FRIED JACKFRUIT WITH DRIED FISH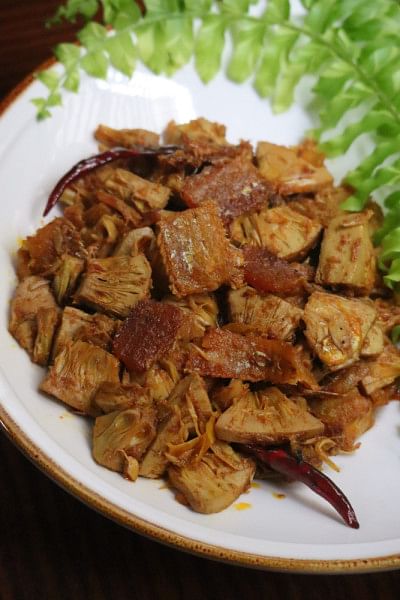 Ingredients
4 pcs dry fish/chhuri shutki
2 cups jackfruit, thin pieces (boiled)
½ cup onion, chopped 
1 tsp garlic paste
1 tsp ginger juice
4 pcs dry red chilli
1 tsp red chilli powder
½ tsp turmeric powder
1 cup or less water
½ cup oil
Salt to taste
Method
Chop fish in 1-inch pieces and soak in warm water for 20 minutes. Drain and clean the fish, then transfer to a bowl. Put red chilli, turmeric powder and salt over the dry fish pieces and mix well.
Heat a pan with oil over medium flame. Add red chillies and fish. Sauté for a few minutes until pieces turn golden brown. Transfer fish out of the oil and set aside.
Heat the same pan with the remaining oil, and add chopped onion. Fry until the colour changes. Put garlic paste and the juice of ginger, sauté for a few minutes. Put jackfruit along with fried dry fish pieces and stir fry. Put a little amount of water at a time and keep stirring until everything is well cooked. When the water evaporates and oil separates, transfer the food into a serving dish.
DRIED PRAWN SCRAMBLED EGGS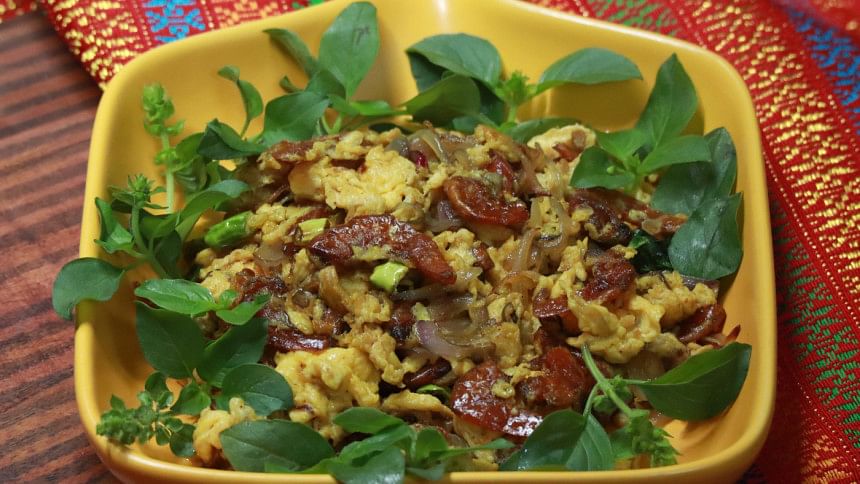 Ingredients
3-4 eggs
20-30 pcs dried prawn
¼ cup onion, chopped
2-3 green chilli, chopped
¼ cup oil
Salt to taste
Turmeric powder, a pinch
A handful of lemon basil /coriander leaves, chopped ½ cup
Method
Heat a pan with oil over low-medium flame. Add dried prawn along with salt and turmeric powder. Fry until the prawn gets well-cooked and crispy. Add onion, chilli and sauté for 1 minute or less. Add eggs and keep stirring. Add lemon basil or coriander leaves, mix well and let the egg cook for a while, transfer into a serving dish.
Food and Photo: Chiangmi Talukder Lena