Rise In Dengue Patients: DMCH faces acute shortage of beds
Many being treated on floor; 13 more including doctor die from the virus; another 2,742 hospitalised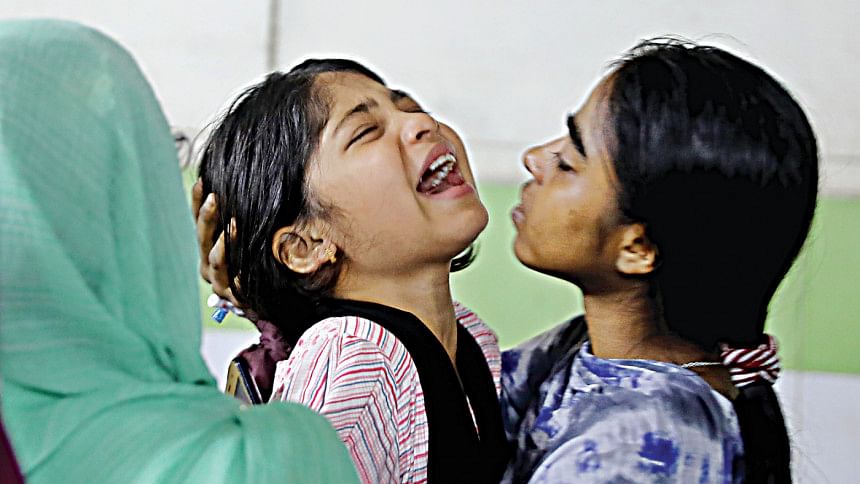 Twenty-year-old Mohammad Sakib was admitted to Dhaka Medical College Hospital on Sunday as he was experiencing severe weakness -- a dengue symptom that is considered a "warning sign".
However, as there was not a single bed available, his father had to buy a mat for him to be placed on the floor of the medicine unit, where he is still undergoing treatment.
"I was diagnosed with typhoid and dengue, both. I am doing a bit better now. But I plan to leave my job and go to my village home once my condition improves, as where I live and work right now in the city – Matuail – lacks anti-mosquito activities," said Sakib.
Like Sakib, many patients at DMCH are being treated on the floor due to a scarcity of beds.
Riaz Uddin, a doctor at the medicine ward, said, "We don't send back patients who are in a critical stage with such warning signs, comorbidity patients, or those in high risk.
"As we have a scarcity of beds, we are trying to make space on the floor in order to ensure their treatment," he said.
HM Nazmul Ahsan, associate professor at Shaheed Suhrawardy Medical College Hospital, said immediate hospitalisation is required if a patient experiences severe stomach aches, breathing difficulty, severe weakness, vomiting, and/or bleeding from gums and nose.
"If a patient is not hospitalised within 24 hours [of these symptoms surfacing], they may go into dengue shock syndrome."
Zaheda Begum, an aunt of Abir, 15, who has been in DMCH since Saturday, said they also had to get a mat to use as a bed on the floor for him.
"However, with continuous treatment, Abir is doing well now."
Morshed Alam, 30, a resident of Cumilla's Daudkandi, was admitted to DMCH with dengue on Sunday and was about to get his treatment started after his test reports were available.
"But as I wasplaced on the floor, my test reports, along with my mobile phone, were all stolen."
Meanwhile, a doctor died of dengue fever at Dhaka Medical College Hospital (DMCH) in the early hours ofyesterday.
Almina Dewan Mishu, 32, was a 39th BCS cadre officer. She had been under treatment at the hospital's ICU since August 1.
Earlier, she was at a private hospital after being diagnosed with dengue on July 26, and then was transferred to DMCH as her condition deteriorated.
She was declared dead around 5:30am, DMCH Director Brig Gen Md Nazmul Haque told The Daily Star.
She was buried at her ancestral graveyard in Narayanganj's Kanchan municipality.
The Directorate General of Health Services expressed deep condolences at the death.
According to the DGHS, with the deaths of Almina and 12 others yesterday, the number of dengue fatalities rose to 340, of which 194 are female and 146 are male.
Eleven of the deaths occurred in Dhaka city.
Meanwhile, 2,742 dengue patients were hospitalised across the country in the last 24 hours till yesterday morning, bringing the total number of cases to 72,225.