Dengue taking a dangerous turn
14 deaths recorded in first four days of July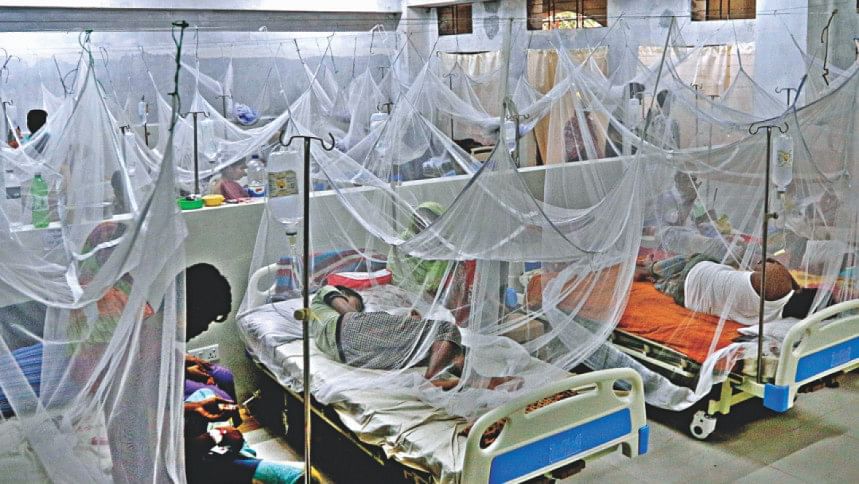 The dengue outbreak in Bangladesh has taken a worrisome turn as the number of cases and fatalities continue to rise, signaling an alarming trend this year.  Yesterday, the country witnessed the highest number of dengue deaths this year, with five fatalities.
The total number of deaths in the first four days of July has already reached 14 whereas nine deaths were recorded in entire July last year.
The Directorate General of Health Services (DGHS) reports 61 individuals have lost their lives to dengue so far this year. The surge in cases is evident as 678 new dengue patients were hospitalised within the last 24 hours, bringing the total number of cases to 9,871, with 2,787 cases originating from outside Dhaka.
The recent deaths of Bulet, a 38-year-old sweeper from Rangpur, and Ilma Jahan, an eleventh grader from Viqarunnisa School and College, have further highlighted the devastating impact of dengue.
In response, experts are urgently calling on the authorities to conduct extensive drives to identify and control the hotspots of Aedes mosquitoes, the carriers of the dengue virus.
The survey revealed that 20.04 percent of houses under the Dhaka North City Corporation and 15.47 percent of houses under the Dhaka South City Corporation were found to have Aedes mosquito larvae.
MORE FEMALE DEATHS
The latest analysis conducted by the DGHS sheds light on the demographics of dengue-related deaths in Bangladesh this year. Among the 50 deaths analysed, 62 percent were female. The age group most affected, accounting for 60.80 percent of the fatalities, was between 19 and 50 years old.
Besides, 80 percent of the deaths occurred within three days after the patients were admitted to the hospital.
HM Nazmul Ahsan, an associate professor at Shaheed Suhrawardy Medical College Hospital, emphasised the importance of seeking medical attention promptly upon experiencing warning signs of dengue.
SYMPTOMS
The warning signs include severe stomach pain, vomiting, breathing difficulties, bleeding from the nose, gums, vomit, or stools, weakness, significant reduction in urine output, and a notable decrease in platelet counts.
Dr Ahsan stressed the need for immediate hospitalisation as dengue patients can rapidly progress to critical stages within 24-48 hours of displaying these symptoms.
He further advised that special attention should be given to pregnant women, infants, elderly individuals, and patients with underlying health conditions such as cancer, heart, kidney, or liver complications.
Additionally, Prof Dr Tahmina Shirin, director of the Institute of Epidemiology, Disease Control and Research, highlighted the importance of consulting a doctor and receiving appropriate medication if diagnosed with fever.
Adequate fluid intake is crucial for dengue patients, and Dr Shirin recommended consuming coconut water, saline, homemade fruit juices, and sorbets to maintain hydration and provide essential vitamins and minerals for a faster recovery process.
PRE-MONSOON SURVEY
The findings of a pre-monsoon survey were announced yesterday during a press briefing held at the DGHS office.
The survey, conducted between June 18 and 27, covered 3,150 households across 98 wards in the two city corporations of Dhaka.
The survey revealed that 20.04 percent of houses under the Dhaka North City Corporation and 15.47 percent of houses under the Dhaka South City Corporation were found to have Aedes mosquito larvae.
Multi-storeyed apartment buildings constituted over 43 percent, houses accounted for 21.41 percent, and construction sites made up 18.21 percent of the affected properties.
The survey also identified various types of wet containers within the houses that were positive for mosquito breeding. The highest percentage, 14.54 percent, was found in buildings where stagnant water accumulated due to rain or other reasons.
Plastic buckets accounted for 9.28 percent, plastic drums for 8.73 percent, flower tubs and trays for 8.03 percent, plastic mugs or pots for 7.89 percent, and used discarded tires for 7.76 percent.
Meanwhile, DNCC will conduct a survey to find out breeding sources of Aedes mosquitoes through drones from today.