Confusion over Dengue Deaths: DGHS confirms 47, to review 89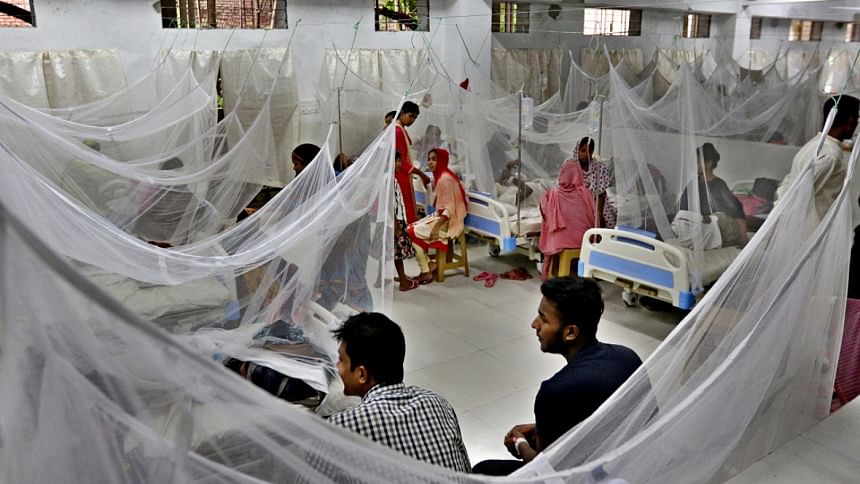 Authorities will review the deaths of 89 people, amid confusion over the number of fatalities from dengue.
A committee of the Directorate General of Health Services (DGHS) reviewed 80 deaths and concluded that 47 were from dengue.
Citing hospital sources, different newspapers have reported 115 to 172 deaths since the outbreak.
Prof Meerjady Sabrina Flora, who is leading the DGHS death review committee, said the committee members assess the medical documents and treatment records of a dead person. Several months later, they conduct what a "verbal autopsy".
It is a method of interviewing one or more people who know about the symptoms and circumstances of the deceased, members of the committee said.
They also collect blood samples of the dead patients and examine them at labs in the Institute of Epidemiology, Disease Control and Research, said Flora, also director of the institute.
"For verbal autopsy, we wait for one to three months, because on many occasions, the near and dear ones remain in shock," Flora said.
"We need some time to review. This might have caused the difference in the numbers," she added.
Meanwhile, the confusion surrounding the death toll intensified after large government hospitals stopped giving information to reporters.
'NO REVIEW NEEDED'
"There is no need to review any deaths," Prof Mahmudur Rahman, former director of IEDCR, told The Daily Star.
He added that the cause of death mentioned by the hospitals was good enough.
A senior physician at one of the largest government hospitals said the death reviews were creating confusion among people.
HEALTH OFFICIALS' EXCEPTIONAL EFFORT
Doctors, nurses and other health officials have been working tirelessly.
There are 350 doctors at the Shaheed Suhrawady Medical College Hospital. Of them, around 150 medicine and paediatric specialists have been working without leave for a month, said its director of Uttam Kumar Barua.
Gobindo Chandra Roy, associate professor of medicine at the hospital, said he has not taken leave since June.
"There is no specific working hour. Sometimes we spend 12 hours at work," he said.
Shawon Shahriar, a surgeon, said he cancelled a four-day programme in Singapore next month to be able to work at the hospital.
Jesmin Akhter, in-charge of nurses at ward-802, said her team members had not taken leave during the Eid-ul-Azha.
Ayesha Akther, assistant director of DGHS control room, said, "I come to the office around 9:00am and leave around 8:00pm. But after returning home, I also have to provide information to journalists."
A record 63,514 dengue infected people went to hospitals this year, according to the DGHS.
The number is five times that of last year. The total number of infected people are likely to be even higher, because many cases go unreported.
At least 5,940 people are currently admitted to different hospitals across the country.
In 24 hours since 8:00am on Saturday, at least 1,299 new patients -- 607 in Dhaka and the rest outside -- had been admitted to different hospitals, according to the DGHS.