Dengue Outside Dhaka
Non-critical patients crowd dist hospitals
Many such patients being referred to district, divisional hospitals from upazilas
Hospitals at district and divisional headquarters are seeing a huge surge of dengue patients referred from upazila hospitals for better treatment.
Civil Surgeon of Patuakhali Dr Hedayatul Islam said, "Many dengue patients are being referred to district hospitals from upazila health complexes. Some of them did not need to be sent and could be treated where they were.
"We are trying to motivate doctors not to refer patients unnecessarily."
Even after the Directorate General of Health Services instructed doctors outside Dhaka to continue treatment of non-critical patients at their own hospitals, the number of referred patients was still on the rise.
Due to referrals, patients often have to undertake long journeys that may worsen their condition, said Sanya Tahmina, line director of Communicable Disease Control at the DGHS.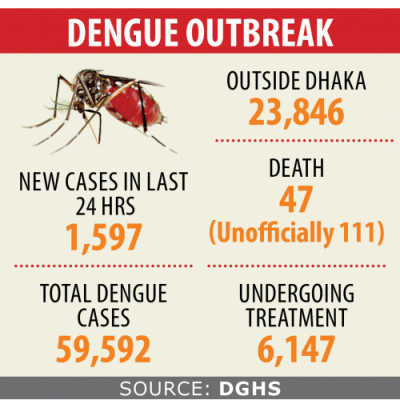 "Dengue treatment is possible at every hospital in the country including those at upazila level.  If they [doctors] still want to refer them, they will have to ensure fluid management during the journey," Sanya said.
There are mainly two reasons behind the surge: pressure from patients or their families and a lack of healthcare facilities at upazila hospitals, said hospital sources and healthcare professionals.
A critical dengue patient in many cases needs ICU facilities. There are no ICU or CCU facilities at upazila level government health complexes. Many district level government hospitals too lack these facilities.
DGHS data shows a total of 59,592 patients were admitted to different hospitals across the country till yesterday, and of them, 23,846 are outside Dhaka.
According to the DGHS, there are 390 ICU beds at government hospitals across the country.
Dr Aysha Akhter, assistant director of the DGHS control room, said 60 patients are now undergoing treatment in ICUs in the capital.
There are 140 government hospitals at the district level and above, with 31,260 beds in total, while 524 hospitals with 20,026 beds at the upazila level and below, said Dr Satyakam Chakraborty, line director of DGHS's hospital services management.
The number of private hospitals and clinics across the country is 5,055 with 90,587 beds, he said.
Anamul Haque, civil surgeon of Faridpur, said there were eight upazila health complexes in the district.
But only three of them have pathological test facilities. So, most of the dengue patients have been admitted to Faridpur Medical College Hospital for treatment.
Experts say the state of healthcare facilities is particularly alarming in rural areas.
Sumaia Aktar, 18, from Patuakhali's Mirzaganj upazila, was infected with dengue and admitted to Dumki Upazila Health Complex on August 14.
Family sources said after being diagnosed at the complex, she was referred and admitted to Sher-e-Bangla Medical College Hospital (SBMCH) on August 16 and died there on August 19.
It took around two hours to reach SBMCH from Dumki, they said.
Dr SM Bakir Hossain, director of SBMCH, said Sumaia was admitted to the hospital with symptoms of diarrhoea and had blood in her urine.
On August 18, she was transferred to the intensive care unit after her condition deteriorated. She died despite their best efforts, he said.
He added that the hospital was now occupied mostly by referred patients from upazila level hospitals.
As the number of doctors at upazila level hospitals is less, many doctors refer their patients to other hospitals as they do not want to take risk, he said.
Dr Shahin, health and family welfare official of Dumki Upazila Health Complex, said they referred her to the SBMCH as her pressure fell and she was suffering from diarrhoea.
He said they referred only critical patients to the SBMCH for better treatment.
Dr AB Mohammad Shamsuzzaman, assistant director of Mymensingh Medical College Hospital, said many patients willingly come to the hospital as they get better treatment here.
Alamgir Gazi, a madrasa student, died at a private hospital in Khulna yesterday while being treated for dengue, said the victim's brother Sujon Gazi, reports our correspondent from Satkhira.
Sujon said his brother was diagnosed at Kaliganj Upazila Health Complex on August 19. He was referred to Satkhira Sadar Hospital yesterday morning when his condition worsened. He was then referred and admitted to Khulna Gazi Medical College Hospital.
Alamgir died around 5:00pm yesterday.
HM Nazmul Ahsan, associate professor at the Shaheed Suhrawardy Medical College Hospital, said, "We always advise [doctors] not to refer a dengue patient, even if critical, to other hospitals as their condition may deteriorate due to the journey.
"A patient's blood pressure may fall suddenly and fluid management problems may arise during the journey.
"When a patient remains in shock syndrome or is in critical condition, then we suggest doctors get the patient into a better condition before referring them."
If it's absolutely necessary, he added, they suggest using an ICU ambulance to take a patient to another hospital.
THREE OTHERS DIE OF DENGUE
Three more people died of dengue in Dhaka and Barishal yesterday with the number of deaths rising to 111, including that of Alamgir Gazi.
However, official figure is 47.
Gias Uddin, 40, died yesterday at 6:30am, after being diagnosed with dengue, at Dhaka Medical College Hospital.
Another person died of dengue at Shaheed Suhrawardy Medical College Hospital yesterday, hospital sources said.
In Barishal, Monir Hossain Chowdhury, from Barishal's Mehendiganj, died yesterday while undergoing treatment at SBMCH, hospital sources said.
(Our Faridpur, Barishal, Mymensingh and Jhalakathi correspondents also contributed to the report.)