Under the dirty water, there's a ward
The plight of DNCC wards 39, 40 and 43 under zone-9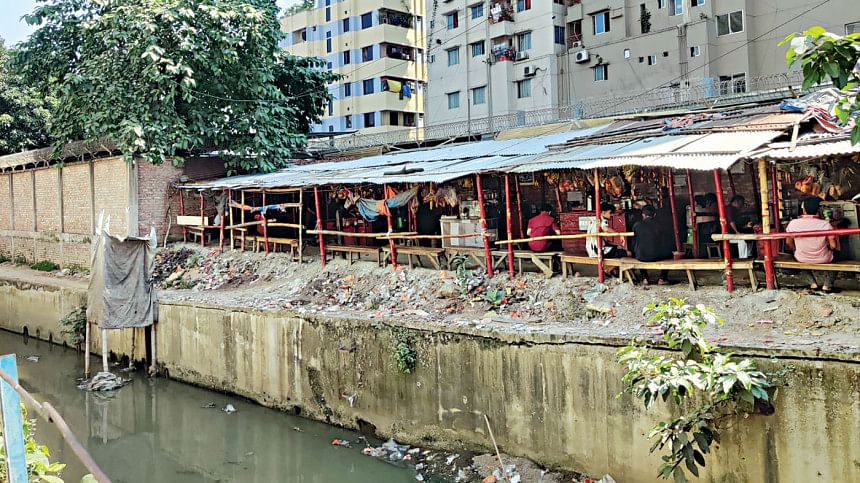 In July 2017, Dhaka North City Corporation took 18 wards under its wing, which were previously under the union parishad system. It divided the newly added wards into 5 zones. While this move came with a promise of development for these wards, the reality after five years is way far from that. They remain as backward as they used to be, if not more. The Daily Star explored the plight of these neglected wards in a five-story series, the first of which starts today with zone-9. 
Some of the places remain under stagnant water for years, while some lack basic civic amenities, including proper roads or pure drinking water. None of these neighbourhoods has a single playground. Such are the states of the three wards in zone-9 of Dhaka North City Corporation.
In July 2017, DNCC took 18 new wards under its wings. However, even after five years, people in many of these wards are still bereft of developmental activities. The condition of wards 39, 40 and 43 is perhaps the worst. So much so, the residents said they were better off under the union parishad system.
WATERLOGGING, A CONSTANT
Monsoon or not, the entire stretch of the road from Nurerchala Bazar to Sayeednagar in ward-39 remains under stagnant water, thanks to the poor drainage system. Residents said they have been complaining to the local councillor for over two years but to no avail.
This newspaper found that the road was under ankle-to-knee-deep black water, with a horrible stench. Locals said the condition deteriorates whenever it rains and their sufferings cross every limit during the monsoon.
Two rickshaws were seen stuck in the muddy water, while pedestrians were walking by covering their noses and mouth. What's worse is that when it rains, the dirty water enters households and local shops.
Jahangir Alam, a homoeopathy doctor, said it has been four years since the road remained under water.
"Every monsoon, my chamber in a ground floor room remains submerged for two months," he said.
Md Kutub Uddin, a local shopkeeper said, "The condition worsened in the last two years. We got nothing but empty promises from the authorities in this regard."
"Anything other than rickshaws or cycles cannot enter this road. Let alone conducting business, it's difficult to even breathe in this place," said local contractor Shahidur Rahman.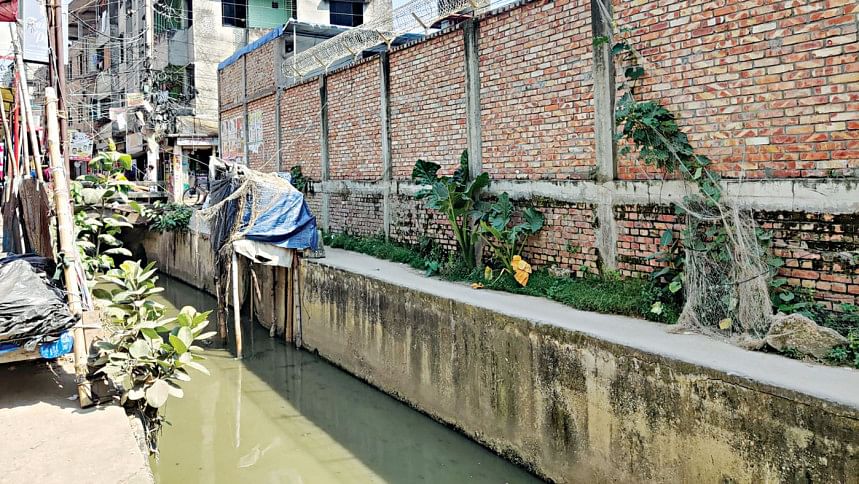 OF DENGUE AND DISEASES
The stagnant water not only emits a foul smell but also poses a threat to water-borne diseases. Locals said people living in nearby areas often suffer from different skin diseases.
Besides, it's a breeding ground for mosquitoes, meaning dengue fever is a menace for dwellers of this ward.
Khairul Islam Liton, a local, said he has just recovered from dengue recently. Earlier, four out of five members of his family, including three children, suffered from the fever within a month.
Meanwhile, in the Vatara area under ward-40, there are some visible developments, which include wider roads and taller buildings, all through private corporations.
However, after strolling through the streets for an hour, these correspondents observed scenarios of poor civic amenities and despair of residents in Vatara Goli, Vatara High School, Solmaid Purbopara, Ali Market road and Noyanagar areas. Roads in these places are narrow and have poor drainage systems, which in turn causes gridlocks and waterlogging.
No government authorities, including Wasa or DNCC, took any initiatives of infrastructural developments in these places, alleged residents.
When these correspondents reached ward-43 -- which consists of 10 localities, including Kathaldia, Bagdia, Amadia, Bagdia, Tolna, Dhelna and Mostol -- they could not believe these areas were part of the country's capital. Most of the roads (15 km out of 25 km) were not concrete.
Locals said they have not seen any developmental projects in the area in the five years since it came under DNCC's jurisdiction.
"We could at least see some developments when we were under the union parishad. We received nothing but assurances in the past five years," said Sushmoy Biswas, a Kathaldi resident.
All the residents this newspaper talked to claimed that they are living in inhumane conditions due to the shortage of pure drinking water. They said their demands for clean drinking water have repeatedly fallen on the deaf ears by the authorities.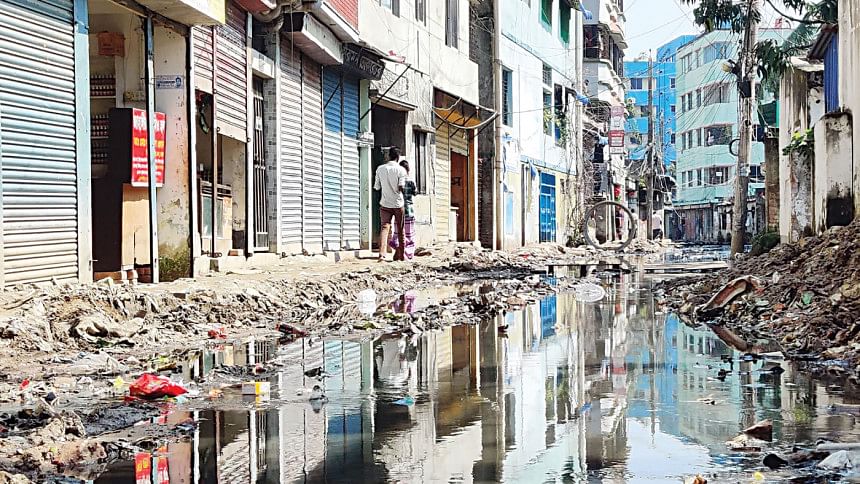 THE AUTHORITIES' TAKE
Contacted, Councillor of ward-43 Shariful Islam Bhuiya said, "These sufferings would not last long, as we have already started developing a three-kilometre long road along with a proper drainage system."
"What can we do if we are not given any funds or budget to run development works?" asked Nazrul Islam Dhali, councillor of ward-40.
Residents of ward-43 alleged that Councillor Shafiqul Islam lives elsewhere with his family.
Shafiqul, however, denied this particular allegation.