Fishermen ecstatic with hilsa bounty; good news for foodies too
After the ban of 65 consecutive days, fishermen are finding bounties of hilsa in their nets. Having overcome the recession of the last two years, fishermen, trawler owners and traders are smiling at the abundance of hilsa.
Bangladesh's national fish is now being easily transported to different parts of the country, including the capital Dhaka, via Padma Bridge. Prices have also started to come down gradually, reports our Patuakhali correspondent.
Yesterday afternoon (July 31, 2022), it was seen that fishing trawlers loaded with hilsa from the Bay of Bengal were arriving at Mahipur fishing port of Kalapara upazila in Patuakhali. Workers were seen picking up fish from these trawlers. Along with this, fish are being sold to wholesalers at open prices. The market price is also good as there are buyers from different parts of the country.
Abdul Jabbar, a wholesale buyer, said, "The average hilsa weighing 400 grams to 700 grams is Tk 24,000 to Tk 26,000 per maund, the average hilsa weighing 800 grams to 1 kg is Tk 38,000 to Tk 40,000 per maund and hilsa weighing more than 1 kg is Tk 42,000 to Tk 45,000."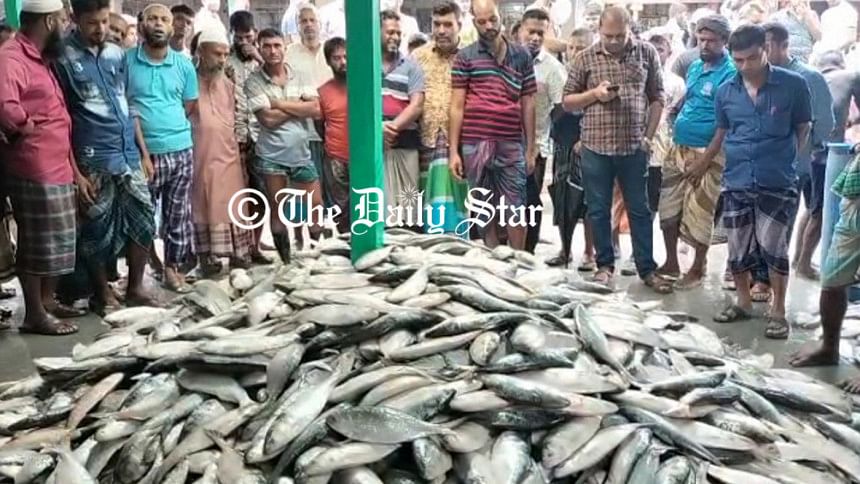 He also said that the price is decreasing because there is more hilsa in the market.
Shahjalal, a fisherman, said, "After the 65-day restriction from May 20 to July 23, when we started fishing in the sea, our nets met with an abundance of hilsa. The fish are quite big and the price is good in the market."
Didar Uddin Ahmed Masum, President of Mahipur Port Fishery Traders Association, told The Daily Star, "There are a lot of hilsa in the sea now. The market is bustling with wholesale buyers, fishermen and workers."
According to him, fish worth crores of taka are sold on an average every day.