No time to rest
Badly burnt man toils on to provide for his family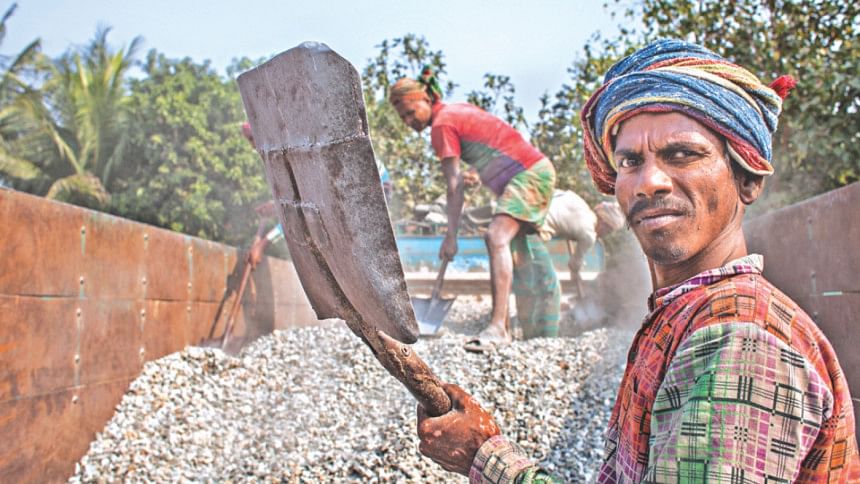 Ilias Biswas cannot afford to stay at home.
After surviving a deadly petrol bomb attack on March 21 last year, he could rest only till his wounds healed. And then he had to return to the backbreaking job of a day labourer.
"How would I provide for my family if I did not go to work? We would have to die of starvation," said the father of two, with his head hunched, his eyes gazing at the ground.
He was shovelling stone chips off a truck in Magura when these correspondents approached him in an afternoon a few weeks ago.
"My hands and back itches whenever I work under the sun," he said, showing his calloused hands, roughened by decades of manual labour.
"I cannot work for much long at a stretch. My health ... It doesn't allow me to work every day."
Ilias along with some other labourers were returning from Arpara to Magura town after offloading sand when their truck came under a grisly petrol bomb attack during the violent anti-government blockade by the BNP-led coalition last year.
The attack left five dead, four of whom were from Malikgram, Ilias' village.
With around 50 percent burns on his back and lower part of the body, Ilias took treatment for over a month and a half at Dhaka Medical College Hospital.
While he was groaning in excruciating pain all over his body, a bigger worry engulfed his mind: How would he now run the family?
His wife Dolena Begum has a dysfunctional leg and their sons, aged 13 and 11, are school-goers.
"After getting released from the hospital, we tried to make a living by catching fish. Even my minor sons joined me in this. But it was not enough," Ilias went on.
To keep their heads above water, his physically-challenged wife too tried to work as a domestic aide.
"But it is really hard for her, you know. She cannot move around as easily as others."
"It's hard to survive this way," he says with a deep sigh.
A year into the attack, the family has moved into a two-room house built by the government for the arson attack victims.
Though the families of the dead received Tk 10 lakh each in compensation, there was no financial aid for Ilias.
His nephew Arab Ali, 23, was with him on the truck when a Molotov cocktail was thrown on to it.
Arab sustained 27 percent burns and now can barely move his right hand.
He used to work as a day labourer, but now he does not get any job.
"I do most of my work with my left hand. Who will hire me now?" he says.
"Besides, I have a sister to marry off ... I'm now a burden for my father."
His father too is a day labourer.
There is another concern that often grips Arab.
"Knowing all these about me, who will want to marry their daughter off to me?"
His question hung in the air, unanswered, as the sun was setting on Malikgram village.