A slap on the face of our democracy
An AL leader's actions unmask the sorry face of our political culture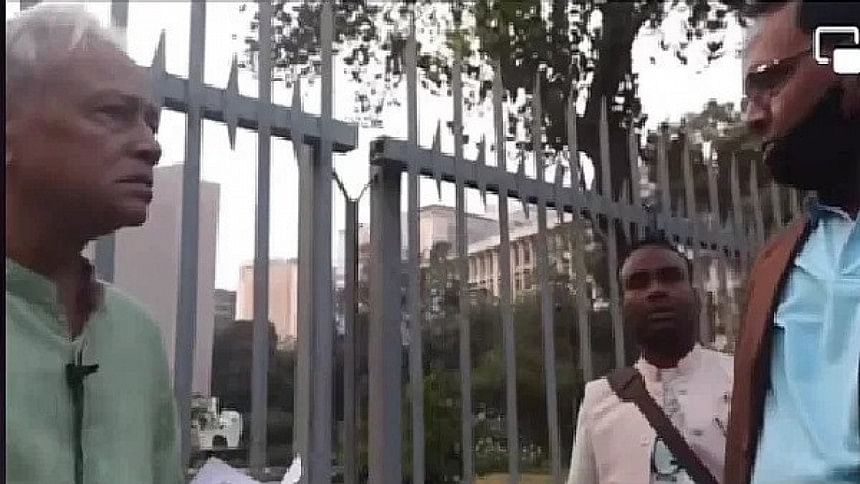 On Christmas Day, a video started circulating on social media where M Inamul Haque, a senior engineer and former director general of the River Research Institute, was slapped by a Krishak League leader in front of the national museum in Shahbag. The man supposedly slapped Haque while the latter was distributing leaflets criticising the government on behalf of the Sharbajan Biplobi Dol party, of which Haque is the convenor.
In the video, Inamul Haque can be seen shocked and distraught after being slapped. The viewers of the video, judging by their social media comments, were shocked as well to see the senior citizen being openly assaulted this way, and that too while he was speaking to a reporter. This seemingly small incident gives us a view of what the condition of our democracy currently is, and how random acts of violence against political opponents have become part and parcel of our political activities.
In fact, people who are willing to assault others in the name of the ruling party have been incentivised by their leaders.
Very recently, Saddam Hossain from Dhaka University was made president of the Bangladesh Chhatra League (BCL). Previously, members of Bangladesh Sadharon Chhatra Odhikar Songrokkhon Parishad had named him for leading an assault against them at the DUCSU vice-president's office at DU in December 2019. Even after the Parishad leaders filed a case against Hossain, he was never arrested, and now he is the BCL president. So, not only has he not been punished for his actions, he has seemingly been rewarded for his "leadership" in allegedly attacking the opposition.
We have observed many other cases where attackers and instigators of political violence have been spared.
Back in 2018, a leader of the Rajshahi University student and quota reform movement, Toriqul Islam, was inhumanely attacked by a group of BCL men with sticks, bamboo poles, a dagger and a hammer, leaving his right leg broken and his spine severely injured. However, the police said that he was hurt in a "scuffle" with some members of the public. But The Daily Star was able to identify 11 of the attackers, 10 of whom were BCL activists and leaders.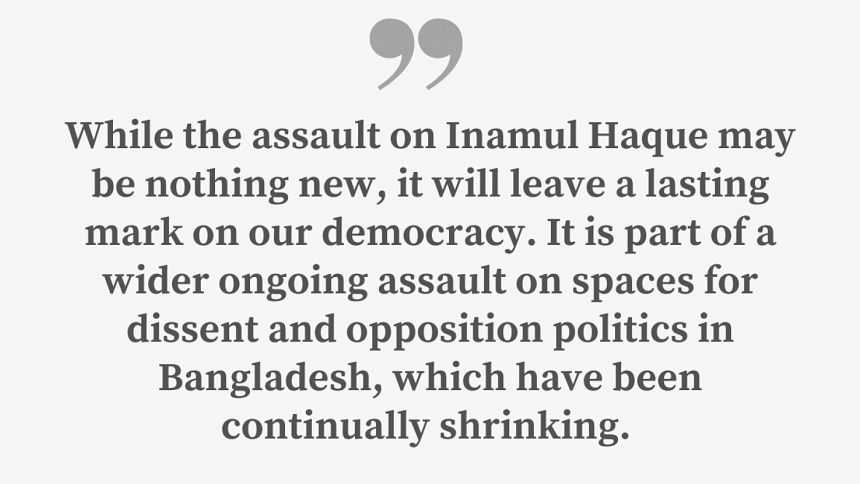 Opposition politicians face attacks from the ruling party regularly, and students who dare to voice dissenting opinions are attacked on university campuses, especially in the guestrooms and public rooms. But, somehow, the affiliates of the ruling party almost always get away scot-free.
While the assault on Inamul Haque may be nothing new, it will leave a lasting mark on our democracy. It is part of a wider ongoing assault on spaces for dissent and opposition politics in Bangladesh, which have been continually shrinking during the ruling party's time in office. This stifling of dissenting voices, be it through legal means (by means of the Digital Security Act, for example) or through physical violence, has drastically reduced the overall space for politics in our country.
The political culture that has been bred in the country by the ruling party is one of impunity, where party members are, directly or indirectly, encouraged to violently suppress dissenting voices. The slapping of Inamul Haque is merely a result of that attitude. It is an act of arrogance. The union-level Krishak League leader, who came to Dhaka only to attend his party's council meeting, somehow deemed it fit to hit an elderly man because he thought that he was right to do so, and also because he was sure that nothing would happen to him as a consequence. This sentiment is mirrored in the victim's statement, who said that he would not be seeking any redress since he has no hope of justice. Is this where we are at as a nation?
If so, we have only reached this situation due to a lasting trend of denial of justice, and assaults on the rights to dissent and to engage in opposition politics.
With the political field heating up ahead of the national election in 2023 and major opposition political figures behind bars, the situation is likely to get worse. The onus remains on the government and the ruling party to ensure that the latter's activists do not stand in the way of political freedoms and do not engage in political violence in the run-up to the elections. Of course, one cannot help but doubt the existence of any intent of theirs to act as such.
Anupam Debashis Roy is a member of the editorial team at The Daily Star.