Dengue claims 5 more lives
Rajarbagh police hospital without detection kits for a week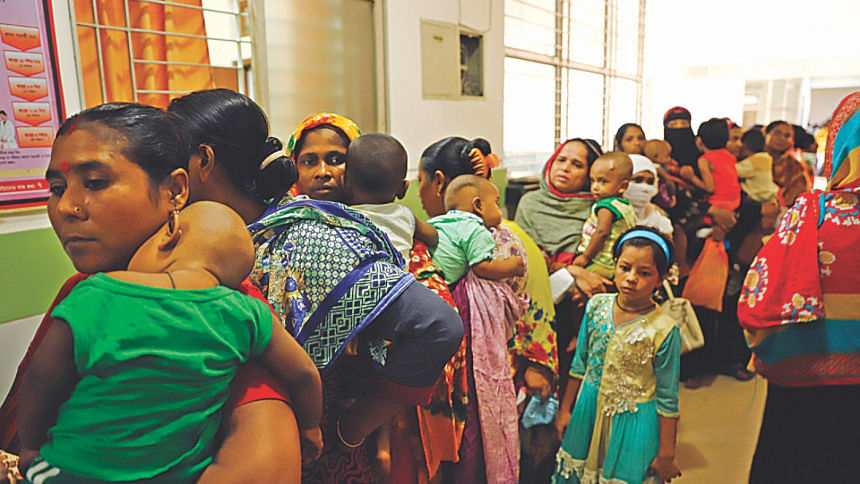 The Central Police Hospital in Rajarbagh has been without NS1 kits needed for dengue detection since July 30.
Mariam Jamila Shapla, a pathology consultant at the hospital, said, "A shortage of kits has been ongoing since July 26, but we arranged for 200 kits from a local company on July 28. Those have run out too," she said.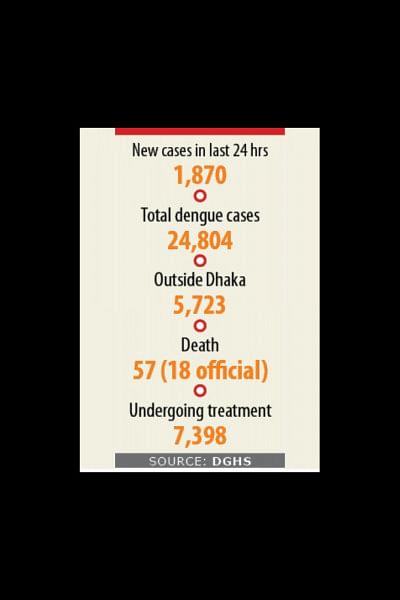 The pathologist said they were currently diagnosing dengue through antibody tests and using their post experiences. "It is very necessary to get the NS1 kits immediately," she added.
Meanwhile, three people, including a senior police official's wife, died after being diagnosed with dengue in Dhaka while Khulna recorded its first two deaths attributed to the disease.
Saiyada Akhtar, 54, wife of Shahabuddin Koraishi, additional inspector general of police (IGP), died at Square Hospital in the capital around 11:30am, Sohel Rana, assistant IGP at the Police Headquarters, told The Daily Star.
Monowar Hasanat Khan, medical officer of Rajarbagh Police Hospital, said Saiyada was admitted on July 30 after being diagnosed with the disease.
She was then referred to the Samorita Hospital, which in turn referred her to Square Hospital, where she breathed her last yesterday morning, he said.
Apart from the kit crisis, the 250-bed hospital in Rajarbagh is nearing its capacity due to the large number of dengue patients, and many are receiving treatment on the hospital's floor.
"I was diagnosed with dengue at Kishoreganj Police Hospital on August 1 and doctors there referred me to the central hospital [in Dhaka] on Saturday," said ASM Noman, ASI of Mymensingh's Nandail, who is now taking treatment at the floor of a ward in the hospital.
A total of 1,406 police personnel and their family members have been diagnosed with dengue at the hospital since May. Of them, 145 are undergoing treatment, hospital sources said.
Medical Officer Monowar said they had admitted 431 dengue patients since July. Seventeen new patients were admitted since 8:00am yesterday.
About the kit crisis, he said they were going to get more kits from the Director General of Drug Administration today.
The kit is needed to do the NS1 antigen test (non-structural protein 1), which allows rapid detection of dengue on the first day of fever and before the antibodies appear which is around five days later.
Talking to The Daily Star recently, authorities of several hospitals, clinics and diagnostic centres said due to the plunging stocks of the NS1 test kits, they were only doing the NS1 tests if necessary.
They said a large number of "panicked people" took the tests, but only a few of the results came out positive.
The official death toll from dengue is 18, but hospital sources put the number as high as 57.
MORE DEATHS AFTER DENGUE
A schoolboy and an elderly woman died after being diagnosed with dengue in Khulna yesterday, the first incidents of such deaths in the district, reports our Khulna correspondent.
The dead are Morzina Begum, 70, a resident of Brammagati village under Digholia upazila and Monjur Sheikh, 16, of Rupsha upazila's Khaja Danga village.
Monjur was a 10th grader of Kazdia Government High School.
In Dhaka, a student of Eden Women's College died yesterday after contracting dengue.
Fatema Akter Shanta, 20, was a second-year student of the college's accounting department. She died at Japan-Bangladesh Friendship Hospital in Dhaka around 4:50pm, Murad Hossain, administrative officer of the hospital, told The Daily Star.
Another young girl died yesterday afternoon during treatment for dengue at Dhaka Medical College Hospital.
Dipali Akhter, 23, of Narsingdi's Monohardi upazila, was declared dead at the hospital around 3:30pm, said Nasir Uddin, assistant director (admin) of the DMCH.
She had been diagnosed with dengue and admitted to the hospital three days ago.
DENGUE CASES CROSS 24,000
Another 1,870 new dengue cases were registered within 24 hours till 8:00am yesterday.
A record 24,804 people have so far been infected with the mosquito-borne disease.
Last year, the total was 10,148, according to the Directorate General of Health Services (DGHS).
The number of dengue patients has exceeded the 10,000 mark only twice in the country's history.
KOLKATA'S OPINION SOUGHT
The Bangladesh Government sought the opinion of the Kolkata Municipal Corporation's (KMC) on ways of tackling dengue.
A five-member delegation, led by the Rural Development Minister of Bangladesh Tajul Islam, yesterday met KMC Mayor Firhad Hakim and discussed ways to check the spread of dengue, reports All India Radio.
Later, Tajul hailed the measures taken by the municipality to contain the spread of the disease and said his government would take similar steps.
The mayor of Kolkata assured to help Bangladesh in every way.
Atiqul Islam, mayor of the Dhaka North City Corporation, is expected to hold a video conference with Firhad on the matter next Monday.