Dengue Outbreak: Little time for other patients
Overwhelmed doctors, hospital authorities struggle to cope the pressure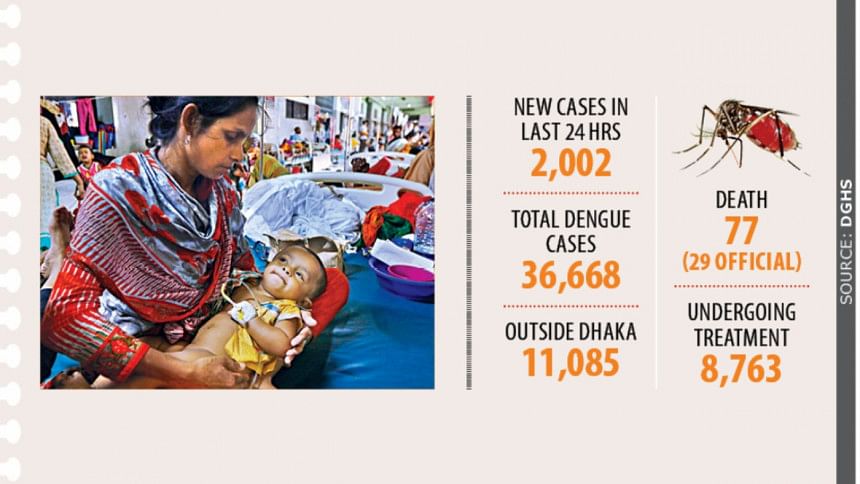 Sharna Akhtar, 18, who had swallowed poison, was in a critical stage when she was brought to the Mugda General Hospital last week.
After she was admitted there, doctors prescribed several blood tests. But her mother Hasina Akter could not get the tests done even after waiting in the queue for nearly three hours.
"I went to the lab with the blood sample around 8:00am when the services begin. But people were queueing up for dengue diagnosis since 5:00am," said Hasina, adding that her family could not afford to go to a private facility.
As the hospital's blood testing services for non-dengue patients close at 11:00am, Hasina had to go back without being able to submit the blood to the lab.
However, the services remain open until the evening for those who are diagnosed with dengue or have the symptoms.
Hasina eventually left the hospital with her daughter for Dhaka Medical College Hospital without having the tests done as doctors said they could not give her daughter the attention she needed due to the rush of dengue patients.
Like her, many patients are not getting the attention of healthcare personnel as the facilities are swamped with people with dengue patients.
Meanwhile, an 8-year-old boy and a 55-year-old man, who had been suffering from dengue, died yesterday in Dhaka. Two others diagnosed with dengue died in Dhaka yesterday. 
With them, the unofficial death toll of the dengue outbreak is now at least 77. The government maintains that the number of deaths is 29.
At least 2,002 dengue patients got admitted to hospitals across the country in 24 hours since 8:00am on Wednesday. A total of 36,668 people has contracted the mosquito-borne disease this year, according to the Directorate General of Health Services (DGHS).
At Mugda hospital, Director Amin Ahmed Khan said the facility was seeing the highest number of patients since its establishment in 2013.
The medicine ward, equipped to handle 60 patients, now has around 300, mostly suffering from dengue, said a doctor.
A total of 788 patients were undergoing treatment on Thursday, of them 527 had dengue, he said.
"We have cancelled the leave of all doctors and nurses," Amin said, adding, "We are trying our best to ensure treatment to all with our limited resources."
The pictures at different government hospitals in the capital have been similar since the outbreak of the mosquito-borne disease.
The pathological test units are particularly crowded as huge numbers of people come for free NS1, IgG or IgM tests needed for dengue diagnosis.
Liakat Hossain, assistant registrar of unit-6 at the DMCH, said they were really struggling to handle the huge pressure.
Usually, around 150 patients are admitted at the medicine unit-6 which has 50 beds, but now it has around 225 patients.
"Although I had been suffering from dengue and my platelet came down to 1.40 lakh last week, I did not take leave due to the excessive pressure of patients," he said.
Monaem Dighai, 52, of Ashulia died of brain stroke on Wednesday at Shaheed Suhrawardi Medical College Hospital.
Monaem was admitted there on August 6 in a critical condition but he did not get any bed at the ICU which was full.
"We have 10 ICU beds at the hospital, of which three are now occupied by dengue patients," said Uttam Kumar Barua, director of Shaheed Suhrawardi Medical College Hospital.
Four die in two days
In the capital, Mehraz Hasan, 8, breathed his last around 8:59am yesterday at the United Hospital, reports Unb.
Mujibur Rahman Mollah, 55, died while undergoing treatment at Barishal Sher-e-Bangla Medical College Hospital around 2:00am yesterday.
However, two others died of dengue at the DMCH on Thursday.