2 die of dengue in Chattogram, Khulna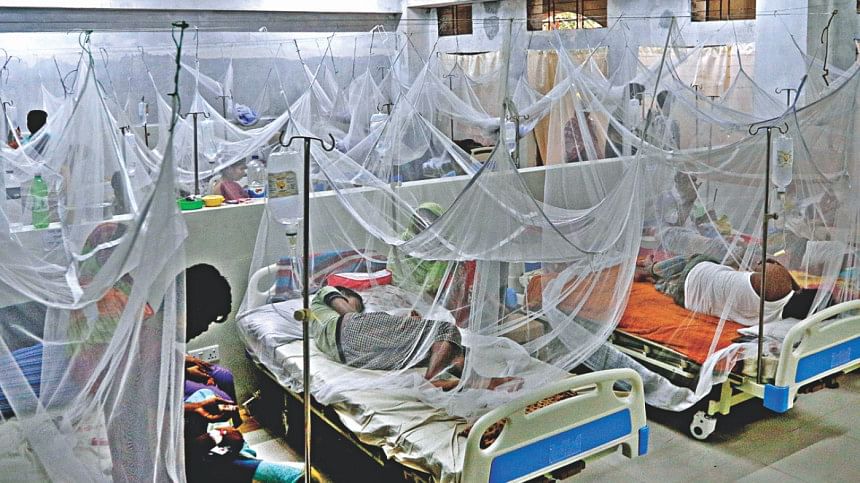 Two persons died of mosquito-borne disease dengue fever in Chattogram and Khulna today.
In Chattogram, Badsha Molla, 55,  from Jafrabad area in Sitakunda, died of dengue at Park View Hopital in the city around 5:00am, UNB reports quoting Dr Nurul Hayder, medical officer (disease control) of Civil Surgeon office.
Park View Hospital's in charge (Special Unit) A Arafat said, Badsha was admitted to the hospital on August 22.
In Khulna, Shilpi Begum, from Terokhada upazila in Khulna, died at Khulna Medical College Hospital (KMCH) around 1.45pm during treatment at ICU after she was admitted to the hospital on Friday with dengue fever, BSS reports quoting Dr Shailendra Nath Biswas of KMCH.
Around 608 dengue patients are now undergoing treatment at different hospitals and clinics across the Khulna division.
A total of 4,510 patients got admitted to the different hospitals so far in Khulna division since January this year.
Of them, 3,681 patients have returned home after recovery, said a press release of Directorate General of Health Services (DGHs) in Khulna.
A total of 13,181 dengue test kits have reserved in the Khulna division, said the press release, BSS reports.
At least 1,025 new patients were hospitalised across the country in 24-hours till Friday morning, according to Directorate General of Health Services (DGHS), UNB reports.
Since January, the Institute of Epidemiology, Disease Control and Research (IEDCR) has received complaints of 180 dengue-related deaths. It has so far reviewed 88 cases and confirmed that 52 of them were caused by dengue.