Communications disrupted as flood batters roads
Red Cross says 4m people at risk of hunger, diseases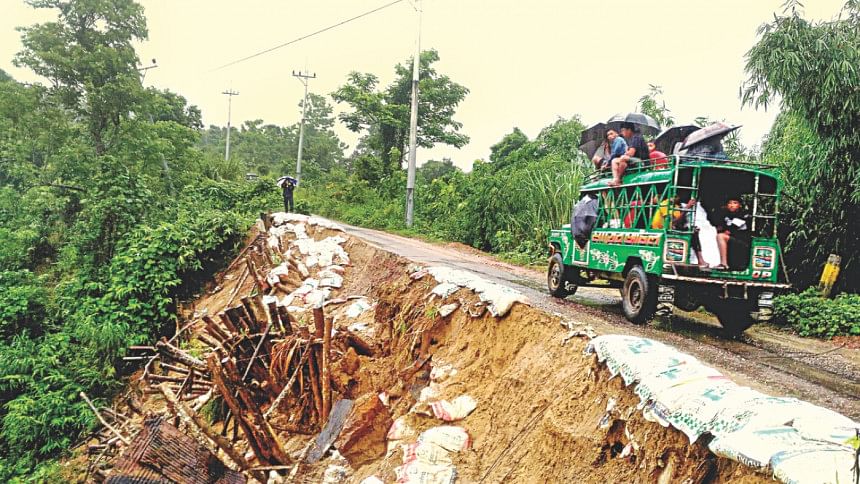 Flood has disrupted road and rail communications across the country as roads, bridges and rail tracks in several districts have been damaged or inundat-ed, causing immense suffering to people. 
Flood water completely damaged at least 171.78km of roads and partially damaged at least 3,303.25km of roads in 14 districts until Thursday, according to the Department of Disaster Management,
Besides, at least 4.65km of embankments were destroyed and at least 382.3km of embankments partially damaged in 10 districts.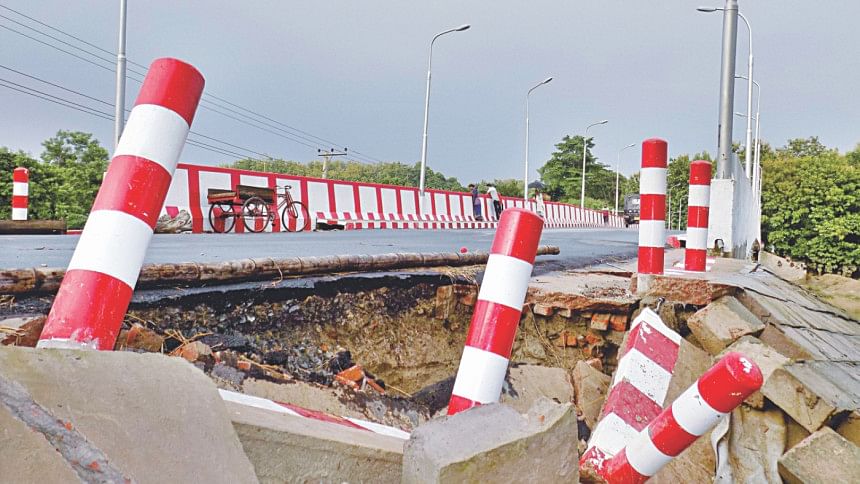 Moreover, some 235 bridges and culverts were damaged in nine districts, the department said.
According to Water Development Board, water level of main rivers except for the Jamuna, the Ganges and the Padma were receding.
Yesterday, WDB forecasted that in the next 24 hours, water level of Jamuna may recede while water of Ganges and Padma may continue to rise in the next 48 hours.
It also said flood situation may remain unchanged in Tangail and Sirajganj, may deteriorate in Manikganj, Rajbari, Faridpur, and Munshiganj, and may improve in Bogura, Jamalpur, Kurigram, Gaibandha, Netrakona, Sunamganj and Sylhet in the next 24 hours.
Meanwhile, International Federation of Red Cross and Red Crescent Societies yesterday reported that days of heavy downpour had battered the northern and south-eastern part of Bangladesh, putting more than four million people at risk of food insecurity and disease.
In Tangail, a 50-metre stretch of Bhuapur-Tarakandi road-cum-embankment was damaged in Tepibari area of Bhuapur upazila around 8:00pm Thursday, said local Water Development Board's Chief Engineer Akhil Kumar Biswas.
 The damage caused suspension of vehicular movement on the road, he said, adding that it would be repaired by putting Geo bags within 72 hours.
Yesterday, the water of Jamuna river increased 8cm and was flowing 99cm above the danger level at Sirajganj point, reports our Tangail correspondent.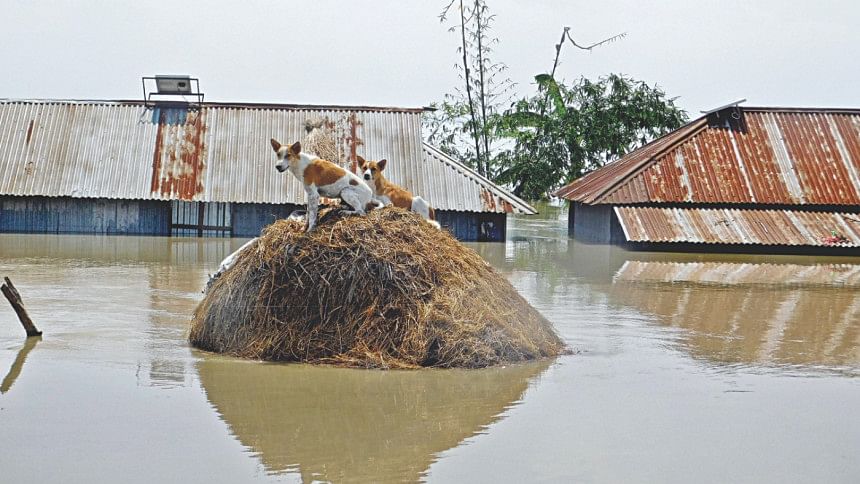 In Gaibandha, flood water suspended road communications of five upazilas -- Gaibandha Sadar, Sundarganj, Phulchhari, Shaghata and Gobindaganj -- with the rest of the district.
Gaibandha Roads and Highway Department Executive Engineer Asaduzzaman said about 70km of a regional highway -- from Sundarganj to Shaghata -- went underwater.
About 517km of earthen roads and 187km of paved roads in four upazilas were submerged, according to local Disaster Risk Reduction office.
Rail communication on Gaibandha-Bonarpara route had remained suspended as the water washed away the soil beneath the track, stretching about 1km from Trimohoni to Badiakhali, said Abul Kashem, station master of Gaibandha Railway Station.
However, the train communication was restored by diverting two Dhaka bound trains -- Lalmoni Express and Rangpur Express -- via Parbatipur-Santahar section, he said.
A large number of Mymensingh and Dhaka-bound commuters from Dewanganj, Islampur and Melandah upazilas of Jamalpur suffered as rail communica-tion on Jamalpur-Dewanganj route has remained suspended due to the flood since Tuesday, said Shahabuddin, station master of Jamalpur Railway Station.
Rail commuters of Sarishabari upazila experienced the same problem as Jamalpur-Tarakandi rail route was declared suspended since Wednesday due to the flood, he said.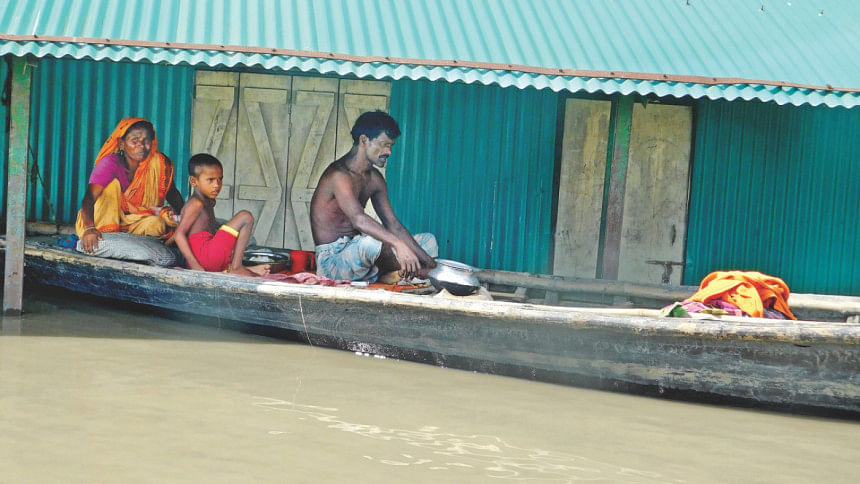 Flood has badly affected around 30km paved and unpaved roads in Kalmakanda upazila of Netrakona, reports our Mymensingh correspondent.
In Bandarban, connecting roads from Ruma, Thanchi, and Rowangchhari to Bandarban town have been badly damaged by rain and flood.
Around 12km roads have been damaged as landslides occurred at some 32 spots along the roads, said Bandarban Roads and Highway Department (RHD) Executive Engineer Sajib Ahmed.
"We will need around six months to fully recover the affected roads. The loss could be worth around Tk25 crore", he said.
Meanwhile, a bridge constructed by the RHD spending around Tk10.47 crore has collapsed recently in the district's Golden Temple area before its inaugu-ration, reports our Bandarban correspondent.
In Rangamati, link roads on Rangamati-Chattogram, Rangamati-Khagrachari, Rangamati-Bandarban and Rangamati-Naniarchar-Longadu routes were damaged heavily in the last few days due to heavy rainfall and water stream, reports our correspondent there.
Heavy vehicles were banned on Rangamati-Khagrachari and Rangamati-Chattogram link roads for three days due to landslide.
According to Rangamati RHD, landslide occurred at 58 places on the four link roads and 35 main pavements were collapsed.
CNG-run auto-rickshaw driver Shanti Chakma told The Daily Star that many parts of Rangamati-Khagrachari link road were damaged in 2017.
But the RHD did not repair it permanently which resulted in the damage this year, Shanti added.