Bidyanondo: Saving lives in flood affected Sunamganj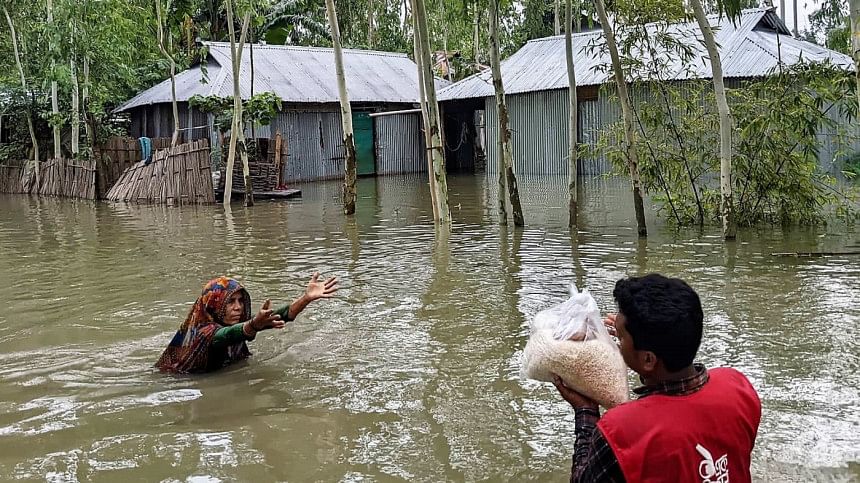 Seated on her bed, an elderly woman who had trouble walking on her own was reciting the Quran. She was expecting the floodwaters to rush in and wash her away into anonymity. Her children had forgotten to pull her onto the rescue boat, maybe because they were too shocked with the immensity of the disaster or maybe the abandonment was planned to let go of a frail body, hard to manage in the most difficult of times. Nobody would ever know.
Bidyanondo Foundation is a non-profit organisation with a mission to help poor communities of Bangladesh. As a part of the emergency response for the flash floods in Sylhet, Sunamganj, Kurigram and Netrokona, Bidyanondo teams have been helping to distribute food and water purification tablets amongst the people of the flood affected areas. Due to flash floods and torrential rain, 13 lakh people have been stranded in the peripheries of Bangladesh, and Biyanondo is one of the names that came to immediate rescue.
The Bidyanondo team managed to discover the frail body, just in time, to be able to take her back into warmth, safety, and shelter.
"Baba have you come to take me with you? I thought I would not make it this time…," said the distressed woman to the rescue team, who were more like angels in disguise to her. A heart-breaking scene that the Bidyanondo rescue team has been facing almost on a daily basis in the peripheries of the flood-affected regions.
"We have left the main cities, including Sylhet town, to move towards the peripheries like Sunamganj," said Salman Khan Yeasin, Head of Communications at Bidyanondo Foundation. Multiple NGOs and social welfare companies have taken up charge of the central locations. The peripheries still remain a challenge for most, and hence we have taken the decision to be more active in the inaccessible regions," informed Yeasin.
The PR Head also informed this correspondent, that they have two boats working around the clock, with which, they are able to access around 2000-3000 people in a single day. "Around 1200 people are provided with cooked food in the flood-shelters of Sunamganj, whilst the stranded are distributed dry food like muri (puffed rice) and chira (flattened rice).
Inquired about the safety of the drinking water, Yeasin informed that Bidyanondo was also distributing water purification tablets to the flood-affected people so that they could distill and purify water on their own.
Bidyanondo is currently working in all flood affected areas of the country including Kurigram, Netrokona, and Sunamganj. Every two days their supply stock is transported from the Dhaka to these areas via pick-up vans.
The PR Head also expressed that the general people willing to help, could buy stock, dry food or donate money to be an integral part of the benevolent initiative.
Essentials:
Bidyanondo Hotline Number for detailed information: 01878116234