Flood-affected roads will be fixed urgently: Quader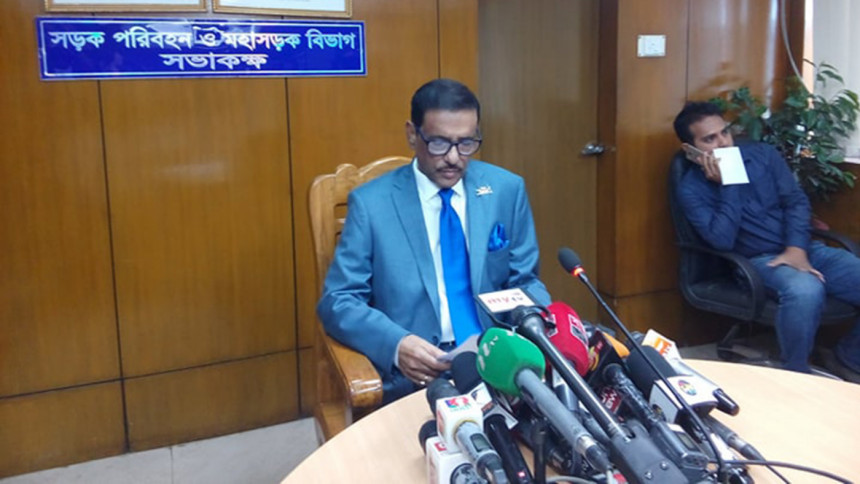 Roads which were damaged due to the recent flood across the country will be fixed with an urgency, Road Transport and Bridges Minister Obaidul Quader said today.
The minister said this while talking to the journalists at his ministry regarding preparation ahead of Eid-ul-Azha and other concurrent issues.
"The highways around the country are in good shape, there will not be traffic congestion," he expects.
The authorities concerned have been given instruction not to allow any cattle markets on roads and highways ahead of the occasion, Quader said.
The minister further said heavy vehicles like trucks and lorries will not be allowed on the highways before and after three days of the Eid to be celebrated in the second week of August.
But the ban will not be applicable on the vehicles carrying medicine and other daily necessities, Quader said.
About the recent incidents of mob beating, the minister said he had already talked with the home minister in this regard.
"Measures will be taken so that this kind of incidents cannot be repeated," he said.
While talking on Priya Saha, Quader said she will have to clarifies her statement once she returns to the country.
Priya, one of the organising secretaries of Bangladesh Hindu-Bouddha-Christian Oikya Parishad, drew huge criticism after she told US President Donald Trump that 37 million people from religious minorities have "disappeared" from Bangladesh.