On the way back home
The words were magical, the news was electrifying and the effect euphoric -- Bangabandhu has been released and he, along with Dr Kamal Hossain, were on their way to London after a torturous nine months in Pakistani prison with the threat of execution hanging over his every breath. The wave of joy was universal and the happiness complete knowing that our leader was safe and would soon be amongst us -- the people he loved so dearly and risked his life to free. For those who did not live through those moments it will be difficult, perhaps impossible, to understand the almost hypnotising impact of this man who had so captivated our hearts and minds that our independence felt incomplete without him. Thus his return was central to our dream of a Sonar Bangla. The Daily Star, through its own observance of "Mujib Borsho", the centenary of his birth, will attempt to tell the story as to why Mujib is so important for us to build a democratic, secular, freedom ensuring prosperous Bangladesh.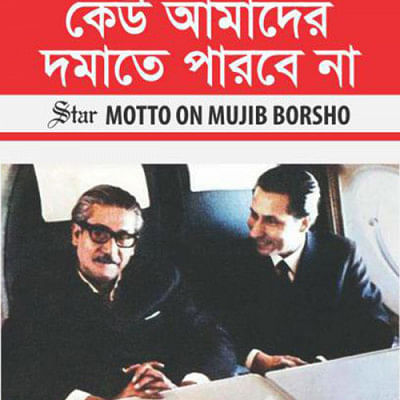 It was 5:00am on January 9, 1972. London was fast asleep and the weather was frosty.
Bangabandhu was whisked away through the rear service door of the Claridge's Hotel to avoid being noticed while on his way to the airport.
The silver RAF jet of the British PM was ready.
The jet took off around 7:00am.
People were told an Air India plane was to fly Bangabandhu home. It was a decoy.
Dr Kamal Hossain along with his family and two Indian diplomats, Sashanka S Banerjee and Ved Marwah, accompanied Bangabandhu on the flight.
Sashanka Banerjee described the historic journey as his life's most important political mission in his memoir, India, Mujibur Rahman, Bangladesh Liberation & Pakistan.
He was handed a brief from the Indian Prime Minister Indira Gandhi containing guidance and instructions about what he was expected to say to Bangabandhu.
"Something interesting happened just before the flight was to take off. Ian Sutherland [British diplomat] came up to me near the door of the aircraft where I was standing as the flight was being prepared and wished me a happy journey. Using body language with no use of words he asked me to look after the guest. I assured him also using body language that there was no need for him to worry about that. I could detect a twinkle in his eye as if he knew what I was up to," Banerjee wrote.  
Ian Sutherland asked him to take his seat next to Bangabandhu.
There was a working desk in front of the twin seat. Bangabandhu parked his smoker's pipe and his favourite Erinmore tobacco on it.
"After a session of cheerful banter and a drink of orange juice, as the flight progressed, Mujib took me into confidence and in a whisper asked me if he could ask me a big favour. There was no hesitation in his demeanour. I replied in the affirmative, subject however to my capacity and reach to do it."
Bangabandhu told Banerjee that he wanted him to convey a very important personal message to Indira Gandhi on arrival in Delhi before he could make a request to her in his talks at the Rashtrapati Bhavan, the Presidential Palace.
"I was nervous for the first few seconds. What was the mission? Would I be able to reach the heights to the Prime Minister's ear in the celebratory atmosphere of his arrival in Delhi? Mujib wanted me to do, in his own words, a bit of 'advance spadework' by conveying a personal request from him to the Indian PM to reconsider her decision about the timetable of the troop withdrawal."
Bangabandhu confided in him that the background of this appeal was a wish expressed by the British Prime Minister Edward Heath that if India were to agree to amend its decision to withdraw its troops from Bangladesh by 31 March 1972, that is, three months before the June 30 deadline publicly announced by Indira Gandhi, it would pave the way for Britain to promptly extend its recognition to Bangladesh as a sovereign independent country.
"Mujib added his own wish to the above request. He wanted this decision to get reflected in the Bangladesh-India Joint Communique, which was to be issued at the end of their Delhi talks," adds Banerjee.
During the trip, at times Bangabandhu would be overcome with emotion.
"After refueling in Sharjah, the aircraft resumed flight. Bangabandhu gazed out of the window at the clouds. After a while, he stood up and began to sing, 'Amar Sonar Bangla, ami tomai bhalobashi.'"
Eyes brimming with tears, Bangabandhu told him, "Banerjee, join in. Let's rehearse."
"The journey seems endless. The free skies, people and nature of Bangladesh summon me. I cannot explain the feeling," Banerjee quoted Bangabandhu as saying in a Prothom Alo interview published on January 10, 2018.
At 8.10am on January 10, 1972, the flight carrying Bangabandhu landed at Palam Airport, Delhi.
[The report is based on the memoir of Dr Kamal Hossain titled Bangladesh: Quest for Freedom and Justice; former Indian diplomat Sashanka S Banerjee's book titled India, Mujibur Rahman, Bangladesh Liberation & Pakistan; an article of MM Rezaul Karim published in The Daily Star and an interview of Sashanka S Banerjee published in Prothom Alo]