Preventing Bloody Clash in Bhola
Local admin, cops were ill-prepared
Biplob lands in jail; Islamist group places 6-point demand, denied permission to hold rally in Bhola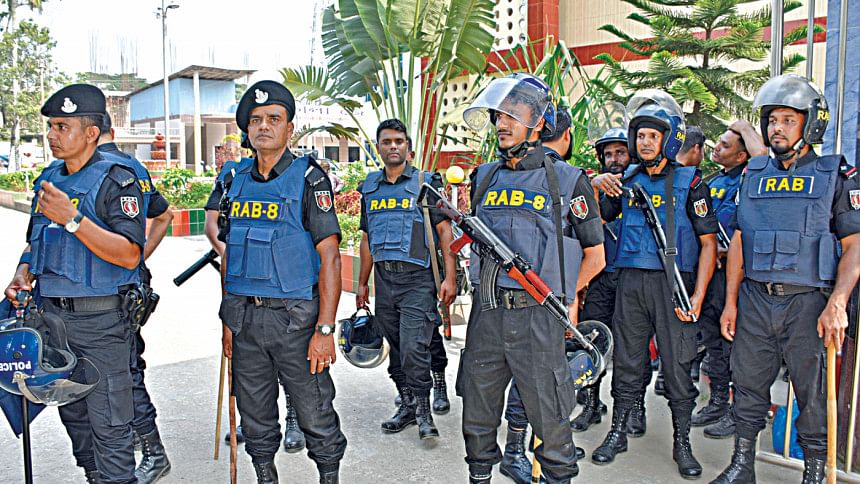 For two days, hate speech was spreading via Facebook messenger and the local administration and police failed to grasp the gravity of the situation and act accordingly, locals of Bhola's Borhanuddin upazila said.
They said police had plenty of time act and had they taken proper steps, Sunday's clash could have been averted and four people would not have died.
Locals said during the two days, the administration and police failed to show that they were trying to find a solution and did not even circulate the news that the rally organised by zealots on Sunday to demand punishment of a Hindu man had been called off.  
According to the zealots who attacked police, Biplob Chandra Baddya spread the hate speech.  
Biplob maintains his Facebook account had been hacked and used for spreading the hate speech. He was sent to jail in a case filed under the Digital Security Act yesterday.  
The small upazila town started to see tension spiral Friday afternoon after the hate speech was sent to some of Biplob's Facebook friends.  
On Saturday, some locals, under the banner of "Sarbastorer Muslim Tawhidi Janata" demonstrated and announced a rally at the Eidgah Maidan at 11:00am Sunday.  
The locals called off the rally after police told them that legal action would be taken regarding the hate speech.  
A schoolteacher, wishing not to be named, said, "The situation had been tense since Friday. Processions were being brought out one after another. But the preparation of the administration and police were inadequate.  
"Additional forces could have been mobilised to keep the situation under control," the teacher said.  
A shopkeeper in Borhanuddin Bazar area said people were not aware that the rally had been called off. There were elaborate arrangements made for the rally. At least 17 horn speakers were installed Sunday morning.    
"What did the local administration and police do?" the shopkeeper said.  
Several thousand people gathered demanding capital punishment of Biplob but the number of law enforcers in uniform there was small, the shopkeeper added.  
"Such a mayhem could have been averted had the police taken steps realising the gravity of the situation." 
A case was filed against 4,000 to 5,000 unidentified people with Borhanuddin Police Station late Sunday night in connection with the clash.  
Talking to this paper, Mizanur Rahman, joint member secretary of the Sharbadaliya Muslim Oikya Parishad that tried to hold a rally yesterday, said the situation on Sunday could have been tackled easily by dispersing the crowd with truncheon charge, teargas, and other means.  
Mizanur said there was no need for police to open fire. 
Asked why they failed to disseminate the news that Sunday's rally was called off, Borhanuddin Police Station Officer-in-Charge M Enamul Haque said it was the imams' [organisers of the rally] job.  
"I could not monitor this as I had left the station at 3:30am to rest," he said.  
Local lawmaker Ali Azam said police formed a probe committee and the divisional commissioner formed another investigation body. "We will be able to say who had failed after getting these reports."   
Barishal divisional range DIG Shafiqul Islam said their probe body would enquire everything regarding the matter.  
The home minister yesterday said they were in talks with Facebook to identify the real culprits. 
Yesterday, many shops in the upazila town closed until noon and only a handful of vehicles were on the road between Bhola and Char Fasson. Members of Border Guard Bangladesh, Rab, and police were seen patrolling the town.  
The situation was still tense. Some locals marched on Kalibari Road and in Sadar Road area in the afternoon. They chanted slogan demanding capital punishment of Biplob.  
BIPLOB IN JAIL 
A Bhola court yesterday sent Biplob, Rafsan Islam Sharif and Md Emon to jail in a case filed under the Digital Security Act. 
On Sunday evening, Borhanuddin Police Station Sub-Inspector Delwar Hossain filed the case against the trio and seven to eight unnamed people for spreading messages demeaning Islam from Biplob's Facebook messenger. 
The SI said Biplob had registered a general diary with the police station on Friday stating that his Facebook account was hacked. 
As tension mounted, the SI arrested Biplob at his village home in Kachia around 10:00pm Friday and seized his mobile phone.  
Sharif and Emon were arrested at Patuakhali and Borhanuddin, said the case statement. Sharif's phone was also seized. 
Delwar in the case statement said, "As I interrogated the three accused together, it seemed that they along with seven to eight others committed the offence to demean Islam … So, I arrested them." 
OIKYA PARISHAD 
Religious group Sharbadaliya Muslim Oikya Parishad yesterday sought permission for a rally protesting Sunday's clash but was denied. The local administration has imposed an indefinite ban on rallies and meetings in the district.  
The group placed a six-point demand at a press conference in Bhola Press Club around 11:30am.  
The demands included immediate withdrawal of Bhola Superintendent of Police Sarkar Md Kaiser and Borhanuddin Police Station Officer-in-Charge M Enamul Haque; capital punishment of Biplob; compensation for the victims' families; enactment of a law with a provision for capital punishment for demeaning the Prophet (PBUH), Allah, and Islam; free treatment for all the injured; and unconditional release of those arrested in connection with the clash.  
The parishad held the press conference after Awami League leader Tofail Ahmed and Bhola Deputy Commissioner Mohammed Masud Alam Siddique requested them not to hold any rally and after police denied them permission.  
Bashir Uddin, convener of the platform, said they would demonstrate in all upazilas of Bhola today.   
They would also form a human chain on Bhola Sadar Road on Thursday and organise a dua mehfil on Friday at Hatkhola Mosque.  
Asked why they were demanding punishment of Biplob when his Facebook account had supposedly been hacked and used for spreading the hate speech, the group's joint member secretary Mizanur said whether the account had been hacked was under investigation. "We believe that no Muslim can spread any heinous comments regarding Islam," he said.    
HOME BOSS 
Home Minister Asaduzzaman Khan yesterday said they sought Facebook's help to identify the culprit who made the derogatory comments about Prophet Muhammad (pubh), reports UNB.   
"We've sent necessary information to the Singapore office of Facebook and details will be known within two or three days," he said while talking to reporters at the Secretariat.  
Mentioning that prima facie evidence suggested that police opened fire on the demonstrators in Bhola in self-defense, he said they were investigating whether there was any negligence on the part of the police and others.  
"Whether there's any negligence of duty on the part of police or others is under investigation and legal action will be taken if anyone was found guilty," the minister said.  
At one stage on Sunday, some 300 people from the rally tried to break into a room where the UNO, OC and other police officials were at, he said, adding that they heard that the UNO ordered to open fire then.  
Asaduzzaman said the probe report would say who actually ordered the firing. 
BAN ON RALLIES
Bhola DC Masud said, "We imposed a ban on any kind of meeting and rally in the wake of Sunday's incident. It came into effect this morning [Monday] and will continue until further notice."   
The bodies of two persons killed in Sunday's clash were handed over to their families without post mortem, as per the demand of Tawhidi Janata.