Bhola tense as ultimatum ends today
Security beefed up; Oikya parishad to resume protests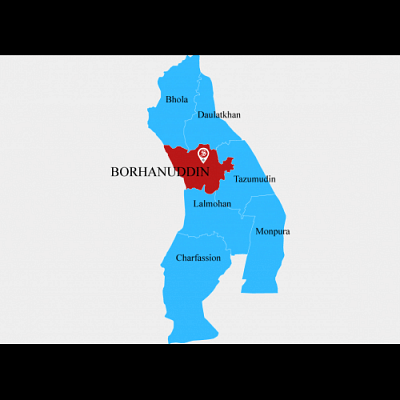 The situation in Bhola town has become even more tense as the 72-hour ultimatum given by a religious platform to meet their six-point demand ends this noon. 
Leaders of the platform, Sharbadaliya Muslim Oikya Parishad, said the Muslims in Bhola were aggrieved as not a single demand of theirs was met till last night.
A large number of law enforcers from Border Guard Bangladesh, police and Rapid Action Battalion, deployed in the Bhola area to keep the situation under control, were seen patrolling different areas yesterday.
The parishad's Joint Member Secretary Mizanur Rahman said they were in discussions with the local administration over the demands. "We will continue our protests until the demands are met," he said.
"The local administration has started the process of meeting our demands and has informed us that some of them [demands] were not possible to meet," he said.
Mizanur said they were postponing their scheduled human chain at 11:00am today as it falls within the deadline of the ultimatum.
Sharbadaliya Muslim Oikkya Parishad has been protesting the police firing in Borhanuddin upazila that killed at least four people and injured another 100 on Sunday.
At Borhanuddin, locals gathered to protest after a message hurting religious sentiments was circulated allegedly from Biplob Chandra Baidya's Facebook messenger.
Shorbodoliyo Muslim Oikkya Parishad placed a six-point demand at a press conference at Bhola Press Club around 12:00 noon on Monday.
Their demands include immediate withdrawal of the superintendent of police in Bhola and the officer-in-charge of Borhanuddin Police Station, proper investigation and the punishment of those who gave directions to open fire on the rally, enactment of a law with a provision of capital punishment for those who would malign the image of the Prophet (PBUH), Allah and Islam, capital punishment of the Hindu youth who they claimed was responsible for the spread of messages against the Prophet, compensation to the families of those who died in Sunday's clash and bearing the treatment expenses of those injured, unconditional release of those who were arrested in connection with the clash, and no filing of cases aiming to harass or arrest any protestor.
Contacted, Deputy Commissioner of Bhola Mohammed Masud Alam Siddique told this newspaper that they are holding discussions with the leaders of the parishad.
"We have started the process of giving compensation to the families of the victims who died in Sunday's clash and bearing the treatment expenses of the injured people," he said.
Some of their demands like the enactment of a law with a provision of capital punishment for those who would malign the image of Prophet (PBUH), Allah and Islam have to be realised from a national level, he said.
"We cannot withdraw the SP of Bhola or the OC of Borhanuddin police station for the sake of ongoing investigation," he added.
ATTACKERS BEING IDENTIFIED
Police yesterday began the process of identifying the people who attacked law enforcers during Sunday's rally at Eidgah Maidan by analysing videos and photos of the incident, said M Enamul Haque, OC of Borhanuddin police.
Borhanuddin police detained three people from different places of the district early Tuesday after identifying them, he said, adding that the detainees were being interrogated at the station.
CASE FILED
A case was filed against 400 to 500 unknown people in connection with the vandalism of houses belonging to the Hindus, destruction of temples and arson attack in a shop during the clash between police and religious zealots in Borhanuddin upazila. 
Sattya Prashad Das, 78, a retired school teacher who was also physically assaulted during the atrocities, filed the case with Borhanuddin police station last night, said OC Enamul.
A group of people who joined a rally entered the Hindu locality and vandalised a temple, eight houses and a shop, the case statement said.
They also set fire to a portion of a house and a motorcycle and torched a nearby shop, the statement said, adding that assets worth Tk 32 lakh were damaged in the attack.
OC Enamul said they were trying to identify all the criminals who attacked the Hindu houses and temples.
BIDHAN RELEASED 
Bidhan Majumder, a brother-in-law of Biplob Chandra Baidya, was freed around 30 hours after law enforcers picked him up from his jewellery shop in Bhola.
Bidhan's family claimed yesterday that some unidentified men introducing themselves as detectives picked him up and his employee Sagar from his jewellery shop in Dolarhat area around 7:00pm Monday.
Bidhan and Sagar were released from the Rab office in Bhola's Sadar upazila around 1:00am yesterday, they said.
Biplob is the prime accused in a case filed on Sunday night under the Digital Security Act. He, however, had lodged a general diary with police on Friday afternoon, saying his Facebook account was hacked and hateful messages were spread through it.
Mizanur Rahman Bhuiyan, senior assistant director of Rab's Legal and Media wing, also confirmed that Bidhan was picked up for questioning in connection with the incident.