Bhola clash: Hacker identified thru' Facebook
Home ministry spokesperson says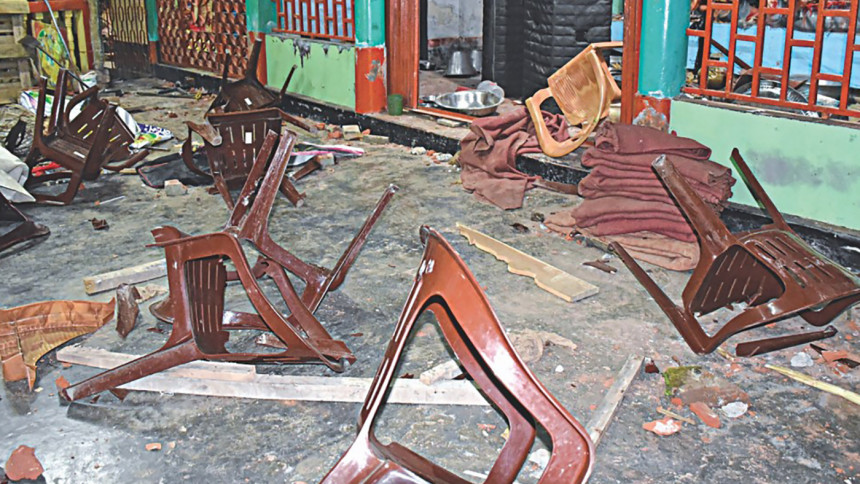 The person, who hacked the Facebook account of Bhola's Biplob Chandra Baidya, has been identified with the help of the Facebook authorities in the US, home ministry spokesperson said today.
The drive is on to arrest the perpetrator, Home Ministry's Public Relations Officer Sharif Mahmud Apu told The Daily Star.
Details about the hacker will be revealed later, the PRO said.
After hacking Biplob's Facebook account, the hacker spread hate conversations among locals in Bhola's Borhanuddin upazila.
READ MORE: Five days on, hackers yet to be traced
At least four people were killed and more than a hundred injured on Sunday as zealots clashed with police in Bhola's Borhanuddin upazila over the post spread through Facebook and its messenger app.
At one stage of the clash that broke out around 10:30am, law enforcers had to fire shots to disperse the mob, who since Friday had been demanding punishment of a Hindu youth they claimed was responsible for the hate conversation from his Facebook account, said police.
The zealots torched a house and vandalised 12 more belonging to the Hindu community in Borhanuddin municipality around noon.
Police on that day claimed that they arrested the hacker, Rafsan Islam Sharif, along with another man named Md Imon from Borhanuddin. They detained Sharif after he made a phone call to the Hindu youth, Biplob Chandra Baidya, from Patuakhali, and demanded Tk 2,000 for giving back Biplob's Facebook account.
But later, the investigators said that they think that Sharif did not hack the FB account as he does not have the technical knowledge to do so.
Police made Biplob the prime accused in a case filed under the Digital Security Act on Sunday night though he had lodged a general diary with police on Friday afternoon, saying his Facebook ID was hacked and hate conversations were spread through the hacked ID.
Earlier, Bhola Superintendent of Police Sarkar Mohammad Kaiser informed that a request was sent to the Facebook authorities in the US to identify the perpetrators.