He was the victim of a plot
Claim Biplob's family members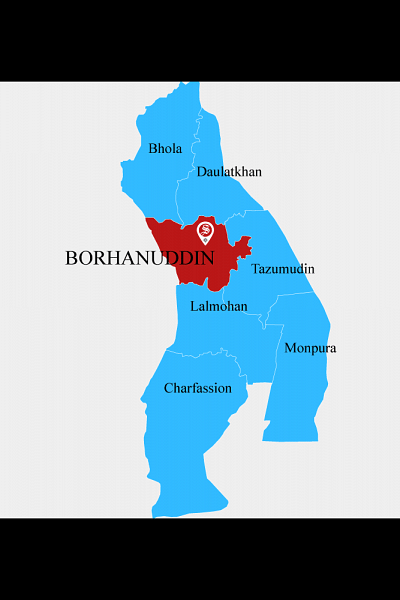 The first phone call which awoke Biplop Chandra Baddya on Friday, right after lunch, may have been the most life-changing one he had ever received.  
Sitting at their home in Borhanuddin upazila's Kaicha village, Biplob's uncle Ashim Kumar Baddya recounted what happened at the start of one of Bhola's darkest chapters. 
After Biplop received the call, the caller apparently informed him that some messages, tantamount to hate speech against Islam, had been sent from Biplob's Facebook account to other accounts. 
After the first call, came many others. And all the callers wanted to know one thing: why did Biplob say the things he did. 
Biplop could hardly respond as he had no idea what had happened. He soon learned of the content of the messages and his shock grew, Ashim claimed. 
As panic set in, Biplob went to Borhanuddin police station in the evening and filed a general diary (GD) over his Facebook account being hacked, said Ashim who accompanied him to the station. 
Soon after the GD was filed, Biplob's mobile phone started ringing again. When he answered, the caller, impersonating the officer-in-charge of Gazipur police station, demanded Tk 2,000 if Biplob wanted his hacked account to be returned, said M Enamul Haque, the OC of Borhanuddin police station. 
The conversation between Biplob and the unidentified caller was automatically recorded on Biplob's cell phone, he added.   
Meanwhile, the screenshot of the message sent from Biplob's account had gone viral in the upazila.  
Hundreds gathered at the police station after they heard that Biplob was there. The crowd demanded the highest punishment, said the OC, adding that Biplob was kept in custody for safety. 
Police immediately tracked the phone caller and arrested one Rafsan Islam Sharif,18, that night from Pataukhali's Kalapara, the OC said. 
Sharif, a neighbor of Biplob, used to work at a power station in Kalapara, one of Sharif's cousins Habiba Akhter Ruma told The Daily Star. 
Visiting Sharif's village home at Kaichcha village, these correspondents found the home locked. 
Ruma said Sharif's father was at work, while his mother had left home soon after Sharif's arrest.  
Police also arrested one Emon in Borhanuddin the same day. He was the one who had sold the mobile phone used to call Sharif, law enforcers said. 
At least four people were killed and more than a hundred others injured on Sunday as religious zealots clashed with police in Borhanuddin upazila over the Facebook message.
Meawhile, Sub-Inspector of the local police station Delawar Hossain filed a case under the Digital Security Act, where Biplob was named as the prime accused. It also accused Rafsan and some unnamed others. 
A SIMPLE FELLOW
"Biplob is a very gentle boy. I don't believe he would send such messages. He has been trapped using his Facebook account," said Abdur Razzak, the local union parishad member, who stood vigil throughout the night with other locals and police officials to guard the homes of Biplob and other Hindu families.  
Youngest among three brothers and a sister, Biplob was seeking a job after completing his graduation from Abdur Jabber Degree College in Bhola. 
Currently, he was engaged in farm work on his land, said his mother Bashanti Rani Baddya. 
Her two other sons now work in Saudi Arabia, while his sister is a homemaker. 
Biplob is a very simple and kind-hearted person, who would not write anything to hurt others, said Prodip Kumar Bala, a neighbour of Biplob. 
"Biplob's Facebook account was previously hacked around six months ago. Then an unidentified caller demanded taka five hundred to recover the ID," said one of Biplob's friends. 
FEAR OF ATTACK LOOMS  
Members of some Hindu families in the locality are spending sleepless nights. 
Since Friday, none of them have even left their homes, while the younger ones are not going to schools or colleges out of fear. 
A police team has been deployed near Biplob's home since Friday evening to ensure safety of the families there.