Religious group calls off demo in Bhola amid ban on rallies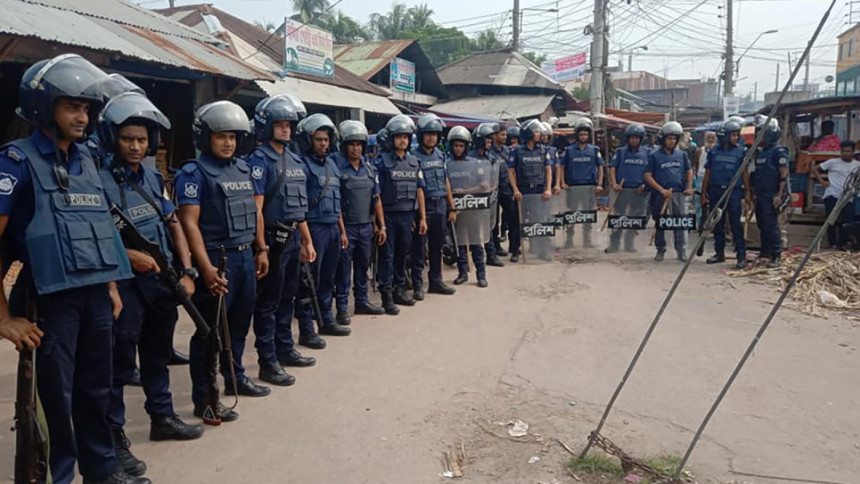 Religious group Sharbadaliya Muslim Oikya Parishad, who are protesting Sunday's clash in Bhola, called off their today's demonstration as security was beefed up in the town following a ban on rallies and meeting by local administration.  
Mizanur Rahman, joint member secretary of the platform, said they have decided to call off their demonstration, fearing resistance from police and ruling party men who took position at different parts of the Bhola town.
Also, their 72-hour ultimatum to press home their six-point demand is yet to be expired, he said.
The decision of Thursday's protest programme will be taken at a meeting in the evening but their Friday's programme is fixed, Mizanur Rahman further said.
Contacted, Masud Alam, deputy commissioner of Bhola district, said, "The religious group did not seek any permission for today's rally…They will not be allowed to hold the programme."
A tense situation was prevailing in the town since Sharbadaliya Muslim Oikya Parishad announced the protest programme yesterday.
At least four people were killed and more than a hundred others injured yesterday as religious zealots clashed with police in Bhola's Borhanuddin upazila over a hate conversation spread through Facebook and its messenger.
Yesterday, local administration has imposed a ban on any kind of meeting and rally in the wake of Sunday's incident.
Sharbadaliya Muslim Oikya Parishad had sought permission for holding a rally in Bhola yesterday as well but were denied. Later, they placed a six-point demand at a press conference in Bhola Press Club. 
The demands included immediate withdrawal of Bhola Superintendent of Police Sarkar Md Kaiser and Borhanuddin Police Station Officer-in-Charge M Enamul Haque; capital punishment of Biplob; compensation for the victims' families; enactment of a law with a provision for capital punishment for demeaning the Prophet (PBUH), Allah, and Islam; free treatment for all the injured; and unconditional release of those arrested in connection with the clash.