Water scarcity hampers jute processing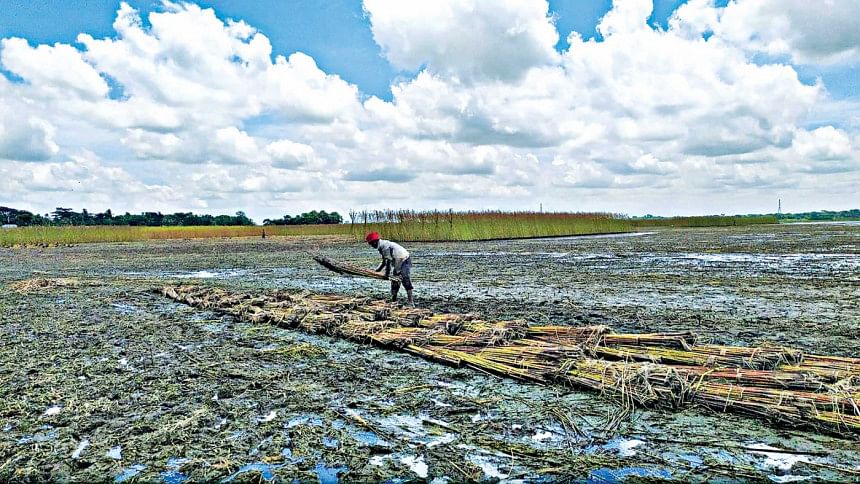 High yield of jute fails to make farmers in Faridpur happy as they are facing huge trouble to rot and process raw jute in absence of adequate water in local water bodies (Beels), canals and ponds.
Farmers said if the ongoing water crisis continues, they will have to count huge loss this year as quality fibres cannot be extracted without properly rotting.
According to Faridpur Department of Agriculture Extension (DAE), jute was cultivated on 85, 865 hectares of land in nine upazila of the district while it was cultivated to 85,201 hectares last year.
Many farmers said raw jute processing has been badly hampered as they cannot rot their jute plants due to lack of rain water even in the middle of monsoon.
Moreover, they have to spend additional labour cost for carrying the jute plants to other place for rotting, farmers said, adding that this year day labourers are charging Tk 550 to Tk 600, which is Tk 150 to Tk 200 more compared to the previous year.
While visiting different villages in Nagarkanda and Saltha upazilas this correspondent saw piled up jute stalks are drying up on the field as there is no water to process those.
Meanwhile, some farmers were seen carrying their jute plants to other places for processing.
Farmer Sarwar Matubbar of Salitha village in Nagarkanda upazila said he cultivated jute on four bighas of land this year, spending Tk 60,000.
But due to lack of adequate water he couldn't rot half of his jute plants on two bighas, Sarwar added.
Another jute grower Haridas Biswas of Boutipara village in the upazila said every year they have to cut the jute plants a bit early as rain water starts entering their field.
"But the situation is different this season," he said.
Farmer Abdul Gaffar of Ramkantapur in Saltha upazila said he cultivated jute on three bighas of land and had already sold 4.5 maunds of raw jute at Tk 3,000 per maund.
"I have cut the rest of the jute plant in last few days, but could not rot those due to lack of adequate water," Gaffar said.
Shajahan Sheikh of Chhoto Bahirdia village in the upazila said usually farmers sow jute seeds at the end of March and complete the harvesting by last week of June every year.   Faridpur DAE Deputy Director Hazrat Ali said jute plants are getting dried up as jute growers in all the upazilas of the district are facing serious problem in processing jute plants due to lack of rain water this season.