I didn't do anything wrong, I was wronged: Shakib Khan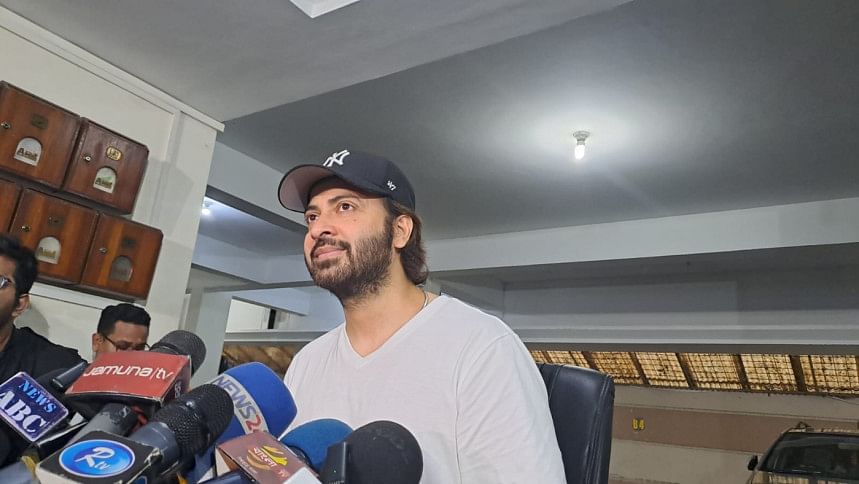 Today, Dhallywood actor Shakib Khan held a press conference at his residence in Gulshan, regarding the whole fiasco surrounding the sexual misconduct allegations from producer Rahmat Ullah.
"I came to the court at seven in the morning. I had to endure a lot of hassles while coming here. I have come to the court for the first time, just because I felt that I needed to fight against injustice," said Shakib Khan.
"I have seen that various media outlets published these types of news without verifying it. If someone introduces him as a producer and he accuses me of raping someone, without verifying the news, is it logical to publish it?" he questioned.
Shakib also said that all of these allegations were a trap made to humiliate him.
"I also have a family. When they heard such news, I lost the ability to hold my head high while standing in front of them. They were very worried about me. I didn't do anything wrong; rather, I was wronged," explained the actor.
Shakib Khan also asserted that he won't tolerate any kind of injustice now. The "Golui" actor will no longer remain silent about this matter.
"The way I have protested against injustice, I will fight against this in my real life as well," said Shakib.
Addressing the artistes of the country, Shakib concluded, "We often see these false allegations made against artistes. I want to give them a message that we won't tolerate this anymore. Even if it's a little hassle, bear it and protest. There are laws in the country, there is administration and justice will be ensured."
3278126