Why grown-ups should reimmerse themselves in children's literature
Children's literature is purposefully crafted for a segment of society without political or economic clout—individuals devoid of wealth, suffrage, or command over the levers of finance and governance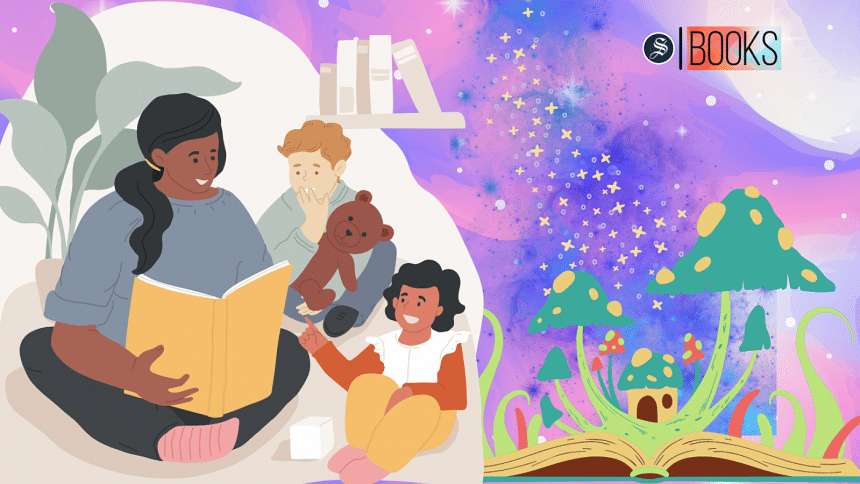 In the act of reading, we engage not only our adult selves but also our inner child, forging a connection between two distinct yet interwoven parts of us. When authors craft stories for children, they are not just imparting knowledge, they are equipping young minds with the tools to navigate the journey ahead. Moreover, there's a clandestine intention: to provide adults with a shield against the necessary complexities and heartaches of life. Through these narratives, we're reminded that timeless truths await us, offering solace and guidance when we need to retreat to their embrace.
Fairy tales were never just for children. They are determinedly, pugnaciously, for everyone–the old and the young, men and women, of every nation. Writer and mythographer, Marina Warner, argues that fairy tales are the closest thing we have to a cultural Esperanto. Whether German, Persian, American, we tell the same fairy tales, because the stories have migrated across borders as freely as birds.
Most fairy tales adhere to some common underlying tropes, featuring archetypal characters like stepmothers, powerful kings, and talking animals. Injustice and conflict unfold, often vividly and unapologetically, laid bare without a shield from their stark brutality. Yet, interwoven within these tales is a glimmer of something magical–a fairy godmother, a spell, a magic tree–ushering in the miracle of hope. These narratives, as Warner also notes, confront violence, injustice, and misfortune to proclaim that they need not persist. Fear is invoked, not to perpetuate it, but to embolden us against it.
Novelist Angela Carter perceived the godmother as a symbol of "heroic optimism," encapsulating an enduring spirit of hope even amid adversity. This indomitable optimism, draped in the garments of resilience, resonates universally. Fairy tales, designed to converse with all kinds of people, offer a blueprint for stories that bind diverse individuals across age and circumstance. Through archetypes, human desires, and metaphors, they beckon us into a shared realm of imagination. Myths, legends, and fairy tales form the bedrock of countless narratives, inviting us, as adults, to continue their legacy by reading, writing, and reclaiming their magic.
In the heart of the 19th century, paper costs lowered and childhood literacy surged, sparking a transformation in children's fiction. The rebellious yearning of fairy tales, unshackled by the burgeoning printing press, flowed into children's novels. Tales tailored for young minds broke free from the confines of classrooms and sermons, ushering in the inaugural Golden Age of children's literature. Storytellers ventured into fantastical realms, leaving reality behind as they journeyed to Wonderland or Neverland, liberating the "child within" from the constraints of grown-up demands. Orphaned and independent youngsters roamed the realms of Storyland, sowing the necessary chaos for grand adventures to unfurl. Within these stories, the horizons of possibility expanded, offering larger-than-life experiences that dared to challenge the limits of imagination.
It was here that the idea that children were sweet or gentle or necessarily more likeable than adults was jettisoned, along with the idea that all logic must be "adult logic". In casting aside that idea, children's books began to play by their own rules and, in so doing, became works of art distinct in themselves, in their own tradition, not watered-down versions of some other, adult narrative.
Dr Louise Joy, an associate professor at Cambridge University, has also spoken and written about the subject, concluding that, "Reading children's books as an adult enables us to retrieve an earlier, original part of ourselves–a way of thinking; a set of thoughts or feelings; a sense of who we are–which lies forgotten, dormant beneath the surface." 
Children's literature is purposefully crafted for a segment of society without political or economic clout—individuals devoid of wealth, suffrage, or command over the levers of finance and governance. These are the people who traverse life's terrain with an acute sense of vulnerability, their voices often marginalised. Simultaneously, children's books resonate with those not yet consumed by the demands of toil or the act of moulding their own biases onto others. In these pages, adults find a refuge to escape the weight of their own opinions and self-inflicted burdens. For, even amidst adulthood's perceived agency, there are instances of powerlessness. It is during such moments that we must turn to the pages of children's literature to rekindle a spark within, reminding us of the latent strength we possess, urging us to embark anew when the path ahead is uncertain.
Kazi Raidah Afia Nusaiba is an aspiring journalist who spends her time reading and researching.