Witness of a horse theft
On account of his birth anniversary, Maliha Huq translates Ahmed Sofa's short story, "Ghora Churir Shakkhi" from his children's short story collection, 'Dolo Amar Konok Chapa' (1968)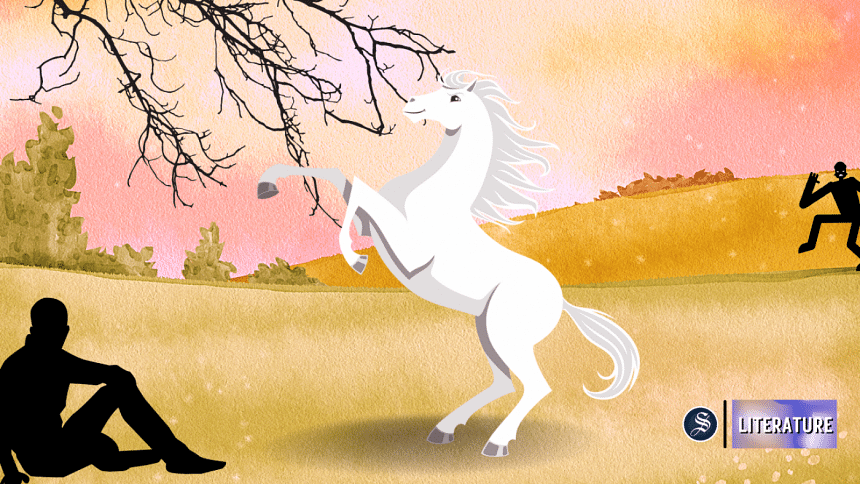 There once was a horse trader. He used to trade horses from market to market. On a certain day, he sells all his horses except one. Ordinary merchants cannot afford it. It gallops on the wings of the wind, tossing its fine silky mane. It glows like the Nilambari. This horse is best suited for a valourous prince. Its trajectory is that of an arrow shot in the air. It can cover a six-months long journey in six days. After mulling things over, the trader decides to travel to the capital of Kishkindha Kingdom. He would display this horse to the prince. It's fine mane tosses like silk threads as it shoots ahead like an arrow. He would tell the prince, "Your Royal Highness, buy this horse. It is worthy of your reputation. I failed to find anyone more worthy of it. It bends its nape like a peacock while moving, how could I sell it to a commoner?" The trader decides not to return home. He sends a message to his wife: "Do not worry about me. I am going to the capital of Kishkindha with Devraj horse. I will return with a sack full of money in 15 days." The horse trader sets out on his journey.
Twilight approaches as they walk through an open meadow. The faraway palm leaves glisten with soft sunset rays. Darkness falls in dense layers and fills the meadow's empty heart. An eerie feeling makes his skin crawl. Nobody is around, not a single household. Where can a foreign horse trader take shelter? He feels clueless in the dark. He slowly paces forward with his horse. The Boishakh sky grumbles with violent gusts. Trees break apart from top branches. As gods and demons dance fiercely in the thunderstorm, nobody is around to witness them. Devraj horse, tied by a rope, wants to join this dance. Rain starts falling in torrents soon. The horse trader is drenched. After walking for a while he locates a tamarind tree. At this point, he is too exhausted to move. So he ties the rope to a tamarind tree root tightly. Then he climbs the tree, places his feet on one branch and his head on another to get some rest. He gets drowsy soon.  Suddenly his eyes open at about midnight. He notices black clouds shadowing a full moon. The meadow is flooded with moonlight. As he looks below, he sees someone untying the rope and taking Devraj away. He hurriedly climbs down to ask the stranger, 
"Who are you and why are you stealing my Devraj horse?"
The thief replies, "Mind your words! This is my horse. Its name is Tamarind horse. This tamarind tree has given birth to it."
The horse trader is dumbfounded. After walking continuously for two days he had reached this place. He had to face a Kalboishakhi thunderstorm; he got drenched from head to toe in the darkness, finally found this tamarind tree and tied his own horse to a root. Now a thief pops up claiming his horse! The horse owner pleads.
"My brother, return the horse to me. This extraordinary horse is not for a commoner, but a prince. You are a common thief, it cannot serve you well." 
The thief responds with red angry eyes, "How dare you use the word 'thief'? If you further accuse me, I shall beat you, you fraud!"
They keep arguing with each other and reach a village by sunrise. The sun has spread its sweet smile across the sky. The village chief, moving past them, overhears their conversation and stops to inquire.
"You two seem new in this village. So, what is your issue?" he asks. "Nobody fights in my village. Tell me your story. I shall make a fair decision. I am the head of this village."
The trader replies with tears in his eyes, "Chief! I have been looking for you. I was travelling to the kingdom of Kishkindha with this horse. The sun set as I walked through a meadow. Nothing was visible after nightfall. So I stopped under a tamarind tree, tied my horse to its root and climbed up. I dozed off for a while. I was awakened at midnight and noticed this man taking my horse away. I hurriedly climbed down to ask him what was going on. He replied, "This is not your horse. My tamarind tree has laboured it. Chief! you are wise and just, please make a fair decision." 
The thief counters. "Chief! Do not believe his words. He is a top-class fraud. That tamarind tree is from my father's generation. I have nurtured the pregnant tree all year round. As soon as the tree foaled, the horse stood up and started jumping. So I tied a rope around it to take home. Suddenly this man appeared claiming the horse. Take a good look at his face, Chief. He is a thief, there is no doubt. This is what happens in the dark age, Chief. Cursed dark age. Otherwise, how can someone dare to claim my Tamarind horse as his own? I have heard praises about your justice. Make a fair decision, Chief!"
The thief is successful in his flattery. The village chief wonders about the possibility of a tamarind tree foaling a horse—it is not impossible.
He replies, "Very well. Tie this horse to that ash tree on my courtyard and wait. I need to consult other panchayat members. It is not wise to reach a conclusion all by myself."
They tie the horse and wait. A village council takes place in the chief's courtyard. The horse trader weeps as he shares his side of the story. The thief, on the other hand, is unaffected. But he goes on adding, "Do not believe his words, he is a fraud, a lying trickster. My tamarind tree has foaled this horse, I swear! This is my Tamarind horse. It is still unfed. Please allow me to take it home." 
The council asks the horse trader, "Can any witness on your side confirm that this horse belongs to you?"
The horse trader weeps, "I am a simple horse trader. I trade horses from country to country. Who will recognise me in this foreign land? Who will testify for me?"
The council responds, "Then we cannot help you anymore. Our understanding is that the tamarind tree has foaled this horse. Therefore, the horse belongs to this man." 
The trader replies, "I do not accept this injustice. You are oppressing a foreigner, a poor horse trader."
The Chief replies scratching his bald head, "I am 70 years-old. I have never found anyone expressing dissatisfaction with my judgement ever. If you are unhappy, go and seek the king. But remember this much, foreign trader, you have hurt this old man right here, in the heart, with your false accusation."
The horse trader makes a complaint at the royal court. He shares all incidents like before. The king summons the accused thief and asks, "Why are you not returning this trader's horse?"
The thief replies, "Your Majesty, this horse is mine. That man is lying. The village chief and his council members have given their verdict on my behalf. Your Majesty, I swear, my tamarind tree has foaled this horse. I have looked after the tree for many years. Believe me, Your Majesty, my words are true."
His Majesty then asks the trader, "Do you have any witness on your side?"
"Your Majesty, sadly I have no witness."
"No witness? Then according to the rules of my kingdom, this horse goes to him."
The thief proudly takes away the horse with a smirk. The horse trader leaves the royal court in tears. As it happens, he crosses paths with His Excellency Fox Pundit. 
Hearing a human cry, Fox Pundit asks curiously, "Hey, you foolish human, why are you sobbing like a lamb?"
The horse trader shares everything. The Pundit sways his tail and yawns.
"Oh, is that all? Why do you worry when His Excellency Fox Pundit is here? Go back to the king. Tell His Majesty that you forgot to share something last time. You have a witness. Tell him that His Excellency Fox Pundit is your witness." 
The trader follows His Excellency's direction. He gets another date for a court hearing. Both the thief and horse trader are summoned on the given date. His Excellency Fox Pundit is also present in the royal court. The hearing of the horse theft case begins. The witness is called upon, "His Excellency Fox Pundit, His Excellency Fox Pundit." The Pundit was dozing at a corner of the royal court. He misses the king's summons. And His Majesty gets irritated.
"You damned cunning chicken thief, present yourself!"
The Pundit opens his drowsy eyes to respond, "Your Majesty, was I summoned?"
His Majesty replies, "You are a witness, how come you fell asleep in my court?"
"Forgive me, Your Majesty. The sea caught fire yesterday. All its fishes floated up. I was so busy catching them that I did not sleep the entire night."
His Majesty orders furiously, "Capture this insolent fox at once! Does the sea ever catch fire? Damned liar!"
His Excellency Fox Pundit gets even more furious, "Capture this mad king first! Can a tree foal horses? What kind of hearing is this?"
The king scratches his head and wonders, "Indeed! Trees cannot foal horses." 
The courtiers also realise, "Indeed, indeed. How can a tree foal horses?"
A new verdict is passed, "The original owner will receive his horse. And the thief will be lashed."
Translated by Maliha Huq. She is an MA student of English Literature and Creative Writing at the University of Liberal Arts Bangladesh (ULAB).