Home is where the hurt is
'The Gravity of Lies' by Dorothy Deene (Sword and Silk Books, 2023)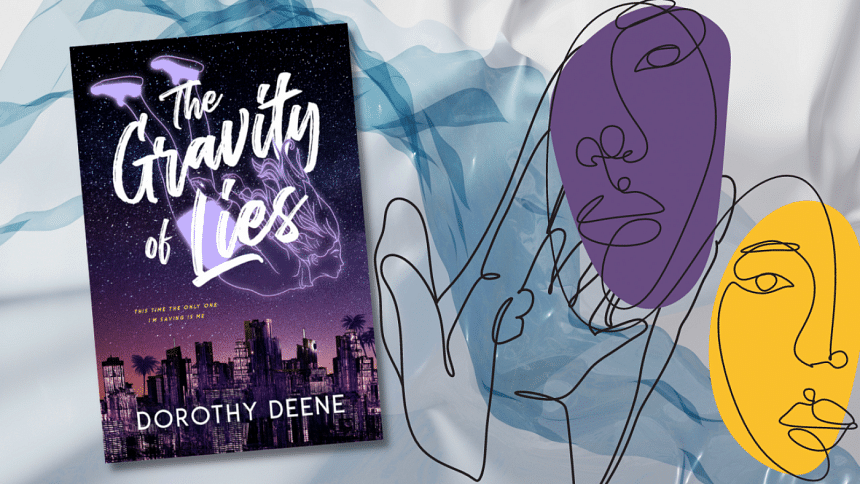 The Gravity of Lies introduces us to 16-year-old Skye, who is something of an old soul, even though she occupies the body of a teenager. Or maybe it's just that she's never really had the kind of carefree childhood that is considered "normal". Even though there are any number of troubled adults in this world who demonstrate that a secure childhood is not something to be taken for granted!
Nevertheless, Skye seems remarkably well-adjusted and kind, despite having been raised by an alcoholic mother who is anything but. When we meet her, she is living alone with her mother, after her maternal uncle Richard's death a few years previously. 
As long as Uncle Richard was around, Skye's life wasn't too bad, because he gave her the nurturing environment that her mother never provided. As for Skye's absent father, she has no idea who he actually is...
Currently, Skye is desperately trying to find a measure of stability in the peripatetic lifestyle inflicted on her by her dysfunctional mother. Skye's mother Mary is paranoid and anxiety prone, and has serious problems with substance abuse. 
Effectively the caretaker of her problematic mother, Skye is used to living with very little. She and her mother have been evicted more than once from the fleabag apartments in Los Angeles which they periodically rent. Lodgings, mind you, that Skye pays for with her occasional earnings as an actor doing bit parts. Because her mother refuses to work.
But now they have received an unexpected break—the chance to participate in a reality TV show about five teenagers and their parents, who will live together in a luxurious home and compete for the lead role in a network television series. While Skye looks forward to not worrying about sleeping in their car for a while, it remains to be seen whether she can pull off this reality TV gig without Mary ruining it for both of them.
The accommodations turn out to be five star quality, but Skye's main preoccupation with regard to participating in the show stems from her conviction that the organisers can help her to locate her father. A father whom she has not only never met, but actually knows nothing about.  
Her mysterious father is the focus of Skye's daydreams of escaping her miserable home life with Mary. But ignoring her repeated questions, Mary has always refused to tell Skye anything about him. And the teenager is terrified that her mother will find out that she has secretly made a deal with the producers of the show.
That plan doesn't turn out quite the way that she had envisaged. But Skye discovers that as some doors slam shut, others may unexpectedly open a crack.
Despite some parental shenanigans (and not just on the part of her own mother!), Skye forms an unexpected bond with some of the other kids she meets on the programme they are taping, and they all encourage her to seek out her father, no matter how things turn out. 
Skye even meets Sebastian, a boy looking after the grandmother who raised him after his mother was killed, and realises that the hand you are dealt does not have to determine who you decide to become. So when a major twist emerges in the latter part of the storyline, she is able to find her way through it despite her disappointment.
This is a beautiful book about a teenager looking for the answers in life, the joys of found family, and the experience of love in its many forms—from stuffed monkeys and cute boys, to mama birds and friends for life—and everything else in between.
Farah Ghuznavi is a writer, translator and development worker. Her work has been published in 11 countries across Asia, Africa, Europe and the USA. Writer in Residence with Commonwealth Writers, she published a short story collection titled Fragments of Riversong (Daily Star Books, 2013), and edited the Lifelines anthology (Zubaan Books, 2012). She is currently working on her new short story collection and is on Instagram @farahghuznavi.