Lovers, liars and lurkers in the library
'The Woman in the Library' by Sulari Gentill (Poisoned Pen Press, 2022)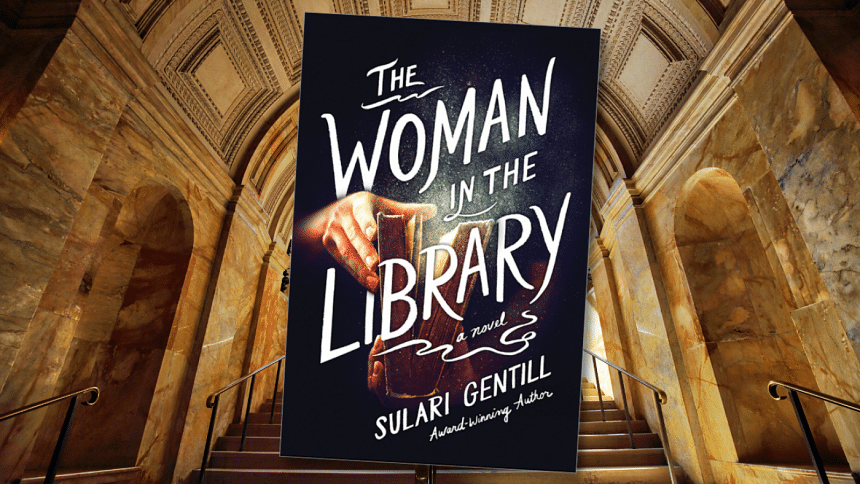 The Woman in the Library stylishly showcases author Sulari Gentill's writing skills, with multiple levels of storytelling neatly stacked, and tightly packed into one novel. More on this shortly, but I'll start by saying that the book combines an old-fashioned murder mystery reminiscent of Agatha Christie with a very contemporary twist pertaining to one particular aspect of the plot. 
To pique the reader's curiosity, there is first and foremost a meta aspect to this novel, featuring a story that is neatly placed within the framework of the larger effort at storytelling that is underway. 
Hannah is a successful Australian author whose new novel is set in the United States. As she writes one chapter after another—while Australia crackles under the pressure of bushfires, floods and the unfolding COVID 19 pandemic—Hannah finds herself corresponding regularly with a fellow writer named Leo, who is based in the US. 
As a resident of Boston, the city where Hannah's story is set, Leo offers to help her with getting the finer details of her story right, and in the process, also becomes a beta reader for her. 
I loved this book and the way that it combined the classic and the contemporary in its approach to writing murder mysteries.
The protagonist of Hannah's novel is Freddie, also a writer, who is on a writing residency in Boston, and is also an Australian. To make the meta angle even stronger, Hannah includes in Freddie's adventures a character named Leo, who is an American writer taking part in the same residency that Freddie is in the US for. 
If you're finding this a little confusing, don't worry. It took me a bit of time to get my head around what was "real" and what was part of the novel Hannah was writing about Freddie. That said, this is actually a very enjoyable book, and it is easy to read once the meta aspects have been properly internalized. 
Hannah's protagonist Freddie is attempting to make progress on her novel by working at the Boston Public Library, when she—along with three of the people she is sharing a table with—are transfixed by the sound of a woman screaming somewhere in the Library. Based on this shocking shared experience, Freddie and the three Americans, a woman and two men, gradually become close friends. 
Delighted as she is to have made friends with this trio of interesting people (including a possible love interest), Freddie soon finds herself caught up in an inexplicable series of events that begins with the discovery of a dead woman's body in the Library, just one day after they heard the scream. 
To make matters worse, all three of her new friends turn out to be linked to this incident in some way. Soon, Freddie is unsure who to trust anymore, despite the fact that she has incorporated these three people as characters in her novel, the writing of which is progressing nicely. Sadly, the same cannot be said of the murder investigation into the woman's death. 
Nevertheless, despite the troubling sequence of events that is unfolding, there is a quality of innocence and light-heartedness about this story which is reminiscent of classic murder mysteries from an earlier time. This contrasts quite sharply with the more contemporary flavour of the overarching story that Sulari Gentill offers up, providing a piquant comparison to titillate the reader's palate. 
Thus, as Hannah writes each chapter of Freddie's story, and emails it to her beta reader Leo in Boston, a somewhat sinister tone begins to emerge in the correspondence between the two. Is Leo in fact a writer, as he claims to be? And is he even who he says he is? The creepiness that begins to emerge in their relationship somehow feels distinctly contemporary, and is very effective in creating another layer of suspense for the reader. 
I loved this book and the way that it combined the classic and the contemporary in its approach to writing murder mysteries. It's an easy read, but some aspects will likely linger with the reader for quite some time. I certainly won't forget the fun I had reading this book anytime soon!
Farah Ghuznavi is a writer, translator and development worker. Her work has been published in 11 countries across Asia, Africa, Europe and the USA. Writer in Residence with Commonwealth Writers, she published a short story collection titled Fragments of Riversong (Daily Star Books, 2013), and edited the Lifelines anthology (Zubaan Books, 2012). She is currently working on her new short story collection and is on Instagram @farahghuznavi.