ESSAY: WORLD ENVIRONMENT DAY 2023
Climate fiction and the fictions we tell ourselves
What does climate fiction accomplish? For one, this genre of fiction speaks to the political and ecological violence of our time and for another, it establishes nonhuman actors as protagonists and storytellers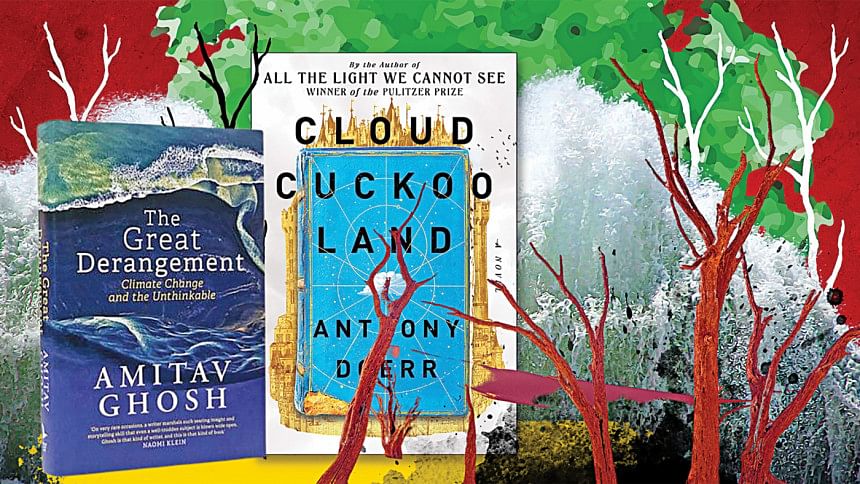 There is an element of the unexpected in the twinning of fiction and ecology. A sense of unease of sorts exists in the pairing together of fiction, a form of narrative that is untrue, with the imminent ecological disaster, an environmental inevitability that is true. That discomfort is also linked with the concept of truth itself. Because of the times we are in, because of the climate of our current politics, the concept of truth has a kind of fluidity to it; it has become a porous thing, a thing that can produce ugly effects.
What is the truth about our climate? Where does all the evidence point to? By and large, a critical consensus has been set: a crisis is imminent, and we are woefully underprepared for it. What then, are the consequences of a truth we are unwilling to accept? What are the ethical implications of a truth that disturbs, that troubles, that demands to be denied? One way to answer that question is to turn to fiction, a genre about the untrue to tell the most potent truths of our time. 
In The Great Derangement: Climate Change and the Unthinkable (2016), Amitav Ghosh discusses how before the birth of the modern novel, the unlikely, the exceptional, and the unbelievable very much made up the fabric of storytelling. But with the advent of European modernity, the uncanny has been unceremoniously relegated to a genre—be it science fiction, speculative fiction, zombie fiction, or post apocalyptic fiction. Ghosh wonders why so few contemporary writers, himself included, were addressing the biggest crisis of our time i.e. the climate catastrophe. The answer perhaps lies in understanding the foundational question of modernity itself.
What is the truth about our climate? Where does all the evidence point to? By and large, a critical consensus has been set: a crisis is imminent, and we are woefully underprepared for it. What then, are the consequences of a truth we are unwilling to accept?
Everything that had originally converted the premodern world into the modern—advances made in practically all areas of human life including industry, transportation, technology, culture, science—is crumbling all around us and creating impacts that are threatening to undo the entire modern ecosystem. It is a realization at the level of existence; it is the existential crisis of our times. And so, the storytellers of our time are taking note. From Richard Powers in The Overstory (2018) to Shubhangi Swarup in Latitudes Of Longing (2018) to Anthony Doerr in Cloud Cuckoo Land (2021), to Amitav Ghosh in The Hungry Tide (2004), novelists are asking us, urgently that too, to think, to reevaluate, and to recalibrate. And here's what we must rethink: can we make art that conceals the truths of our time? How can we read and make fiction that does not address our climate? Whose stories must our stories now tell?
What does climate fiction accomplish? For one, this genre of fiction speaks to the political and ecological violence of our time and for another, it establishes nonhuman actors as protagonists and storytellers. The landscape of climate fiction brims with beautiful, horrifying, numbing imagery—of turtles and trees, disappearing oceans and burning woods, spirits and Gaia. In many ways then, the genre displaces humanism's human-centricity and compels us to rethink human supremacy over other forms of life. Eco-fiction writers also urge us to fathom a world where humans will have to learn to live in a post-human world. In short, cli fi or eco fiction as a genre asks its readers to consider the scope of life itself. And perhaps most crucially, the genre asks us to be better, more conscious, more conscientious humans, the kind that takes the time to care for the world around us.
It seems like a hard ask. One might even say an almost impossible one. Asking fiction to tell the truths of our time as well as asking us to be better beings? Yet, the act of reading and writing has an uncanny ability to accomplish the unthinkable. As an impressionable teen, I remember reading strange little pieces titled "The Autobiography of a Tree", and "The Autobiography of a Road" in our school coursebook. Back then, we used to mock the poetic, otherworldly descriptions of the road exhibiting anthropomorphic angst. The road's tragic attempt at evoking empathy at being walked all over ceaselessly amused us, its self-obsessed teen readers. Decades later, theorists of Object Oriented Ontology or New Materialism are asking us to do exactly that—decenter our human-centric thought processes and broaden our perspectives of "life" itself.
When I think back on Rabindranath Tagore and his evocative, poignant short stories such as "Bolai", which is a tale of a boy and his boundless love for a tree, I cannot help marvel at fiction's ability to instill compassion in us. I remember Bhibhutibhushon Bandopadhay's Aranyak (1939), and the protagonist's hypnotic affection and eventual guilt for the forest land he is in charge of. Ghosh, too, recalls the elemental truth the river from his past forces him to confront. He finds the river asking him, "Do you recognize me, wherever you are?" Fiction teaches us much about the power in recognition, as a kind of presence that emerges with what Ghosh calls a "quiet insistence".
That recognition of quiet insistence, that awareness, those moments and instances of other lives and experiences that cannot be ignored are found in places and spaces that are intimately our own—it is there in the tidal waves of the Sundarbans, in the dusty leaves of ignored plants in the city's lonely balconies, in the crowded alleyways of Dhaka. We are surrounded by those that are unlike us.
The French philosopher Bruno Latour insists that Western modernity's impulse to deepen the gulf between nature and culture has caused a lot of the current climate crisis. Ultimately, climate fiction and nature writing urge that it will be our ability to see the ecological for what it is that will help us see our future. If we open our eyes to the truths of our time, and let our art reflect that truth, that reflection and recognition may reverse the narrative of resistance and alter our future. It's a hopeful take but one we need. If we don't allow the scale of change, the enormity of change that is upon us to be reflected in our creative and indeed, critical work, we will not reach the ontological turn that is necessary. While I am afraid of remaining bound by denial, I worry more about what the denial represents—our inability to care for others.
Dr Nazia Manzoor is an assistant professor at the Department of English and Modern Languages, North South University.