5 children's books to find at Boi Mela this year
As a pioneer, the publishing house has ensured that the quality of their books is unparalleled; I was amazed by the colourful animations at this year's Boi Mela.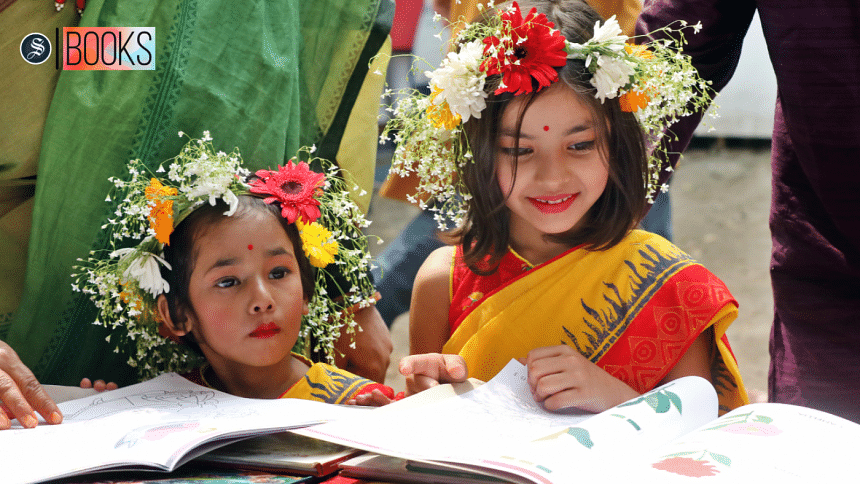 One of my favourite things about Boi Mela is the lively children's corner, or shishu chattar, that includes stalls from publishing houses who produce children's books. They are not only fascinating, but display a rich collection of books for young readers to go through. Ranging from pop-ups and activity books, and from translations to fictions to choose from, here is a list of books you can purchase or your little ones.
PETNI AMAR JHI
Ahsan Habib
Pragati Publishers, 2023
Pragati Publishers is the first and only publishing house to work with die cut, pop-up, and flip books and as a child, I loved them. The life-size cutouts provide an immersive reading experience for children and boost their imaginations. These books are best suggested for new readers so the first experience of reading is a fun one, and they slowly grow used to the idea of reading stories. As a pioneer, the publishing house has ensured that the quality of their books is unparalleled; I was amazed by the colourful animations at this year's Boi Mela. Additionally, Pragati has launched three new books this year, on underwater life, space, and a storybook by the cartoonist Ahsan Habib, Petni Amar Jhi.
PITHAPURE EKDIN
Farzana Tanni
Mayurpankhi, 2023
Mayurpankhi's colourfully illustrated books are widely popular among children of all ages. While they released a number of interesting titles this year, Pithapure Ekdin is one book that particularly caught my attention. The bright cover shows a little girl, Rimi, walking across a land of Bangali delicacies. Throughout the book, she explores Pithapur, interacting with the different kinds of pithas who live there. While most of us grew up reading books featuring lands made of chocolate, or the infamous Hansel and Gretel gingerbread house, seeing a part of the familiar South Asian lifestyle represented in these stories brings back nostalgia and tells us why cultural representation matters. 
ASIAR RUPKOTHA
Ahmed Riaz
Chirantan Prokash, 2023
One cannot recommend children's books without talking about fairy tales. These fantastical stories are passed down to generations, and while some stories remain the same, others adjust with new context or are revived. Most of these stories are not only fun to read, but also contain morals which help children learn and understand a variety of social concepts. Asiar Rupkotha contains 11 such fairy tales from 11 Asian countries. While these tales are significantly short, they are intelligently written, full of imagination, and tools that will hone kids' problem solving skills, which will ultimately aid in their development.
CHOTODER SAHABI SERIES 
Dr Iqbal Kabir Mohan
Shishu Kanon, 2023
This year, Islamic books have been quite popular among readers of all ages. While there are several Islamic books available for children, Dr Iqbal Kabir Mohan's series of seven books explore the lives of the seven companions of Prophet Mohammad (PBUH). These include Muadh ibn Jabal, Zayd ibn Thabit, Suhayb ibn Sinan, Abdullah ibn Umar, Sa'id ibn Zayd, Ikrima ibn Abu Jahl, and Abu Ubayda ibn al-Jarrah. The short stories in this collection are a brilliant way to introduce Islamic history to new readers, as they engage children through a fascinating storytelling session. This publication has a number of other titles on Islamic studies.
SUYORANIR SADH AND TOTAKAHINI
KinderBooks, 2023
There is a large variety of fiction and short stories available for children but I was pleasantly surprised that an abridged version of these Tagore stories was reintroduced at the Boi Mela for a younger audience. As a reader, I became familiar with the works of Tagore much later through the translated stories in school textbooks. Familiarising young readers with this notable literary figure not only enriches their sense of literature but also brings back the folk tales we hear growing up. These stories, included in the collection, along with a range of other regional folk tales are definitely recommended for all young readers. 
Maisha Islam Monamee is a student of IBA, DU, and a freelance journalist who likes reading, scribbling, and blogging. Follow @monameereads on Instagram.