6 UK small presses that consider unsolicited submissions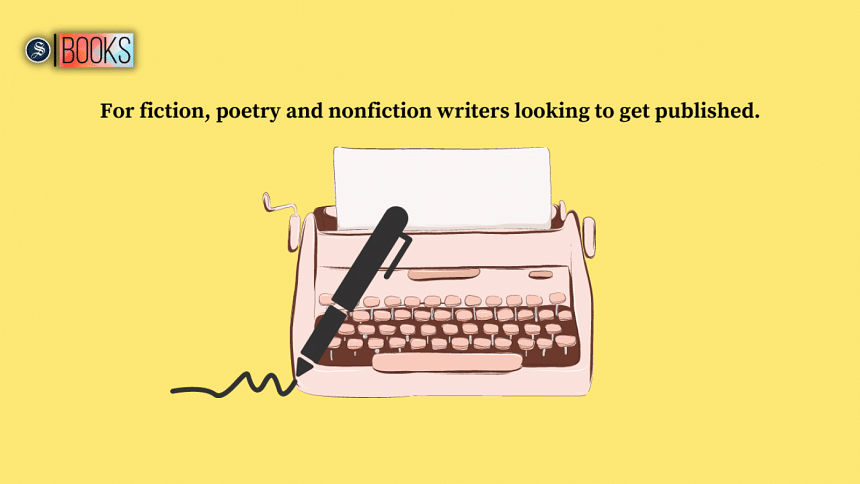 Regrettably, there are not many resources catered to the practical needs of Bangladeshi writers who write in English. Many remain in the dark about the prospects of having their manuscripts published beyond the borders. However, it is now becoming common for some Bangladeshi writers to get their books published in the Indian subcontinent, thanks to literary agencies such as Writer's Side and exposure of Bangladeshi writers to the Indian publishing market via the Dhaka Lit Fest. While the idea of getting published in the Indian subcontinent is growing popular among Bangladeshi literary circles, some find the ambition to send their manuscripts to UK publishers unrealistic and daunting. This can be partly explained by the lack of knowledge that persists surrounding the UK publishing industry,
Listed below are six small, independent publishers in the UK that consider unsolicited manuscripts. This means you can submit a manuscript on your own, without a literary agent.
Tramp press
Nominated for the Booker prize, the Goldsmiths prize, and the Dylan-Thomas prize, among others, this independent publishing house based in Ireland promotes exceptional talent, be it based in the UK or beyond. They specialise in literary fiction and narrative nonfiction. Their authors include Doireann Ní Ghríofa, Mike McCormack, and Sara Baume. Their submissions are open year round. 
Guidelines: https://tramppress.com/submissions/
Peepal Tree Press
Although they specialise in Caribbean and Black-British writing, they are also open to submissions from South Asian authors, as per their Instagram bio. They're currently open to unagented fiction, poetry, and nonfiction submissions; however, it's not mentioned how long the window will stay open. They seek to reply to all submissions within 20 weeks of reception. Their most popular title is Monique Roffey's The Mermaid of the Black Conch, the 2021 Costa Awards winner and also a Goldsmiths prize nominee.
Guidelines: https://peepaltreepress.submittable.com/submit
Fitzcarraldo Editions
Largely popular due to its sleek, minimalistic covers and publication of Olga Tokarczuk titles, this small press also has a long history of being up for many competitive literary prizes. From Adania Shibli's Minor Detail to Fernanda Melchor's Hurricane Season and Alejandro Zambra's The Private Lives of Trees, Fitzcarraldo Editions promises the finest works of English literature—both translated and original. Submissions can be directed to [email protected] with an author biography, a synopsis, and the full manuscript.
Mountain Leopard Press
Founded by Chritsopher Maclehose in April 2021, Mountain Leopard Press publishes "brace voices, writers whose messages have the power to change the world". One of their authors is 2022 Sushila Devi Award winning writer Anuradha Roy, whose recent novel, The Earth Spinner, was one of their first acquisitions. Submissions (fiction and nonfiction) can be sent to [email protected], [email protected], [email protected], [email protected] with a synopsis, biography, and the full manuscript.
September Publishing
Even though they are highly selective in terms of fiction (publishing only one or two titles a year), they are still open to such submissions. They are currently prioritising nonfiction works. A regional finalist for the 2023 Small Press of the Year by The British Book Awards, their authors include the Caine Prize Winner Yvonne Adhiambo Owuor and the Oscar-nominated Sarah Polley. For fiction, three sample chapters, a biography, and synopsis are to be sent to [email protected] and [email protected]
Bluemoose Books
Also a regional finalist for the Small Press of the Year category, Bluemoose Books has published books that have been nominated for or won the Walter Scott Prize and Portico Literature Prize, among others. They are keen on publishing risky, subversive, non-traditional, and "cracking stories that engage and inspire". They remain closed to children's books, YA, and poetry. 
Guidelines: https://bluemoosebooks.com/about