Sister Library discusses book on travelling as a woman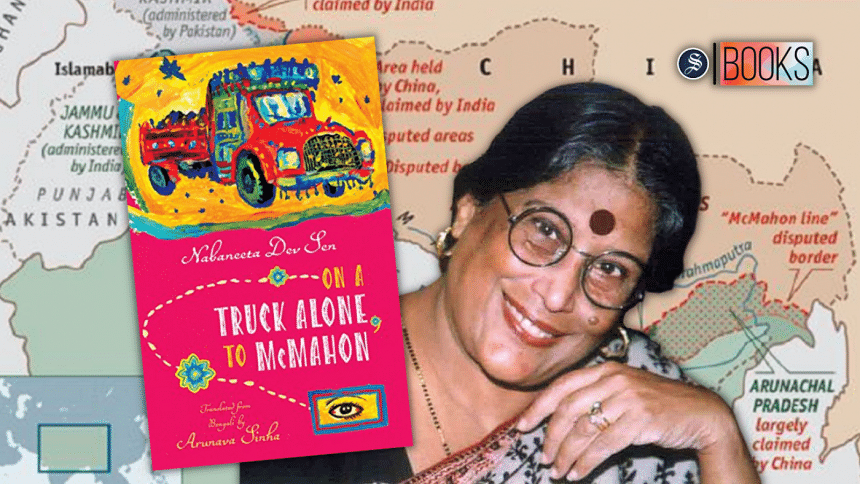 How many times have you planned a trip to an amazing destination that calls to you, but your family would not allow you to? If I had 100 taka for every trip I did not take for this reason, I would have enough savings for a world tour. Maybe that is also the reason why I am such an avid reader, books are my travels.
In my new role as co-curator of Sister Library, I wanted to start the year with a reading to inspire wonder and explore the idea of the theme for this quarter, "Borders". And so we invited Tabassum Islam Susmi to read a travelogue of a woman, hopping on a bus to go to the northernmost point of India, to witness the pressure point where two empires meet—the border of India and China.
The travelogue of Dr Nabaneeta Dev Sen, On a Truck Alone to McMahon or Truck-Bahoney McMahoney first released in Bangla in 1984, is a thought-provoking and lyrical exploration of identity, belonging, and the complexities of modern-day relationships. The book is inspired by a trip the writer took to the remote town of Tawang in Arunachal Pradesh, 10km from the Line of Actual Control of China.
As you can imagine, based on its borderline location, Tawang is extremely volatile, both geographically and politically. It was even more so in the 70s following changes in the area's divisions and administration. Tourism is limited to academics, archaeologists or political personnels, who go there under a lot of surveillance. Dr Dev Sen had no official business going to Tawang, apart from curiosity and a call of the spirit. But that was enough of a reason for her, so she borrowed warm clothes from the people she just met at the poetry convention in Assam, hopped on a ration lorry, and off she went to Tawang. 
During the Sister Library reading, Tabassum Islam Susmi, another avid reader (and an IRL traveller), guided us through the book. She picked out passages she could relate to as a female solo traveller and not surprisingly, they resonated with the participants. One of the participants shared how her colleagues assumed she wouldn't be comfortable going on a trip if enough female colleagues did not go. Another, how her family took it as a given that she wouldn't go on a trip without her husband. These are different stories from different people yet, they felt so similar. Elder Sister Susmi did an amazing job in selecting the passages that created a bond among souls who love travelling.
Wander Woman founder, Sabira Mehrin Saba joined the reading and shared her insights in organising solo and group tours for women in Bangladesh and beyond. And through her stories we realised that tourism in Bangladesh is changing. She shared a story about a mother who took her toddler on a trip because she believed it is important for a child to learn about different countries and cultures early on. She also shared how it was not easy for her to start travelling, but over time she grew more comfortable and others followed her example to wander.
The book is older than me, and yet I can relate to the difficulties the author faced as a female traveller. Still today, we are plagued by the most intrusive, and least sensical question asked of female solo travellers is "Are you travelling alone?" When not asked by a hotel receptionist, it is inappropriate and by all means suggestive of intentions that are not related to your wellbeing.
Wherever you are, whoever you are, we invite you to wander with us through text in the Sister Library, a collaborative community project by Goethe-Institut and HerStory Foundation, founded by Aqui Thami.
Zaima Hamid Zoa, aka @readingwhileipoop, is the Co-Curator of Sister Library Dhaka.