Finding comfort in mythological retellings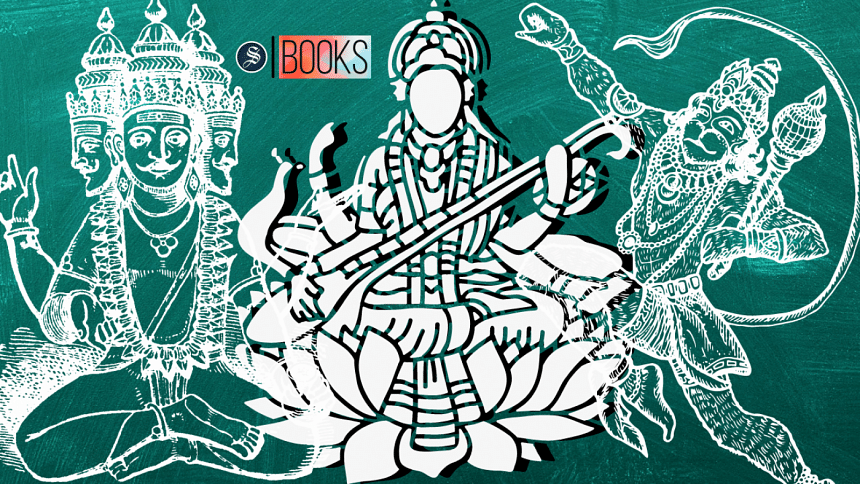 I am attracted to mythology retellings like a moth to the flame. Like watching my favourite TV shows for the umpteenth time, reading retellings feels comforting. I was exposed to mythological retellings when I read "Bivishoner Proti Meghnad" during my college years. Meghnad Badh Kavya (1861) immortalised Michael Madhusudan Dutt and made me fall in love with mythology retellings in perpetuity. This book reconstructed my idea of story and perspective. A powerful narrative can change how you look at a character and their struggle. In a blink of an eye, a villain can turn into a hero, and larger-than-life heroes to flawed human beings.
Children of the Indian subcontinent grew up listening to the fascinating stories of the Mahabharata and the Ramayana. Both of these epics are set at a time when the lives of gods and men still intersected and weaved narratives full of great complexity. Every character, even the secondary, are so multidimensional in these narratives that when a writer crafts a story from the perspective of a different character, our approach to these age-old tales shifts drastically. 
Mahmudur Rahman retold the epic of the Mahabharata from the perspective of Karna, the tragic warrior in his book Radheya (Nalonda, 2019), hitting us with a realisation that there is no rule that a character should be morally black and white. This book perfectly captures the tale of an anti-hero. In another novel called Shakuni Ubach (Nalonda, 2021) he told us the story of a prince who became perhaps the most notorious character in the saga. Shakuni is cunning, devious and charismatic, and often overlooked simply as a villain. With a captivating backstory of being discriminated against by the ones in positions of power, this novel makes him a fallible human, not just one-dimensionally evil.
Eklavya (Anyaprokash, 2016) by Harishankar Jaladas is another book that makes us question the immortals and the eternal heroes of the Third age of Mankind. When I picked up these books I had a faint idea how the story might unfold. When Jaladas's another book was published last year named Duryodhana by Kathaprokash, I bought the book in a rush to see what the author might have to say as the character of Duryodhana often felt less complex. However, this author's version didn't disappoint. 
At times, modern retellings of myths are told from the perspective of women whose voices have been lost in translation and give them feelings and flaws of their own. The endeavour to tell the narrative, keeping focus on the female character, was seen in some of Bani Basu's works under Dey's Publishing, like, Panchal Kanya Krishna (2018), Khyatra Bodhu (2017), and Kalindi (2016).
In recent times, Mahmudur Rahman, in his book, Draupadi (Nalonda, 2022), portrayed the story of Panchali who, born from fire, perhaps had the most influence in the story of the Mahabharata, ultimately setting motion to the war of Kurukshetra. However, my most favourite novel told from Draupadi's perspective is definitely The Palace of Illusions (Doubleday, 2008) written by Chitra Banerjee Divakaruni. Her reimagination made the character of Draupadi tangible, complex, and closer to the human world. Divakaruni's  writing is magical yet it portrays the struggle of women who, even at the height of power, are vulnerable in the face of a patriarchal society.
Another one of her books named The Forest of Enchantments (HarperCollins India, 2019) is a reimagination of the Ramayana in Sita's perspective. While the Mahabharata moves with grace in the darkest corners of human mind, the Ramayana's narrative is more focused on the magical realms making it harder to depict the story from human logic only. Yet the Ramayana's most compelling reimagination comes from Vaishnavi Patel in her recent book Kaikeyi (Redhook, 2022). It tells the story of a warrior queen determined to leave her mark in a world where gods and men dictate the shape of things to come. Being my recent read, it's still imprinted in my mind that left me in complete awe.
Retellings can be a way to see old stories from a new perspective. One of my teachers from law school often asked us to read one thing over and over again as it helped to see matters from different perspectives. If you love mythology or if the idea of starting a new book with an unknown plot feels overwhelming, perhaps cuddling up with a good retelling can be of help to you like it is to me.
Sadika Nousheen is a law student at the University of Dhaka.