Dhaka Lit Fest 2023: What the agent does for writers and actors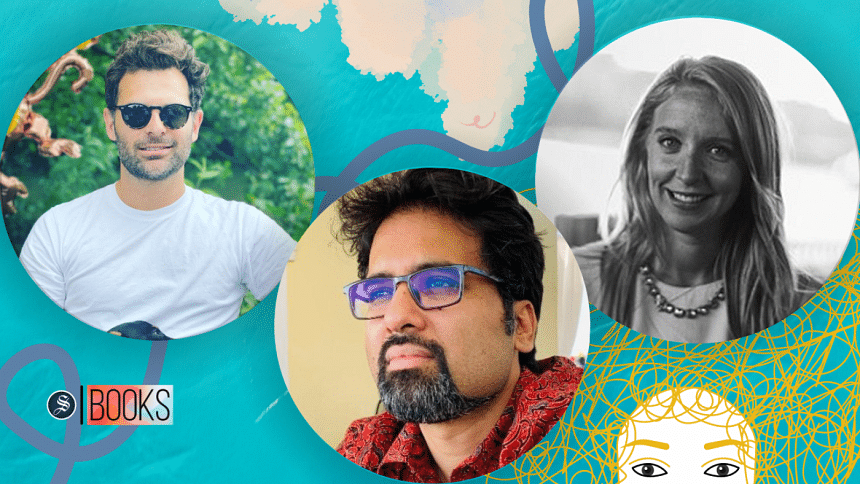 Moderated by novelist Shazia Omar, Dhaka Lit Fest's session, 'The Agent', illuminated the basic aspects of "agenting". For the uninitiated, an agent is someone who ferries an artist's work out into the world. The panel included Kanishka Gupta (founder, Writer's Side), Alexander Cooke (Agent, Hamilton Hodell), and Kelly Knatchbull (Director and Agent, Sayle Screen). Each of these agents handles different types of talent. Kanishka represents writers of books; Alexander represents actors; Kelly represents scriptwriters.
Agents mainly provide critical feedback to their clients and negotiate contracts. They also handle dramatic rights and foreign language rights for written works.
"The job of an agent starts after signing a contract. We have to navigate the creative differences between authors and publishers with regard to marketing and overall packaging of their work", Kanishka said. "We give a lot of feedback for fiction, especially debut works. It's not good to put out half-baked books. It's risky, too, because a publisher typically doesn't reconsider a manuscript that has been revised. Non-fiction is easier because we work with writers who already have some legitimacy."
Given his work experience with clients such as Avni Doshi, Daisy Rockwell, Shehan Karunatilaka, the late Numair Atif Choudhury, Iffat Nawaz, Anees Salim, and Rijula Das, he added that it is not easy to break into the US and the UK markets. "The US market remains particularly insular for authors from South Asia", the agent mentioned.
Regarding the number of clients, Kelly said that she takes on only a handful of scriptwriters. "I take people who don't have connections and introduce them to resourceful people," she said. Kanishka, on the other hand, represents nearly a thousand authors. "We can't sign a few authors per year because the advances in India are really bad," he said.
The rise of television, in the age of streaming giants like Hulu, Amazon, and Netflix, establishes a link between scriptwriters and novelists. Kelly said, "There's been a huge uptick in the last 4 years for adapting books into films, especially TV shows. Research showed that films based on bestselling novels sold three times more than normal scripts because already a passion and fanbase existed for the novel.  It's the golden age of TV at the moment." However, that is not the case outside Europe and North America. 
"95 percent of books in India are not made into films. Netflix and Amazon India are cutting down on acquisitions because of their budget issues", Kanishka said.
Despite the popularity of TV, cinematic rights come with their drawbacks. While it is thrilling for a novelist to have their work taken up by a production house, sometimes their work ends up in a forgotten corner for a long time. "A lot of times big production houses buy the cinematic rights just to take the book off the market so other houses cannot take it up and the book may be shelved for several years."
Butchering the original manuscript is another blow the television industry often strikes on original works. "I get upset when TV manipulates the original writing. After 3 seasons, screen writers write new elements into the story that are far removed from the original work", Kelly said. She added that defining intellectual property is tough work. She tries to hold on to stage, TV, radio, and future serialisation rights in a bid to preserve the originality of the script. It's tough to hold on to such rights because every relevant production house has eyes on these.
No matter how hard an agent has to work to manage the creative and logistical aspects of a client's work, clients tend to gravitate towards bigger agencies with more resources once they are successful. "An artist may leave a small agency once they get their big break and target big agencies. It's extremely frustrating. It doesn't allow for a special relationship with artists", Alexander said. "There's no job security because you can lose clients through poaching from the big agencies." He said that is an advantage to being an agent with one of the big agencies because they have wider resources and connections, and they are able to foster long-term ties with their clients.
When asked about the pieces of advice they would give to aspiring artists, Alexander said, "There is no one path. Going to a drama school helps a lot as it creates connections to agents. Trying to get an agent is extremely difficult and it's especially more competitive to get top agents. If you are not going to drama school, then try doing audition samples with the help of your friends and phone cameras even if they're done."
Kelly said that it is necessary to get oneself out there and meet the right producers and people. She also stressed that expensive equipment isn't a barrier anymore. One can use phones to create a sample. "Keep writing; I need to read a script that blows me away. Learn to take rejections well," she said.
"Read a lot because fiction can't be taught", Kanishka said. For nonfiction, one needs expertise. He highly recommended to not be in a hurry to pitch one's work to publishers because polishing requires time.
Even though an agent and an artist's journey towards recognition may seem grim and riddled with obstacles, they strike up friendships that last a long time. "We speak to our clients daily. We know all about their dating life. We attend their weddings. We couldn't do that if we had too many clients", Kelly said. "I become friends with most of my authors. I build a personal connection with them. I have worked very closely with Iffat Nawaz for her manuscript (Shurjo's Clan) for many years", added Kanishka.
Shah Tazrian Ashrafi is a contributor.