Day 1 of Dhaka Lit Fest sees crowds, conversations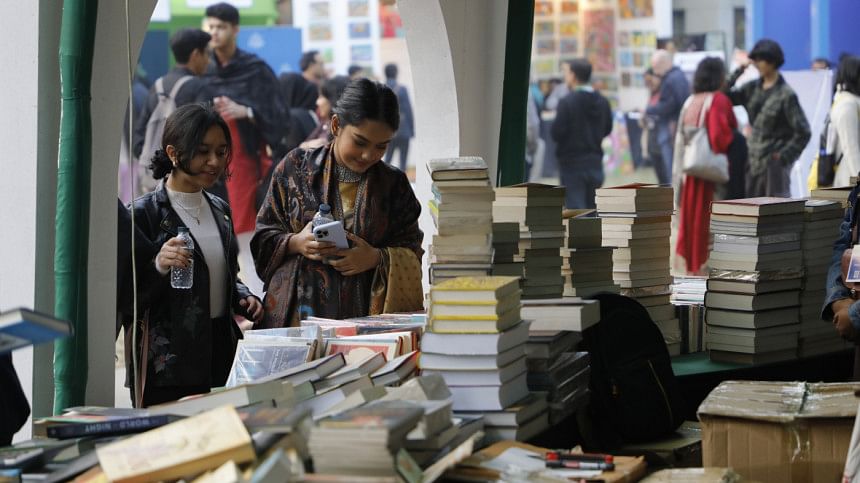 Following a three-year halt due to the pandemic, the 10th edition of Dhaka Lit Fest (DLF) officially began on Thursday morning in the capital's Bangla Academy. After several weeks of speculation and debate, the festival opened its gates for visitors at 10 am yesterday. The event was inaugurated by State Minister for Cultural Affairs, KM Khalid, Nobel laureate and writer Abdulrazak Gurnah, author and critic Amitav Ghosh, and DLF Directors Kazi Anis Ahmed, Sadaf Saaz and Ahsan Akbar.  
DLF is regarded as Bangladesh's biggest event on world literature and culture, bringing together over 500 writers, poets, performers, intellectuals, journalists and internationally acclaimed prize-winning speakers to participate in 170 sessions during the four-day festival. The first day of the event featured book launches, panel discussions, dialogues, film screenings, a slam poetry session organised by The Daily Star's SHOUT and Daily Star Books, and a musical concert by Meghdol and Hawa band.
As I entered the venue last evening, I could see every stall brimming with readers, their eyes full of eagerness. 
"As South Asians, we cannot take freedom of speech for granted", Sri Lankan author and 2022 Booker Prize winner Shehan Karunatilaka said in the festival's first panel, 'Torn Apart', whose speakers included Somalian novelist Nuruddin Farah, 2022 International Booker Prize Winner Geetanjali Shree, and Karunatilaka himself. The session was moderated by Barbara Epler, president and publisher of New Directions. 
The first day saw a relaxed yet diverse range of topics covered in the sessions, from South Asian and world history to women's rights, publishing, Bangla literature and film, and the legacy of BRAC founder Sir Fazle Hasan Abed. Bookworm Bangladesh held an author signing for writer and editor Rifat Munim's short story anthology, Bangladesh: A Literary Journey Through 50 Short Stories. 
"I personally loved the Slam Poetry Nights sessions [on the Nazrul Mancha] the most. Meeting emerging poets, listening to what they had to say about their grief or outrage on a cold winter afternoon, felt spiritual. It was like taking a peek into someone's mind, a dive into someone's emotions, something very intimate even after being surrounded by a crowd," shared Ifti, a visitor.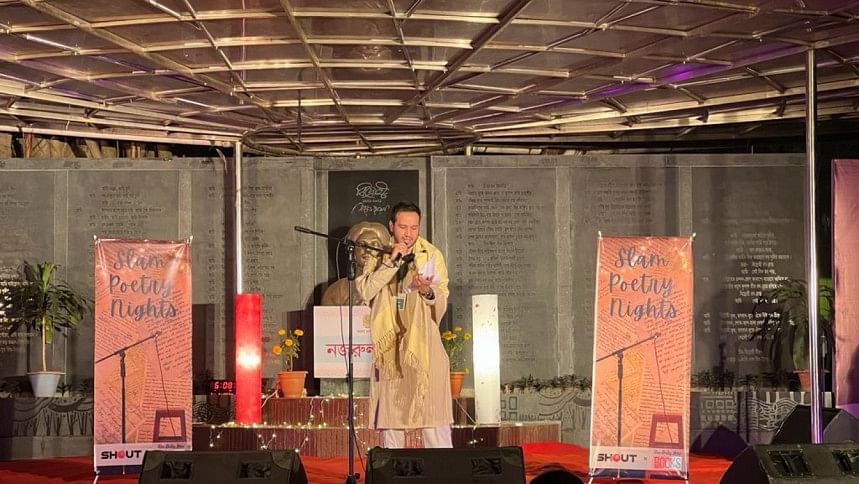 Next, I headed to the book stalls. The titles on display included popular and classic titles alongside DLF's newest releases. "The footfall has been a little slow today. Since it's just the first day, people are still exploring. We are really glad to be here after the pandemic, and look forward to the event," shared the stall representative of the bookstore And Or.  
Talking about DLF releases, the stall representative of Bookworm explained how some new books are already on the verge of being sold out. "Since DLF provides a welcoming atmosphere for readers to interact with authors, people are eagerly buying books and getting them autographed by their favourite authors. We now just have one copy of the anthology of short stories from Bangladesh, as most copies were sold soon after the launch," Ariz Hoque said.
The first day had a wonderful line up of sessions, and caught the attention of several visitors who waited patiently for their spots. "I attended a seminar regarding climate change and the obstacles in the way of tackling it. The speakers were very humorous as they talked about geopolitics and other concerning issues. I also went to the screening of Nuhash Humayun's Moshari and Pet Kata Shaw. The cinematography and storytelling were phenomenal, and I thoroughly enjoyed the discussion," shared Moheed, another visitor.
Many students appreciated the initiative of making the entry free for them. One such group explained how overwhelming it was to hear writers talk about their work, listening to their untold stories, and witnessing it all with a group of people who share the same sentiments. It goes a long way in explaining how DLF is stirring conversations related to literature, among people from all walks of life. 
As I strolled across the premises, I could see vibrant events all around me. Be it a Jatra Pala performance, or a musical concert, DLF this year feels like an infusion of art, literature and culture and I am really looking forward to the days to come.   
Maisha Islam Monamee is a student of IBA, DU, and a freelance journalist who likes reading, scribbling, and blogging. Follow @monameereads on Instagram.