Blurry in Berlin: Amit Chaudhuri's 'Sojourn'
Amit Chaudhuri's 'Sojourn' (Penguin Random House India, 2022)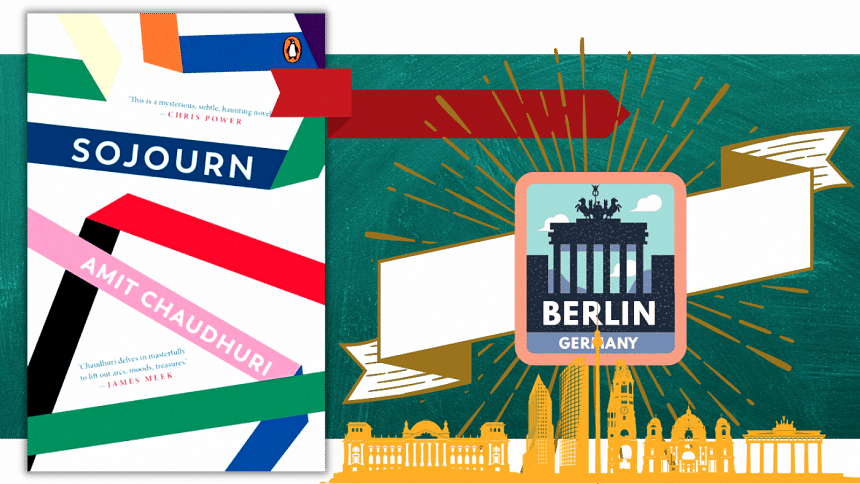 Amit Chaudhuri's new novel, Sojourn (Penguin Random House India, 2022), is built on life's briefness, on the temporary nature of his characters' travels, jobs and friendships. It is about the transience of nations and homes that will never resurface again. 
The book itself, at a little over a 100 pages, is a short spell, a momentary sensation that departs without much hubbub. The narrator in Sojourn is visiting Berlin in the mid-2000s for a few months as the Heinrich Böll Professor at a university. This is his second visit to the city, he had been here before, but the memory of that visit is blurry and little discussed. Chaudhuri leaves it hanging in the air like so many of our unaccountable past memories tend to be. Chaudhuri's narrators are usually good boys,  thoughtful of their actions and of others. Here, too, the professor is often wary of coming across as too vocal. When he asks for the two-bedroom flat he had been promised as part of his teaching stint, instead of the studio apartment they put him in, the reader too is strung along with his discomfort at having to speak up. Later, he muses about using the same toilet as the writer Kenjaburo Oe (when the latter himself was the Böll Professor)—a shared link that brings some reassurance to him. He is taken (and a little surprised) with the German love for Bollywood, after he discovers Shah Rukh Khan on the television. 
Yet passivity defines the professor. To tug him out to the center, Chaudhuri provides him with a few companions, two of whom bring about some dimension to his character. Birgit, a German woman the narrator romances with, enables him to play house with someone. When she asks him if he had gotten the video from the store (a movie they would be watching), the professor thinks, "She's increasingly direct. Already addressing me as hunter-gatherer." He grows close to her, but Chaudhuri makes sure no relation ever goes too deep. 
The novel's best moments come when the narrator hangs around with Faqrul, a Bangladeshi poet who had been exiled here due to charges of blasphemy (clearly, a stand-in for the poet Daud Haider), who takes him to Indian restaurants for local food and accompanies him on coat-buying trips. Faqrul is eccentric, but also heart-felt. Taking the narrator to visit some holocaust memorials, he casually points out that his teeth had been all knocked off Neo-Nazis. Incredulous, the professor asks, "What? Faqrul, don't you know you should ignore people like that? You don't make eye contact with Nazis, let alone respond to them!"
He, too, disappears mid-way from the novel before any depth in their relationship can be established, only to arrive later, near the end. The professor, throughout the course of the book, cannot seem to be making any lasting acquaintances. 
Amit Chaudhuri is one of our most gifted writers, a Bengali novelist and musician with an accomplished repertoire that includes novels such as A Strange and Sublime Address (1991), A New World (2000), and Odysseus Abroad (2014). He is able to write beautifully of intimacy—especially of our inability to deal with it. In Sojourn it is permanence that the characters struggle with. Whether it be architectural imagery of East Germany or flashes of Bengali culture in Faqrul's actions and words, they all dissipate amidst the oncoming of modernity. 
The novel is disconcerting and unlike any fiction Chaudhuri had published so far. It is written, perhaps, with the desire to be forgotten. But it isn't completely forgettable, only blurry and proving to be repressed. 
Shahriar Shaams has written & translated for SUSPECT, Adda, Six Seasons Review, Arts & Letters, and Jamini. Find him on twitter @shahriarshaams