Dhaka Lit Fest 2023: There's something for every young reader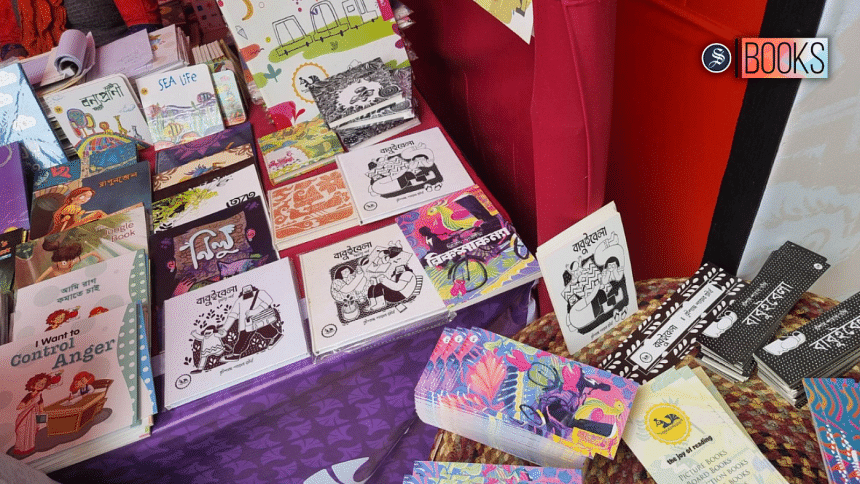 The Dhaka Lit Fest has historically been known for hosting a wide variety of attractions for people coming from all factions, and a significant portion of the panels and stalls available cater to the interests of children, too. This year is no exception as the organisers are presenting a wide range of activities for young readers to choose from.
Babuibela's third edition was launched on the first day of DLF. The Babuibela (Mayurpankhi, 2020) series, written and illustrated by artist Reesham Shahab Tirtho, are picture books showing new parents' journeys with their little ones. The book launch was also accompanied by a discussion between illustrator Tirtho and musician, artist and author Shibu Kumer Shill.
There was also an interactive session for children based on the book, The Street is Not a Home—that was launched yesterday by Bok Bok Books—on an illustrated collection of stories for young readers, narrating the tales of four children. Written by Mike Sherriff, the book, following the stories of four children, has been co-created with children who lived on the streets of Dhaka. During the session, the author read a story from the collection in English and Bangla, sang songs, and performed a drama.
Pass it to Rizwana (HerStory Foundation, 2023) was launched at the lawn premises in the morning. In this book written by Crystal Pottebaum and illustrated by Ishrat Jahan Shaeera, three girls in Dhaka find a deflated basketball that changes their lives forever. During the panel session, Pottebaum read excerpts from her book and three pioneering Bangladeshi sportswomen shared their personal journeys. The session, moderated by Salzar Rahman, included speakers Ashreen Mridha, co-founder of Deshi Ballers; Zaya Chakma, former national team footballer; and Nishat Majumder, the first Bangladeshi woman to scale Mount Everest.
Another storytelling session by debut author Samai Haider as she read tales from her book Tilmund's Travel Tales (Guba Books, 2020), illustrated by Reesham Shahab Tirtho. Tilmund wants to travel the world, much like his adventurous grandfather, but fears the strange and the unknown. With help from a travel bug, he finally finds the courage to start exploring faraway places, learning much along the way. This book for early readers can be found at Guba Books' stall. 
They also conducted a session for young readers with Asma Ul Hasna Sanchita, author of the book, I am Bokul (2022). It tells the story of young Bokul who overhears customers at his tea stall discussing their discontent with refugees arriving in town. However, one day he meets some of the boys from the refugee camp, and their kindness wins him over. 
The reading sessions were followed by a film screening of Kathal and a puppet show, organised by Goofi World. The film features two slum kids sneaking into a gated community to steal the world's largest jackfruit. When their getaway is blocked by a hole too small for the fruit, they are forced to sell it to the eccentric residents while being chased by bumbling guards. What starts as a simple heist turns out to be an adventure to test their friendship. 
The last day of the festival would include an interactive session by Onjali Q Raúf, where she talks about her own history, and the inspirational places and names that led to the creation of Leo and Sangeeta from her book The Lion Above the Door (La Galera, 2021). Roaring against institutional and historical racism, the book presents an incredible story about missing histories and the concept of a universal family, told with humour and heart. 
If not just books then there is also a craft station set up by BRAC where children can engage in a number of fun activities, by creating artworks themselves. The stall, adorned with paper crafts, is undoubtedly one of the major attractions of DLF this year. Children below the age of 12 can access free entry to DLF and enjoy the festive atmosphere and sessions.
Maisha Islam Monamee is a student of IBA, DU, and a freelance journalist who likes reading, scribbling, and blogging. Follow @monameereads on Instagram.